We played at Madam's Organ last night. Where the beautiful people go to get ugly…and we were never particularly pretty to begin with. But you likely knew that already if you're reading this post. It was a pretty good evening and we definitely saw some schtuff!
So you've all seen this place if you live in DC. You've walked down 18th. It's hard to miss. It's giant. It's an institution. It's got a building-sized-mural-woman (there tend to be a lot of these in DC [here's looking at you Marilyn]). Now this ain't our first roe-day-oh, and we knew that although the advertised time for the open mic is 8 PM, we knew that it's best to arrive a little after 9 PM. There's a $3 cover that all must pay. We tried pretty hard to dodge it (" we don't have to pay because we're playing!") to no avail. After offering up ol' George to the altar three times – we entered the abyss.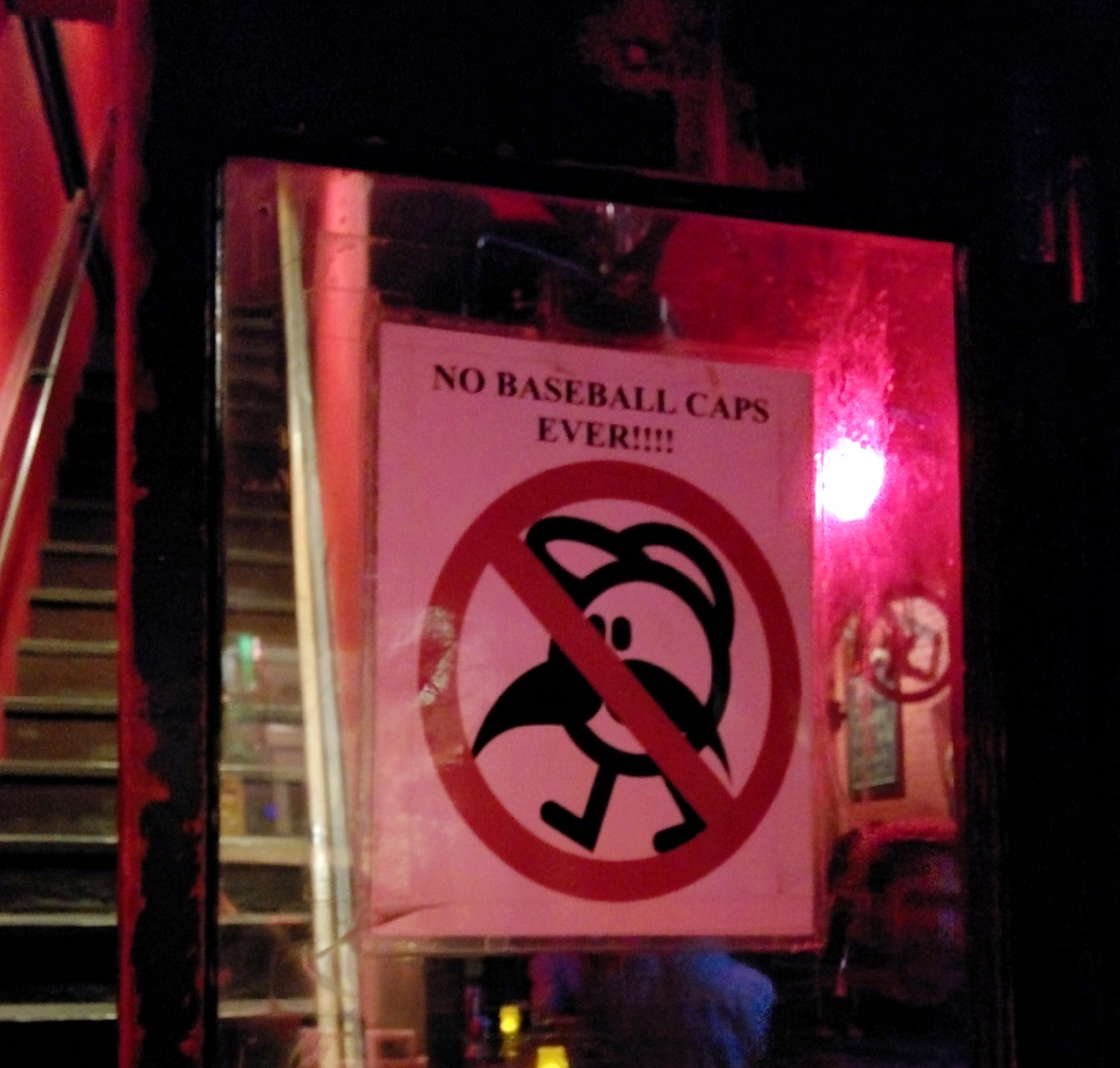 Madam's Organ has 3 floors and each has its own bar. It reminded us of The Masquerade in Atlanta, but the floors don't have fancy names (i.e., heaven, hell, purgatory). The first floor typically has a house band playing various styles of music and we've seen some good stuff there before. We ventured up the staircase, of which there are like 9 of them and it felt like the last time I was at Hogwarts. Upon entering, we were greeted by the soulful sounds of Rico Amero absolutely wrecking the guitar. Few people were there at first but attendance gradually increased. He played some oldies and finished with a Hendrix song or two. You don't hear that much scatting nowadays and it was worthwhile solely to hear him drop that technique. His voice has a tremendous range and his acoustic ached of beauty – but sadly I couldn't quite make out what it was.
Next up. Wow okay. I guess we're going to go into this. Next up was Aaron. As Rico was tearing his equipment down, Aaron began to tear it up. He had a mic stand with a bass guitar physically attached to it and what seemed like 3 duffle bags full of electronics. After setting up the bass-stand combo he pulled out a Dimebag style electric guitar. He then set up a second stand and mic and donned his headphones. Apparently, he was ready to party. He began testing out the bass, guitar, and mics and eventually he commenced his beatbox extravaganza. A minute later we realized he had his looping station going and it was on. A complex beat / jam-session emerged culminating in the moment when he threw down his flow out of nowhere. The whole room shot to attention and started clapping and hollering.
It was beautiful.
He began rapping about his various levels of intoxication with his friends gin and juice, lewd sex acts and fervently produced more funk than I thought I could handle. He probably played 3 to 4 songs but nobody was counting as the jam ebbed and flowed eternally. We were sad to see him leave.
We were finally called up and we realized that we should've brought cables for our guitars. Last time we forgot capos and batteries, and as Kenny gripped his 9 volts that sad sinking feeling emerged. Fortunately, Rico supplied what we needed and we grabbed our drinks to land onstage. When we started, I was definitely nervous because Aaron had just killed it. And due to his rambunctious use of electronics, we announced that we would, of course, warm-up with a country song.
We began with Wagon Wheel and all was well. Half the band can't remember the strumming pattern to that song, but there weren't any issues. We moved into Talk To Your Momma by the Scissor Sisters which is always a blast and EVERYONE seems to love this song regardless if they had heard it before. That seems to be a rare quality to find in songs and we need to investigate as to why this is. As this song ended, this rando-dude approached the stage to ask if we knew any Pearl Jam so that he could sing it. We explained that although we know a lot of Pearl Jam songs, we don't know any that we can play end to end. He persisted to stand there inquiring about other artists until Rico was kind enough to intervene in a polite manner and we talked the subject over with rando-dude after. We finished with just a few more songs.
Honestly the place was a pleasure to play at. A great sound system, host, and a warm audience. The only real issue was the mic was shaking back and forth on half of the stage, but Josh likes to tap his foot as he plays so … you get what's coming to you in that regard.
Artist Info
Aaron Malander (aka Aarodynamics)
Here's his facebook and his wonderful domain GETSLUTTY.COM. I have no idea how he was able to grab that domain.

Rico Amero
The big man's facebook and Twitter.

Thanks for reading! We leave you with this picture of the Organ's entrance: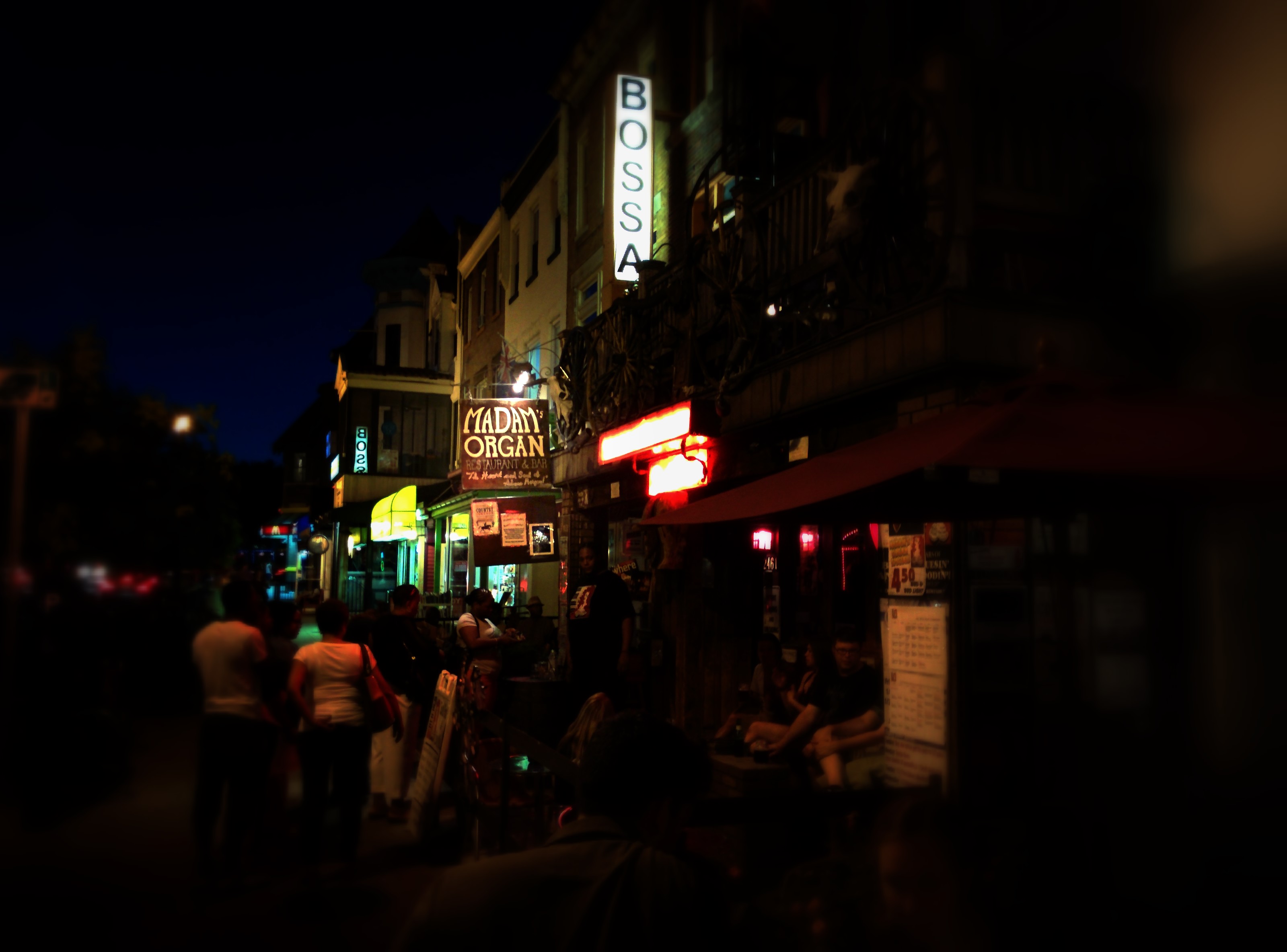 Blurred to "save face". Get it?!
**Update**
Added some links and fixed some image issues.