Recently, we confirmed that civilization exists outside the bounds of DC when we found ourselves in Potomac, Maryland at Tami's Table. It's about a 20 minute drive from the Rockville metro stop or you can take a 40 minute ride on the bus. Their open mic occurs Thursday and Friday nights beginning around 7:00 PM, and we heard about it via word of mouf. A man known as the Pat$ter (aka Pat Twomey) runs the event and he brings a great sound system, 2 mics, and even offers a house guitar for all to share. Ya know, just in case you have an emergency and need to play an open mic RIGHT NOW. We've all been there.
Anyway, Tami's Table's picturesque wine bar offers a solid selection of wines and other fancy fixins. Upon entering we became nervous because the dinner crowd had not yet arrived so we figured we'd fire it up. We were graciously greeted with figs stuffed with a tangy cheese and partook of their abundant drink selection. We also feasted our eyes on their fancy couches. It was decided that we would continue our suspicious investigation until someone else played first. We didn't have to wait long! The Pat$ter opened up his set by stating "I learned this one on the trail" and then proceeded to play Bad Romance by Lady Gaga. I'd say he sang it about 2 octaves lower which was awesome and we totally didn't see that one coming. He played some Soundgarden and Jane's Addiction among many others.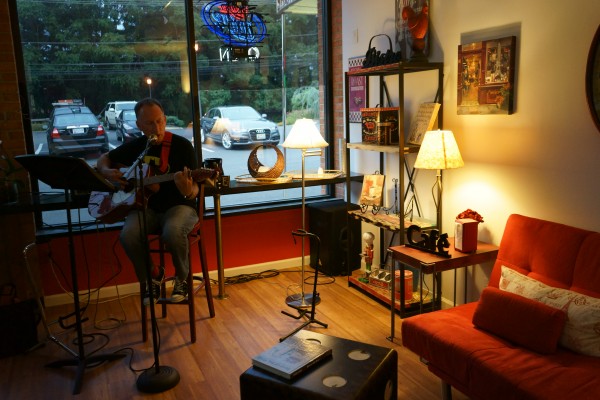 The next gentleman played a number of cover songs and original compositions tailored towards his wife (PDA!). Among his song choices was a tune by Van Morrison called Moon Dance. This was a song Kenny had known all too well as he had played it numerous times in high school jazz band. It was particularly special too because it was also a song Kenny sang at his own wedding to his wife Laura. (ensue awwwwwws).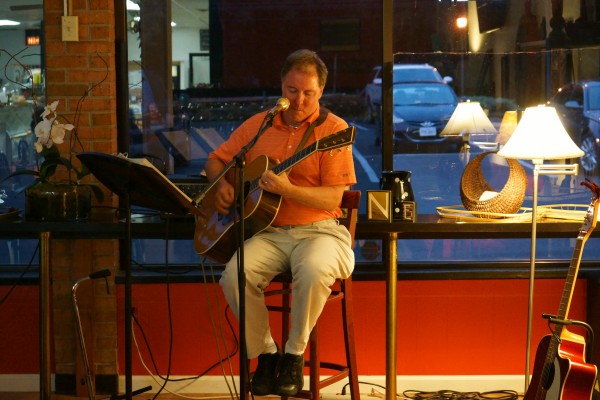 The Pat$ter hooked up an extra mic for us and we started our show. We played most of our usual covers and we were told that I Will Follow You Into the Dark was one of Carl's wife's favorite songs! That was great and we had warm fuzzes on the inside for a little while onstage. Our way of playing it is to raise the song 2 half-steps (7th fret), kick up the BPMs a skoche, and swing it like a playground. After we were out of songs we said "hey we're out of songs." So they begin requesting various canciones. We ended up playing Simple Man by Lynyrd Skynyrd. The crowd fervently requested that we play a Counting Crows song and unfortunately we hadn't practiced Mr. Jones in a looong while so we hung our heads in shame and declined to play it.

The Capitol Heights breaking it down
Apparently, if you play well enough you could be offered free food 'cause on our way out we were offered pie. PIE! That was repayment enough for our entertainment services. The Pat$ter also told us about some additional open mics in the area which were added to the list. All in all, we didn't play to a large crowd, but they were extremely gracious and interactive. We want to thank Tami, her husband, and the other great performers alongside their beautiful spouses because without them – it would not of been as fun of an experience. Everyone had the option of leaving or staying once it was our turn to play and once they heard we were going to play they volunteered their time and chose to stay. We really appreciated that and we hoped we gave 'em some laughs and induced severe levels of merriment.
Tick another open mic off the list.
Artist Info
The Pat$ter
The Pat$ter (aka Pat Twomey) has a fair number of videos available online. Here's a whole set that we found on youtube!

Carl doesn't seem to participate in the internet.