On a dark and dreary recent rainy evening, we took a jaunt southwest of DC to seek out Clarendon's Northside Social for the open mic challenge. The "soche" is a popular coffee and wine bar in Arlington, and it was packed. We found out about it via hashtags on Facebook, which is a little odd. Unfortunately for all you out there in meatspace, we played at their last open mic ever. It kinda felt like destiny lowered its foreboding hand so we could grab it for the open mic challenge just in the knick of time. From this point forward they will be booking individual artists, and we were happy to be their last mistake.
Northside social has coffee, wine, beer, and music. Between us and our friends, we verified all four in a single evening. This spot has two floors and the music seeps in from the edges to surround your aural sensibilities. (It's a small place and it gets a little loud.) The open mic was hosted by Derek Evry, who incidentally is Alex Parez's (of Iota club fame) good friend who we also saw there. Derek showed up in a leather jacket and with lots of gear that he ran with expert knob moving. He did a really good job of running the equipment in a noisy environment which is a unique problem.
As always, make sure you contact any open mic BEFORE you show up! Being late to the signup often means you don't get to play at all or you play last. We called to verify the time and found out we had to show up 30 minutes earlier than we expected so we shuffled on over early a little early. Here's the signup sheet!
Derek played first and it was obvious that he is experienced. His music is polished and unwaveringly rock. He had a solid voice and good guitar work. When checking out his albums online we were impressed by the effort and production value put into his music. We recently got a new microphone to record live audio, and because of some difficulties in setting up our electronics we were unable to grab any photos of him. Sorry Derek. *fist bump of solidarity*
Ian Kraft was our new friend of the evening. He got there early and immediately stuck out his hand to introduce himself. He turned out to be a musically talented and kindhearted soul that we got to practice spanish with before we went onstage. Ian asked if we could capture a video of his performance on his phone and we thought … we can do better! Our new microphone was snuggly attached to the camera and with that minuscule action Ian became the first person to undergo recordation on our equipment. Here's the raw footage below:
His music is impassioned and scented with a dollop of americana although he indicated folk on the list. You should probably go check out his page now and listen for yourself to help solve the argument. He told us all about his experiences busking in the DC area. Busking can be a great source of serious practice time and he was eventually able to purchase a ukulele with the picayunes. Think about how much busking he must of done to accomplish that!!
There were many more acts, and we eventually had our turn. Derek was able to quickly grab a second mic for us, which was kind and not something everyone can accommodate. We played our new and not very practiced cover of What I Got by Sublime. It was going well, but within the first verse we realized there was some profanity (I can play the guitar like a…) and there were also some tiny kidlets immediately in front of us. We fumbled a bit as we omitted and changed lyrics for sake of their juvenile ears smiling all the while. The parents seemed to notice and looked fairly happy with our decision. Here's a pic from the evening.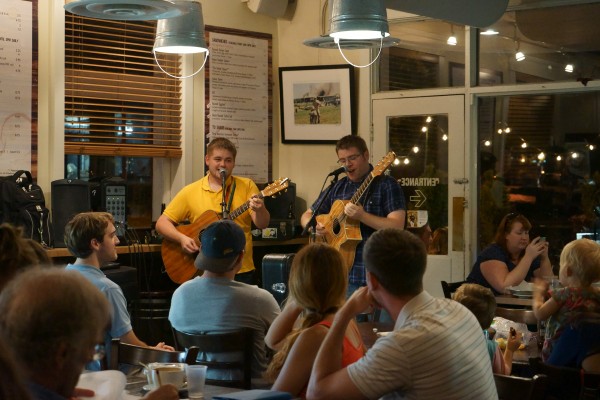 We were glad to be able to play Northside Social before the open mic was terminated. There were lots of talented musicians and we weren't able to talk with them all. We'll leave you with a picture of a flute and 12-string duo that was fun to listen to.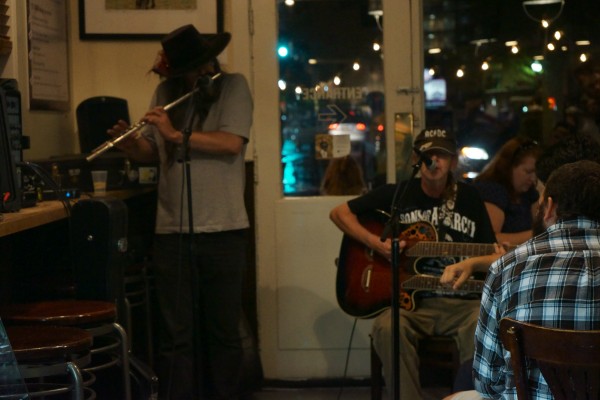 Artist Info
Derek Evry
Derek's bandcamp is available at derekevry.com and an embedded Soundcloud widget is below.

Ian Kraft
Ian has a Facebook and a Soundcloud with a healthy dose of songs.