Note: Due to specialty of Busboys & Poets, the following after action report is in verse.
Tonight we'll review a unique and talented venue. A place where poets perform their vocal renditions behind open doors but you'll need to buy tickets – Busboys & Poets. Five in total, but you'll only notice four on our open mic totem. This opulent experience was new to us, plus we didn't know the etiquette, but we're glad we sprung for it 'cause it said "open mic' and we do what we like – so we had to make a stop at this unique venue's open mic. Voted "Best in DC" we thought "pshhh we'll see" so we grabbed our strings, sang, and gave it a ring. Here's the stage, a National Poetry Slam trophy in view, the sword in the stone with words stabbed through.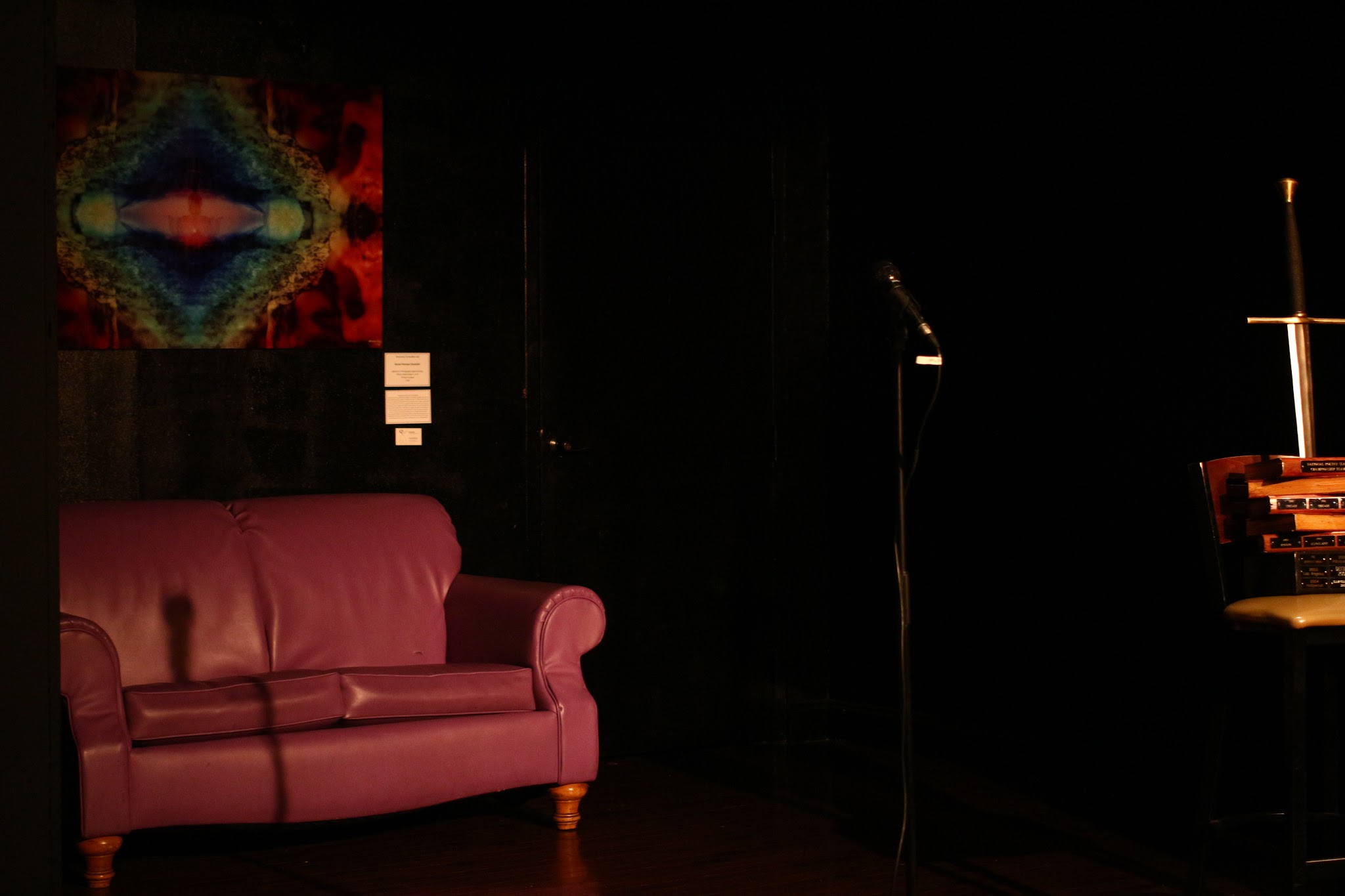 G Yamazawa ran this night's show, which is a name easy to pronounce if you actually give it a go. He and his colleagues collected that sword trophy by recently winning the National Poetry Slam for Washington, DC. That feels important and he swelled with pride as he announced his accolade as merely an aside. G didn't perform until much later and he was patient, as the ten or so artists their turns had taken. Talent abounded at this stage as poetry sounded, but unfortunately, we were one of the few musically talented. So singers beware that although you're 100% welcome here, you'll be one of the few circling your wares – which is fine! There's a jubilant experience ahead, with live wordplay and commentary to be seen, heard, and said.
Two days before we called our friend Jahnel, because we'd all be practicing for a festival to quell. She decided to play, came all this way, and here's a pic of her up on the stage.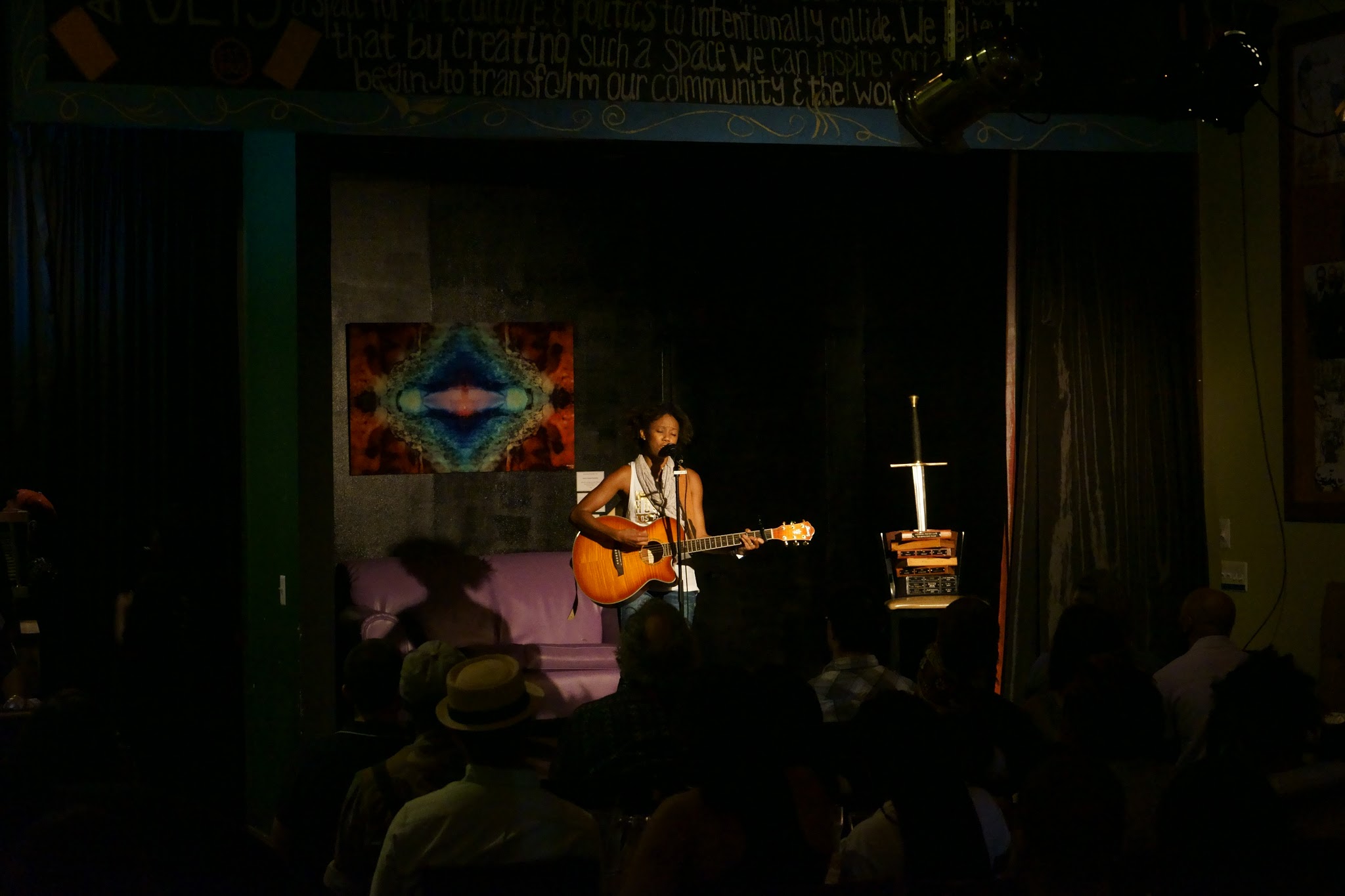 The song she played was new even to us and the crowd drank her somber melody with now half full cups. There were poets galore to follow soon after including the street sense poets who performed one after another and after. We talked with them some, and they said they'd contact us, to see if we could help them out with our "clout" (we said that we would as a matter of course!) An interesting thing occurred that beautiful first evening of fall, an object to hold their poems was needed by nearly all. However we saw that both paper and phones were used to hold lyrics for those with the poetry jones.
We took the stage near the end of the night and were allowed to play only a single song cause everyone's hogging the mic. No matter to us – we only need one – everything's cool when you're rocking these guns. (Please don't look at our unusually small biceps.) For us there weren't two mics, never the matter, a capella all night, we could if we'd rather. It's our project to project! We'll start our set! Raucous and rave, what a rare moment – Josh forgot the lyrics on stage! Kenny began anew with the crowed confused, how did this occur with a song we'd overplayed and overused? No matter we and the crowd laughed it off – we sang Take Your Momma once again and then we were off (the stage.)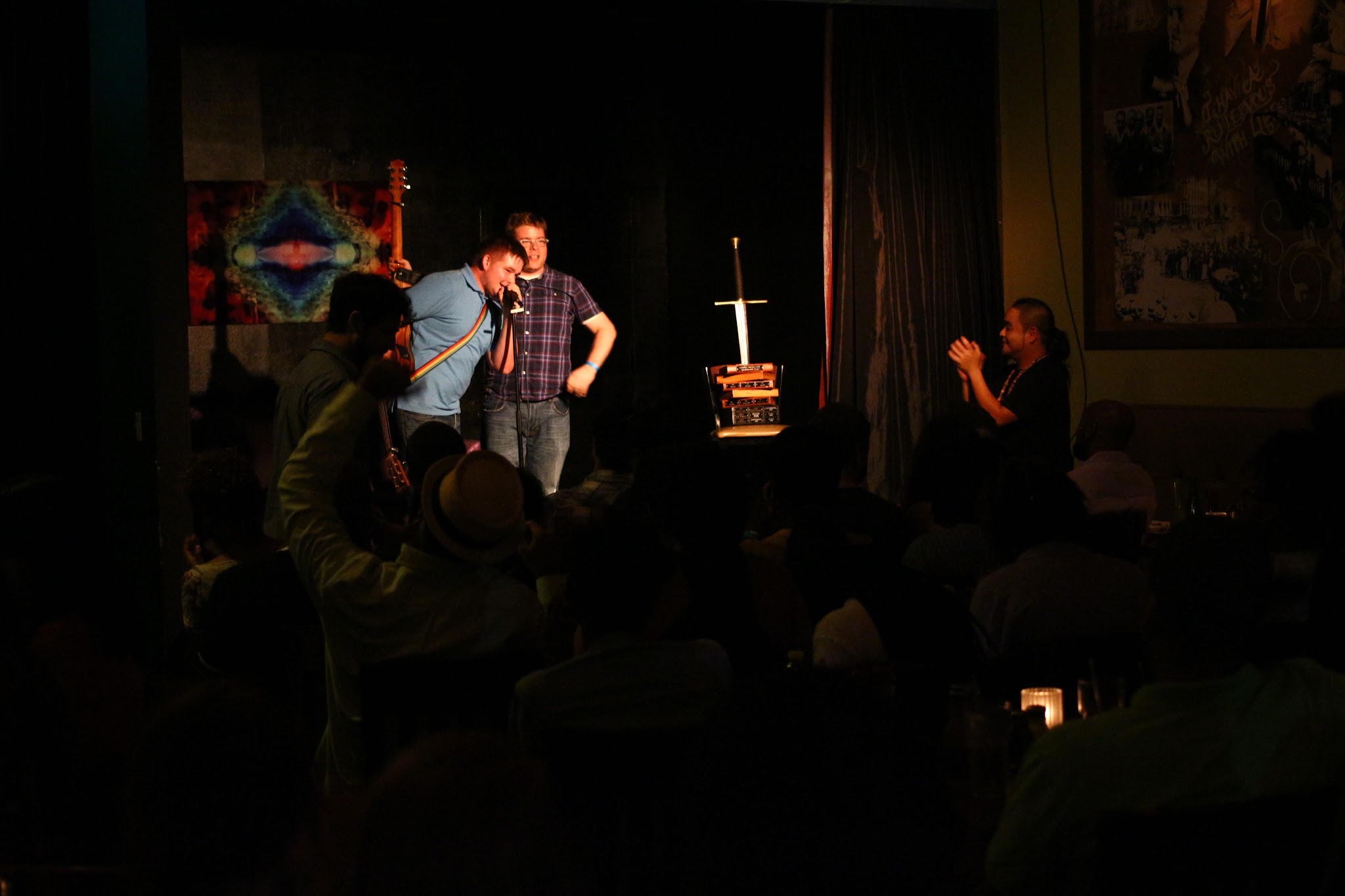 Pop the top on the beatbox 'cause dubstep mixed with vox is the performance we next got. Followed by Louis ConPhliction who didn't miss us with his visions, repeatedly singing and slamming his musical mixups and fixins. He fused his poetry – odes to song titles and chorus – over and over – the crowd was pandemonious. Hailing from St. Louis, on us he haled down truth, here's a pic of him in front of the group: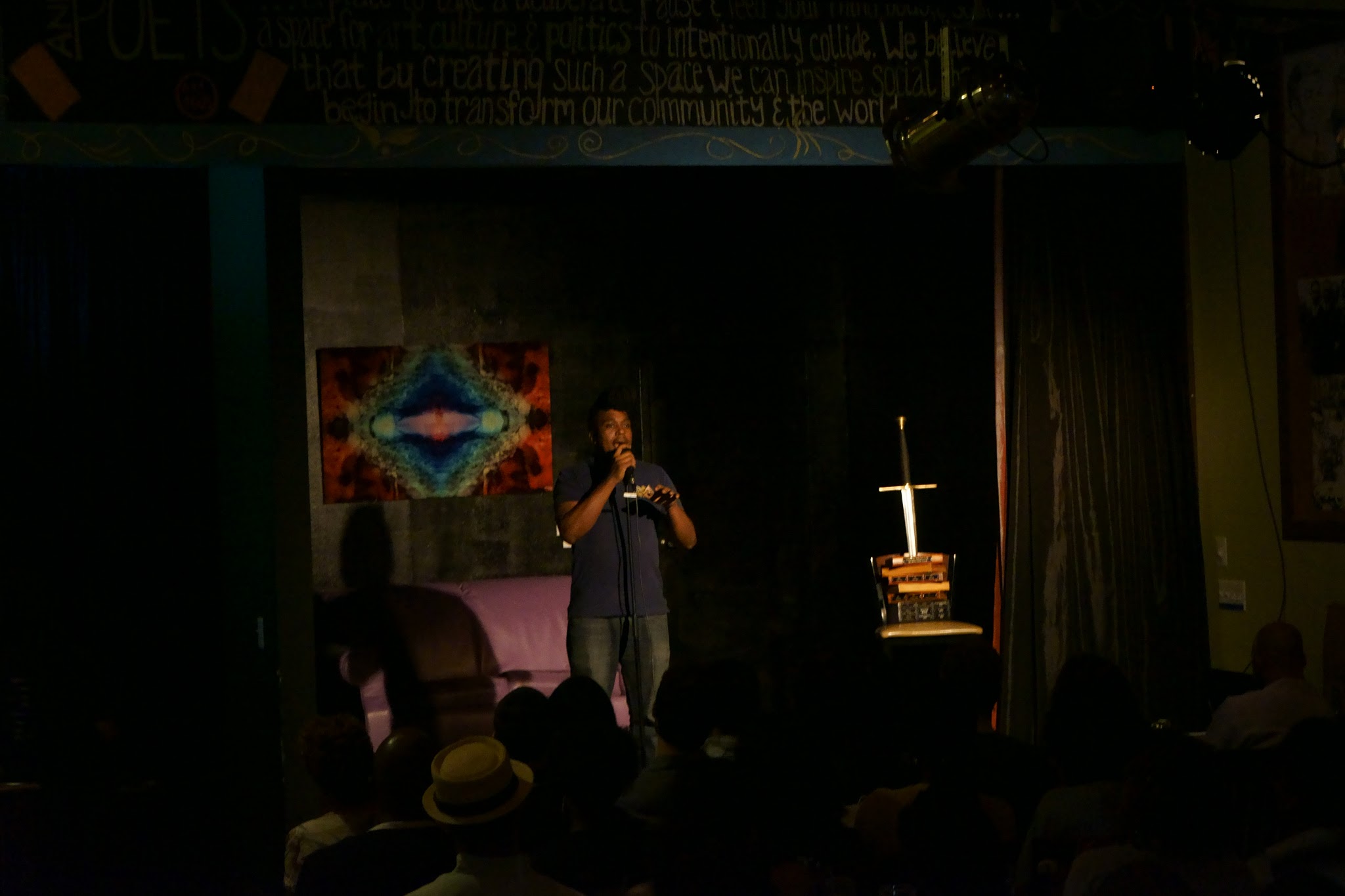 The pick of the litter or the crown of the evening, the jewel of the night the featured artist everyone was there seeing was Ed Mabrey. Ed spoke for about 30 minutes which was fine as we asked for more Guinness. He spoke very passionately about african american culture, something two white boys from ATL could get to know a little closer. The most illustrative piece of the talent he showcased with ease was a fusion of acting and poetry. He spoke of the life of a fictional black child, growing year after year, acting as if this boy was him. He demonstrated problems, being mugged, drugs – fathers – police, sex, and love.
Due to the subject matter of the cover song we played, Ed jokingly mentioned that we were most likely gay. He was riffing off all the performers of the evening, and this was our parting gift that he was leaving. Once the evening was over, we purchased Ed's CD, his performance was astounding and a marvel to audibly see. Here's a pic of Josh and Ed, he was so serious moments before, but here's Josh's Colbert pose and Ed smiling with teeth shown galore.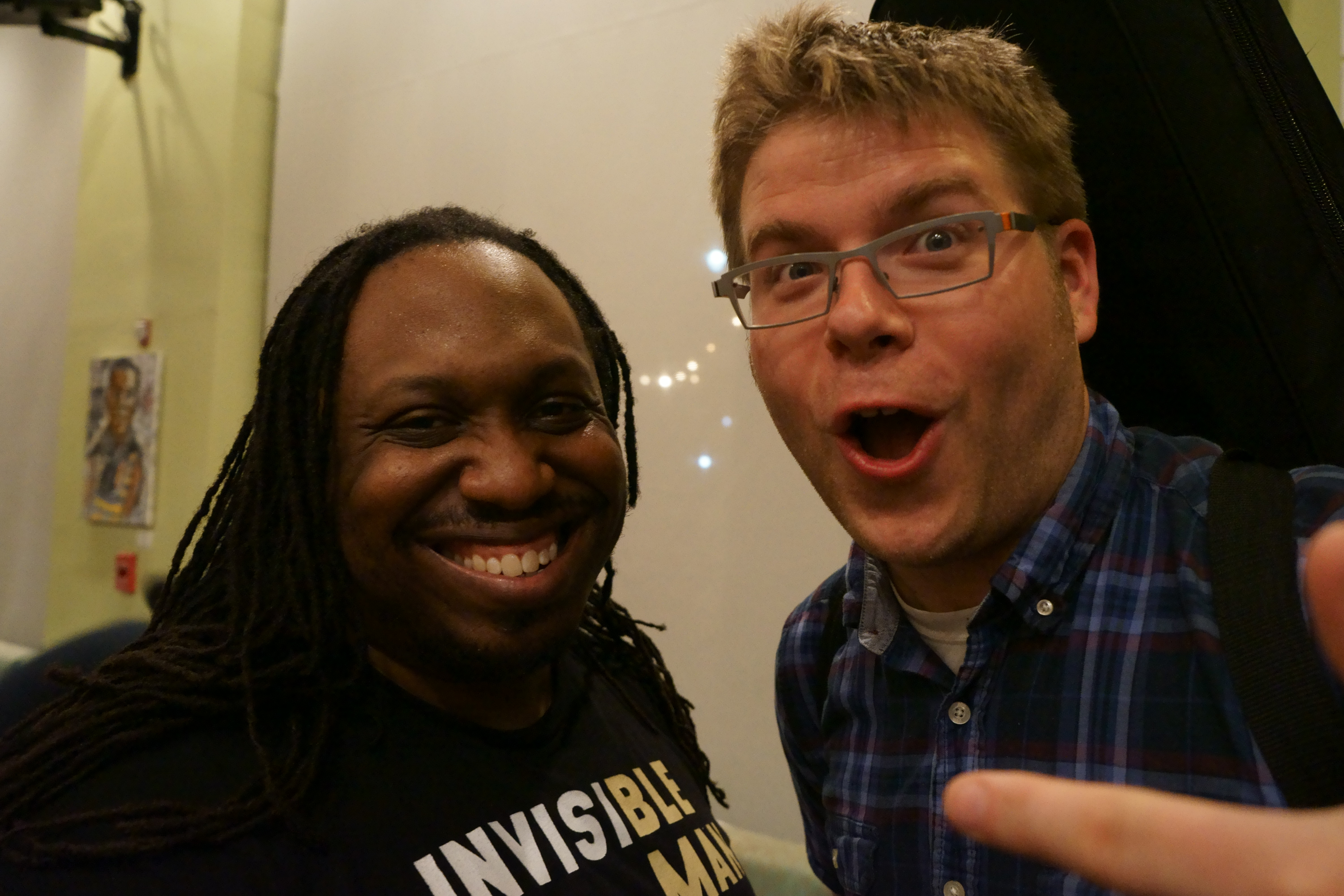 As an aside, if you're looking to play here – there's rules you must abide, below is an excerpt of the guidance Busboys provides:
Open Mic list will open at 8 pm with the evening's host and is limited to 15 performers. Once the list is closed, it is CLOSED. No add-ons. No exceptions. Guests intersted [sic] in performing are encouraged to arrive early. Performances are limited to 5 minutes each. Please be mindful of Busboys and Poets' Tribal Statement. While we do not censor, we do encourage performers to be mindful and respectful of their audience. Remember, his is an open mic, not open season. Failure to arrive 30 minutes after the show's advertised start time may result in a forfeiture of your seat. All seats are available on a first come, firs seated basis. No reserved or saved seating. Sorry, no refunds.
But don't be too wary about playing this venue, there's waiters with top-hats and other hats left askew. It's a fun place, but it's busy, so busy but it certainly made for an awesome and fun evening. Right before it was time to go, Bomani jumped on the stage and delivered one last go. We thought we recognized him, so google we did – this was the guy who made the Read a Book vid!! There are three busboys left for us to play and even though it's mostly poetry we wouldn't've not in the future say nay.
Artist Info
G Yamazawa
Find him at his personal site or via twitter – @gyamazawa.
Louis ConPhliction
His facebook page followed by a personal site and finally his twitter – @LouCon3.
Bomani
We're directing you to his personal site – http://notarapper.com.
Ed Mabrey
This man can be found at @Ed_Mabrey and on facebook. Took a look at this link about him. 