Let's catch up on blogging and let's talk Soho. This open mic is located in the midst of Dupont Circle, and is open on Saturday once a month. It's a pity that we didn't play it earlier, because it's a solid open mic located in a primo-spot. It's also right next to Bier Baron and we may have … explored … their … selection. Alongside that comment, we really liked the fact that the coffee at Soho comes in beer steins, as evidenced below. We'd never seen that before!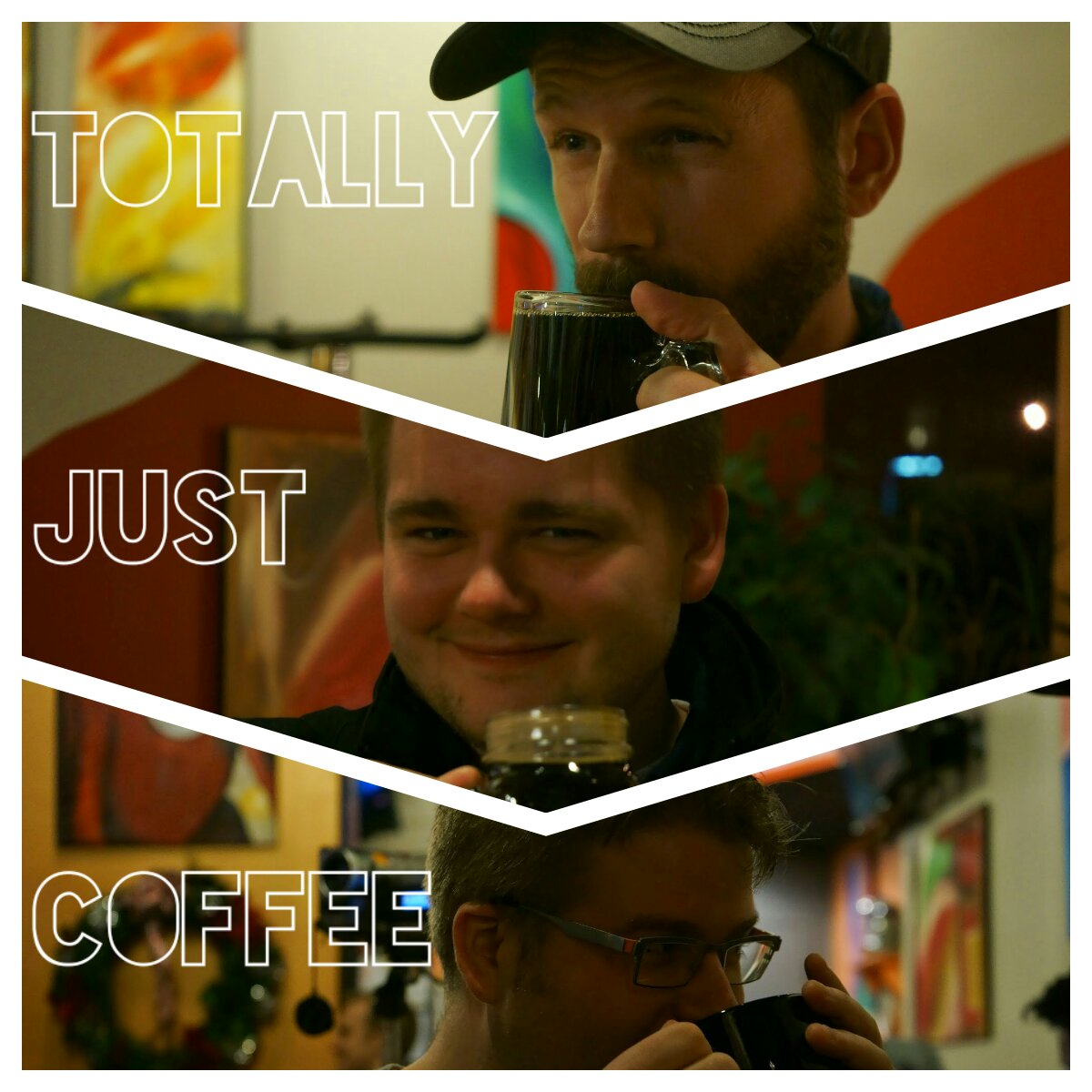 The open mic attracts a lot of characters and we met all of 'em this fateful evening. The open mic listing says the open mic starts at 8 PM, and we got there about 30 minutes before that to sign up. They were clearing tables and setting up equipment so you probably don't need to get here that early. We had some friends showing later that night, so we signed up as forth in line, which was ultimately a bad move.
The open mic is run by a nice fine gent (we happened to lose his name!) who opened up the evening by playing some acoustic songs. He was obviously a tremendous musician and his funky version of amazing grace was our favorite. He got the whole place singing and dancing and moving and was dropping some country rock guitar riffs quite hard. One he was finished, the line of troubadours marched on. Here's a pic of him in action: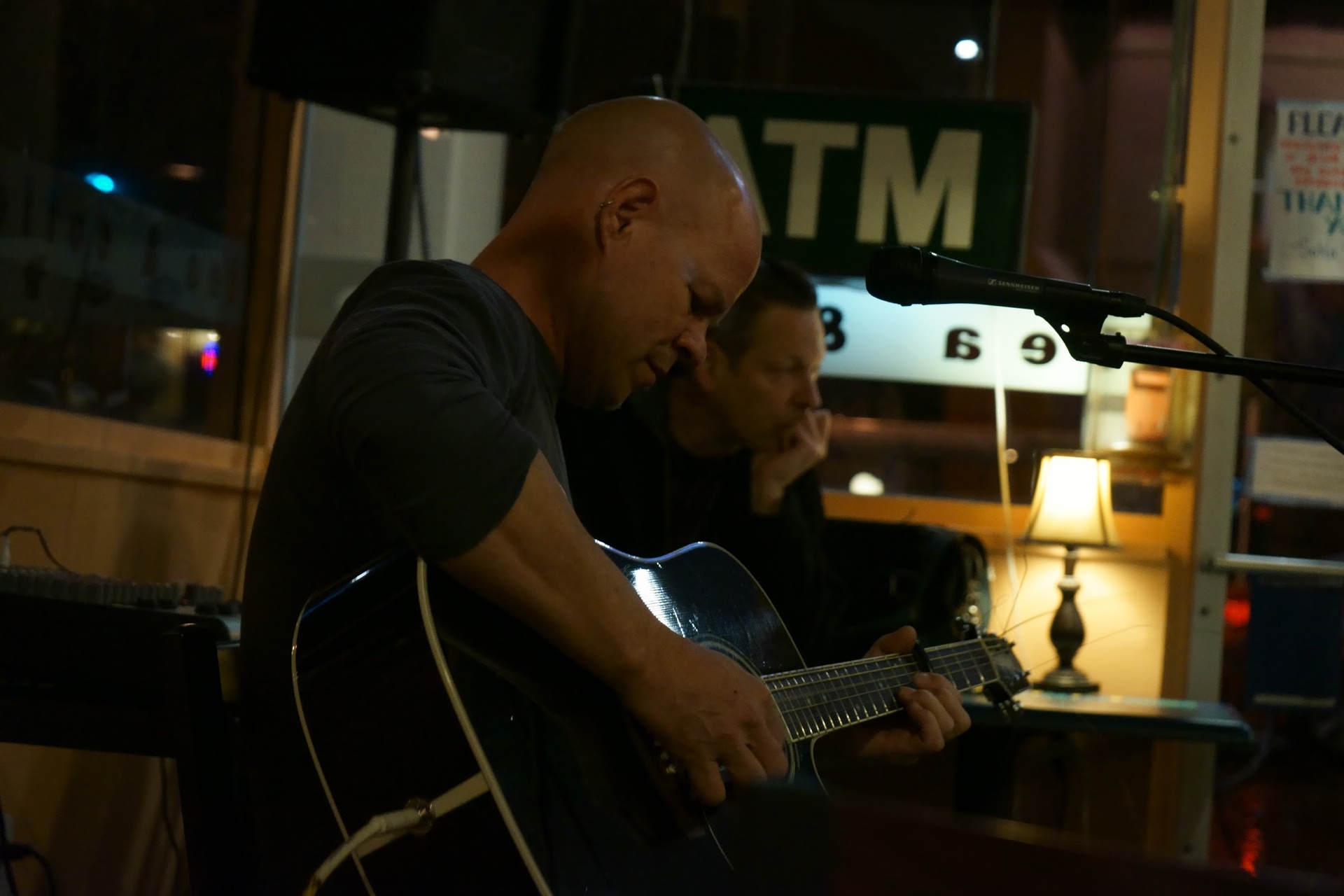 The next person up was named Rick who hailed from Philadelphia, and said he played bluegrass punk. We didn't know what that even meant, but – true to form – he was wild, he was crazy, he was yellin' and tearin' and screamin' – and his music had a tinge o' twang to it. We later posted a video to our Facebook of him stating "just the facts" in which he used some colorful profanity to describe how cool our band is. We won't quote it, you can find it on our Facebook page. Here's Rick!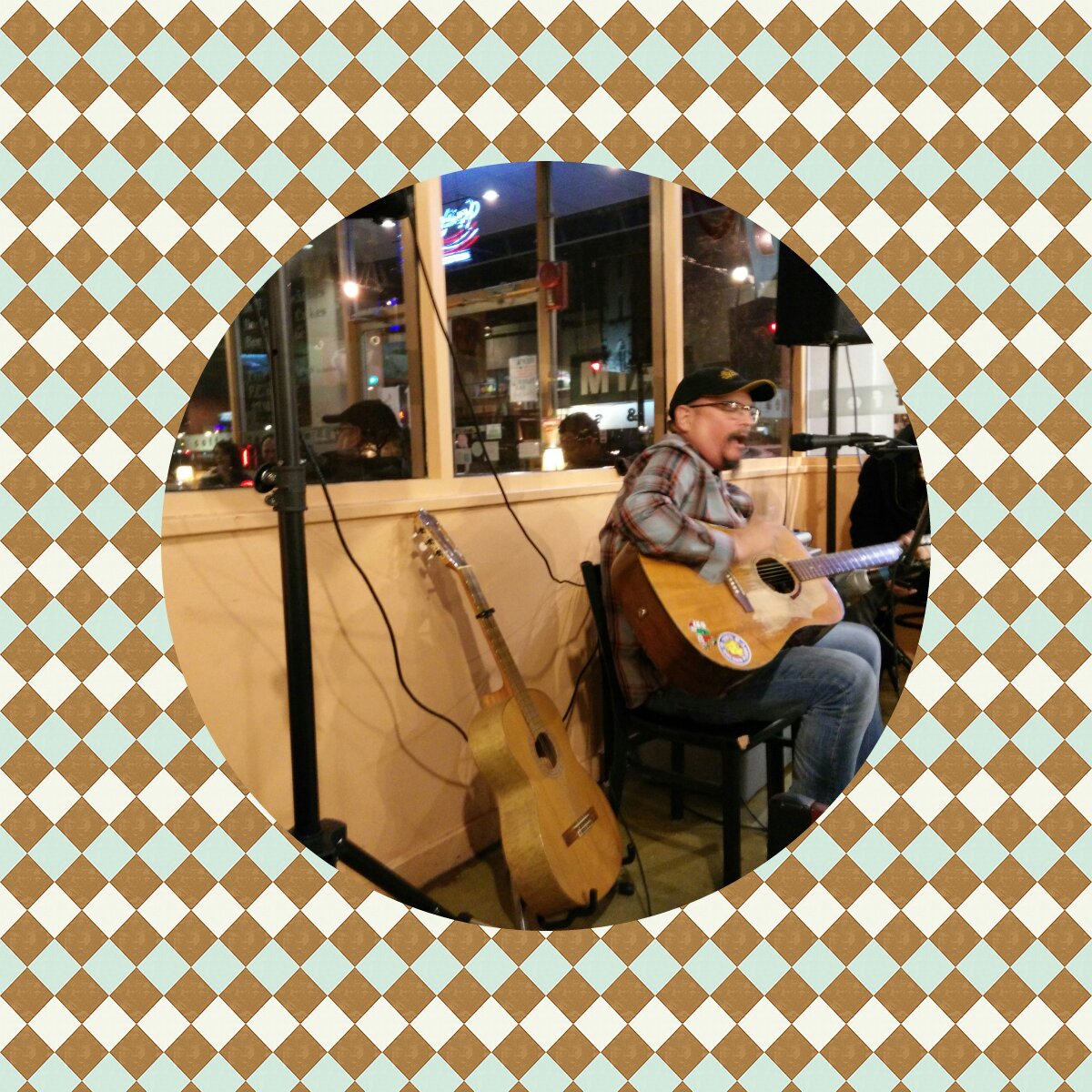 At this point, the other musicians ahead of us decided that they were not going to play that evening. Our friends were chilling at the Bier Baron next door and hadn't made it to the venue yet. To give 'em more time, we asked if there was anyway we could wait on our friends for a few minutes. A person who seemed to have authority said "sure", and their house DJ (did I neglect to mention that?) pushed play on the DJ machine for a few minutes. Eventually, after… say 15 minutes?… we realized they ain't here yet and we're holding up the whole shindig. So we hopped onstage.
That night, our buddy Will joined us. He's a violinist and avid listener of "old-time" music, he's been Josh's friend over the past few years. (He's pictured above in the Totally Just Coffee pic.) Will and Josh had met to play Wagon Wheel and some other Old Crow Medicine Show tunes, and tonight was the night the scheduling gods were happy and everybody was able to make it out to play together. To make it happen, we practiced as a trio for the first time ever that night before the Soho performance. Since practice, we had consumed some "potent potables" so we were ripped 'n roarin' and ready to go. We opened – sans Will – with I'll Follow You Into the Dark by Death Cab for Cutie. Kenny played mando and Josh played the 6 string. It was a decent performance. Then we played our original song Sequestered Together with Kenny playing guitar and Josh only singing. It actually went wonder'fly and we NAILED the difficult vocal harmonizations at the end. Will popped on stage next and we had a great go of it. He played masterfully, and maybe due to the new energy he brought, we seriously played a great show! Probably one of our favorite performances. We then finished up with our rendition of Wagon Wheel, complete with violin! Will's performance was excellent and we used one of the vocal mics to amp up his sound. Will really completed the song and the crowd loved it!
The next performer was a wonderful woman named Addie who sang with a ukelele and a guitar. Apparently she was a trained Jazz singer and it showed. Her voice was stellar! She sang some songs and told some stories and it was all a treat. Our favorite song she sang was "Santa Baby". She may have forgot some of the words near the bridge (who knows all the words to that song anyway?), but I'm pretty sure we forgot some words to Wagon Wheel. We, of all people, cannot fault anybody for forgetting lyrics. Her rendition is definitely worth recording.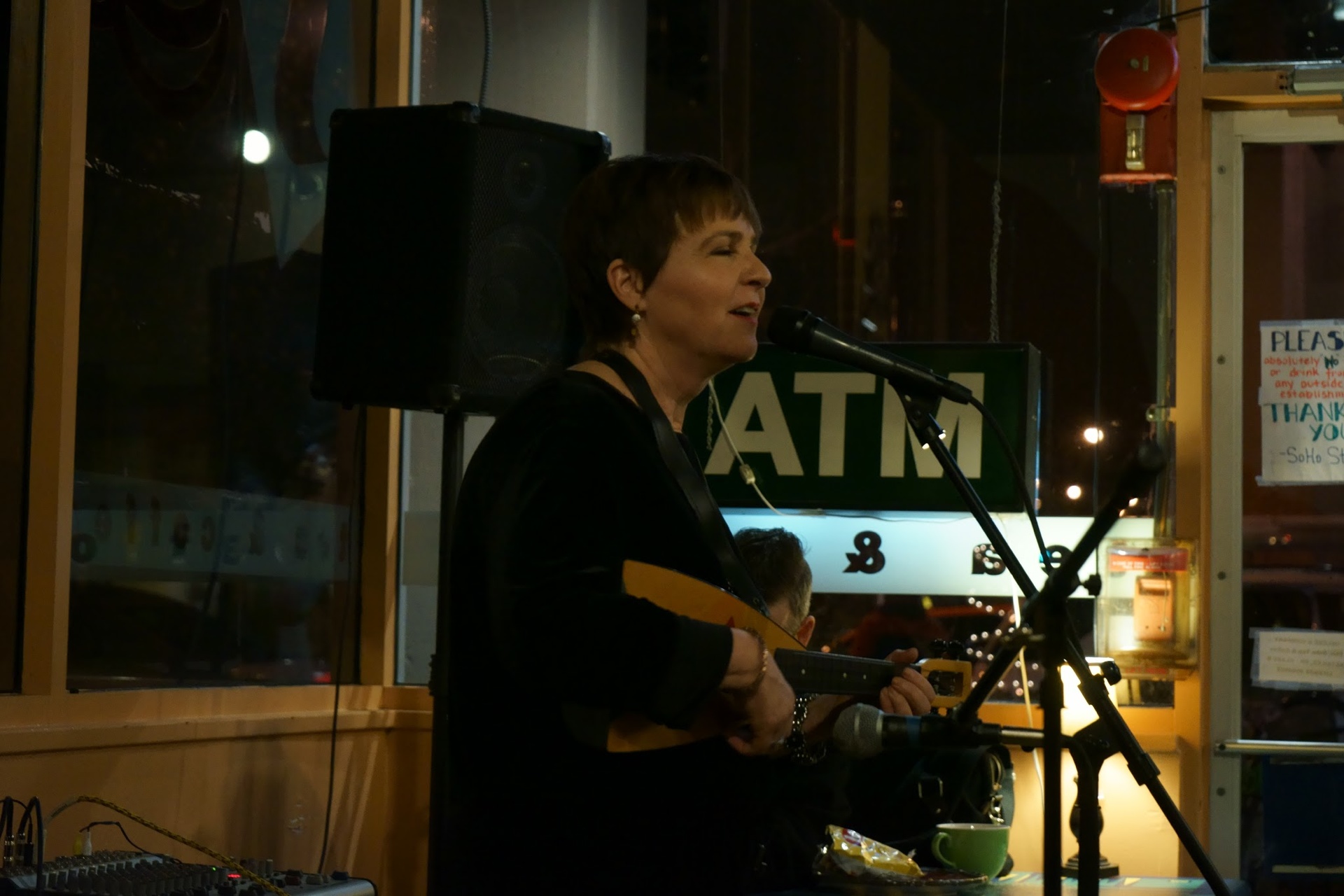 Y'all need to check her out. We helped her tape her performance, so if the technorati blesses us, maybe we'll have a video to post!
The final performer of the evening that we'll cover was a rapper known as The D. He was really emotional about his music which was great to see. It was obvious that he was proud, a little nervous, and thrilled to be on stage. He used his phone to play his beats, via an auxiliary cable which was then connected to the PA. He was a great performer and it was an experience to see him put so much heart into his performance. His songs discussed growing up in New York and he was dosing everybody with 2 teaspoons of nostalgia.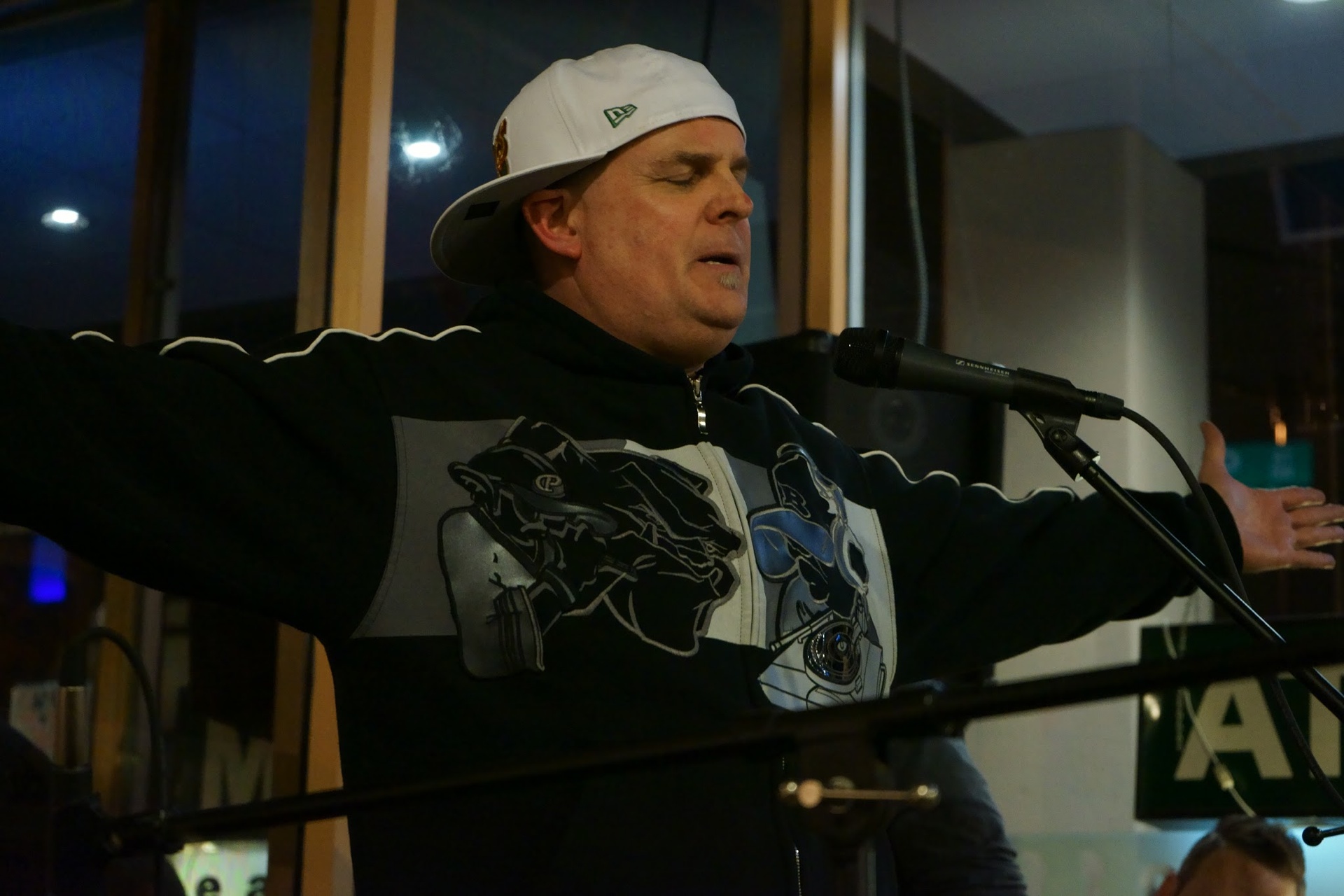 All in all, it was an excellent night. The sound system was quite good and didn't get too loud for the room we were occupying. Instrument storage wasn't an issue, as there was plenty of room. This place is a serious open mic contender for the title of Best in DC.
Artist Info
Will Horton
Will is a friend who we hope will stick around to play some more shows with us in the future. He doesn't have an online music presence at the moment, but if you follow The Capitol Heights around you're guaranteed to see him at some point.
Addie Stan
Addie's twitter handle is @addiestan.
The D
The D's Clark Kent is Jonathan Panczyk. We were unable to find any pages for his music, but if anybody knows his page, please pass it along to us!