Last November, The Capitol Heights invaded Montgomery County, Maryland. We didn't accidentally write a national anthem like the last time Maryland was invaded, but at least there was music, food, and a great venue. The Kentlands Mansion neighbors the Arts Barn in Gaithersburg, and many of the activities on their website seem to discuss them as one location. Don't fret over that, just head on over to the Kentlands and follow the signs and you'll have yourself a delectable evening of entertainment.
Now this stop on our Open Mic Challenge is a little different than many of the others, insofar as it's such a classy affair. We aren't joking. (Although we almost wore suits just to mess with them.) There's no dust and no grime here like a normal open mic – just the air of a wonderful community meeting to share their talents. Here's a view of what the mansion looks like from the inside.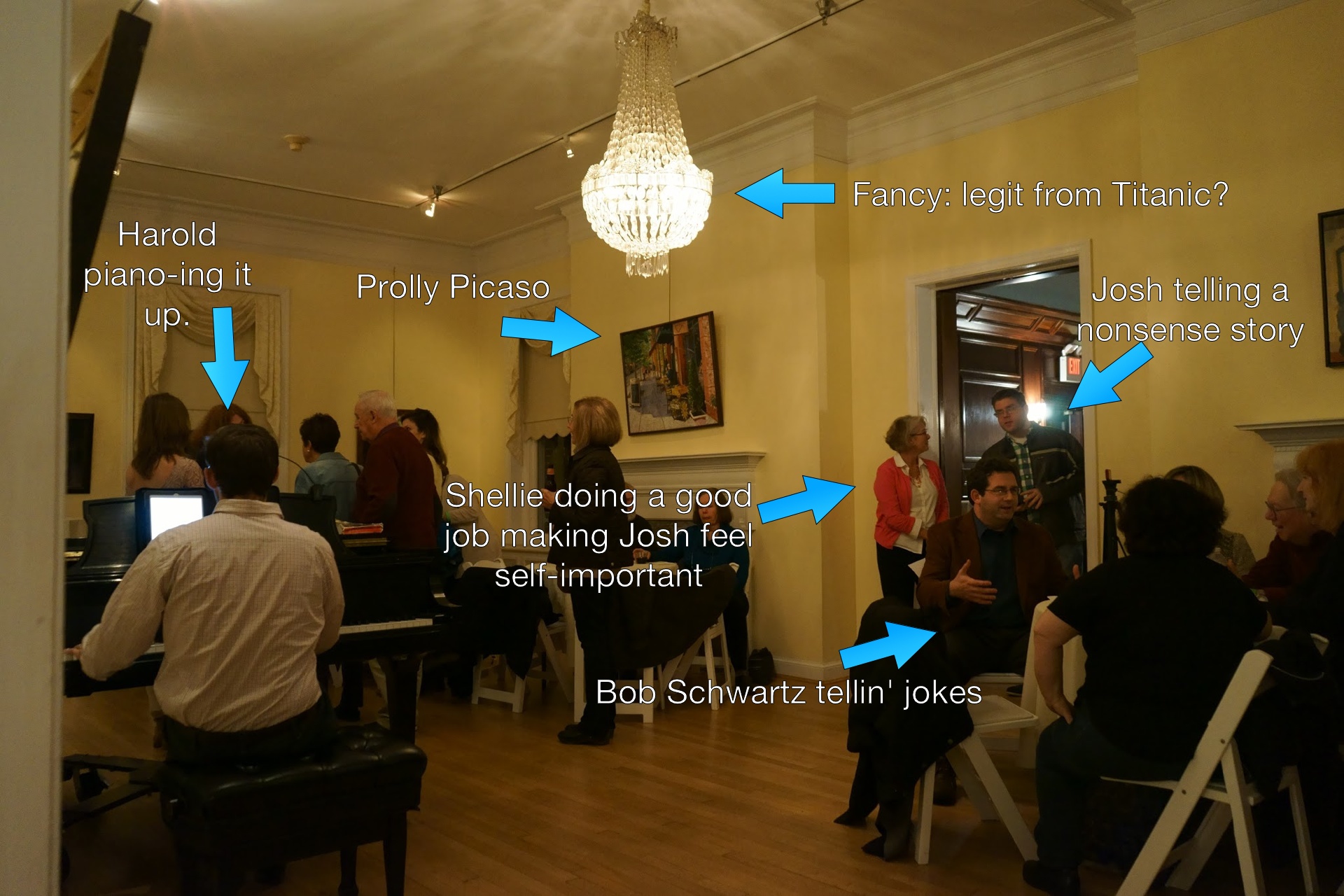 The open mic occurs once a month, starts at around 8 PM, and costs $10 for entry. Getting there around 7:45 is fine. Josh had played the Mansion before alongside a friend so we knew what to expect but this was the first time The Capitol Heights arrived in full force. Shellie Williams, the director for Arts Barn and also runs Arts on the Green, was there to greet us both times and ensured the event moved along smoothly. To kick off the night, Shellie was asking the patrons if they liked the room setup and was soliciting other types of feedback. That was very cool to see the venue so proactive in making their event even better, especially since this open mic opened for the first time late last year.
One of the coolest parts about this place is that they have a classically trained pianist on staff named Harold Walbert. He seemed happy to play whatever a performer desired, especially if you bring sheet music. Last time Josh played this place, he played Hallelujah, and asked Harold to play along. Josh asked if he could change a chord from minor to major (b/c Kenny had shown him the E major sounds better than the E minor) and Harold said sure and rolled with it. We also saw him sightread scores from showtunes – so confirmed: he's got mad finger-chops. You can see him pictured above at the piano.
One of our favorite things on this open mic journey is seeing so many different types of entertainment and this place offers storytellers, comedians, musicians, and even dramatic readers. One of our favorite acts of the evening was Bob Schwartz who's a storyteller and comic. Unfortunately, our photo of him was from far away and it was a little dark but his routines can be found on YouTube and you should at least click this video embed to see the first few minutes of his act. He makes us laugh and it's great to see him having a great time doing what he does best!
Next up was Shannon Frank (ukelele) and Joe Dito (guitar). We b-lined for them right when they arrived because Shannon was holding a cool looking uke and Joe had a sweet-ass hat. We knew they were going to be interesting and their version of Lion Heart by Of Monsters and Men left an impression. It really was a great performance and I felt like Shannon sounded a LOT like Nanna Hilmarsdóttir (original singer) even though she wasn't doing any sort of Icelandic accent. Look below to links to some of their videos. Here's a pic of 'em in action, but we didn't get the uke because it was covered by a music stand. We are le sad.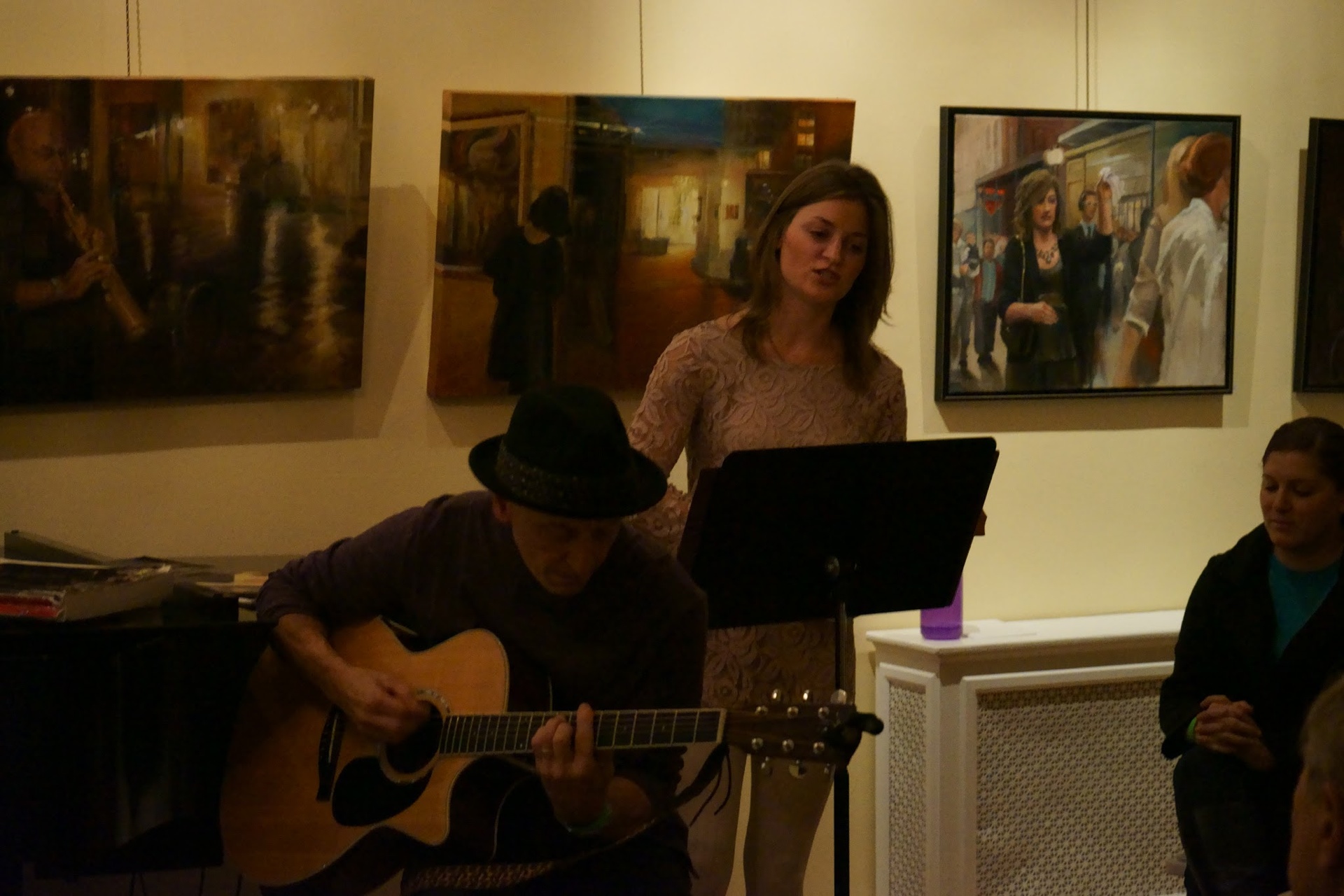 We played after the Shannon/Joe duo and it was memorable to say the least. You see, what had happened was, we emceed and played a charity event earlier that same day. We shouted and sang and caused a lot of rabble. Then, after refreshments, we went to the Kentlands Mansion. This situation, in cahoots with a cold that wouldn't go away after 2 weeks, was the reason Josh lost his voice in the middle of a song. But there's even more. Harold began playing Journey, and Josh freaked out and started singing at the top of his lungs. This definitely didn't do him any favors. It was awful!! He hit a hight note, felt a little twinge, and then his voice more or less flatlined.
Kenny took over the rest and finished the song with a solid solo performance. It was awful, and embarrassing, but the crowd seemed pretty cool about it which really really speaks volumes about the atmosphere at Kentlands. It really is a great place for everyone to get together. One thing that's really cool about this place is that it's truly family friendly, and it would be an excellent venue for a budding musician's first performance. Hell, I was even worried about saying "H-E-double hockey sticks". Most open mics in the area can't say that AT ALL. Many of our favorite Kentlands / Arts Barn acts can be found on YouTube, which is very cool that Montgomery County is so engaged in their local music and arts scene. (EDIT: YOU MUST BE 17+ PLUS AND THIS WAS A HILARIOUS AND BIG ERROR.)
Artist Info
Shannon Frank & Joe Dito
They have a lot of videos on the enternets and they seem quite active in the local music scene. You can catch some of their videos on YouTube. We can't find any official web presence for their troubadourium, but we'll update here if we find anything.
Bob Schwartz
Bob's Youtube Channel is SchwartzBwithYou.