After living in the DC area since 2009, Josh visited Takoma Park for the first time in 2015. Isn't that crazy? And Republic is right over the DC/MD line – like a block away. How cool is that? Needless to say, but we're going to anyway, this was our first time playing Republic in Takoma. Our friends Cynthia Marie and Jahnel Daliya played there a couple of times so we knew the place at least existed, but didn't know what to expect. And because we were getting ready for the We Are the 9 show, we thought we'd bring our GIANT keyboard out and try and test it out in the real world. Get it out of the band room. Which meant we had to take an Uber XL to Takoma since it really is that gargantuan.
This place is popular and I'm not joking. Lots of artists & Lots of crowd. Frankly even the crowd had talent. So everybody only got to play 2 songs a piece, which was fine because the variance in styles made the night a great excuse to chat with people while being randomly interrupted by music. In terms of sign-up, the list was full by 8:30. Completely full. Lleno. Whoa. This is one of those open mics that produce – it's a true box social – and we would kind of compare it to Iota Club in Clarendon in that respect. The event started a little after 9, which was basically on time, and is impressive from open mics standards. When we walked in, we quickly found a problem… where do we put Paul Bunyan's keyboard? All the artists had placed their instruments in this one corner of the room, but there was a lot of storage elsewhere in the facility. Here's what we saw.
A gent named Juels hosts the event and in usual open mic fashion, he started the evening by makin' some noise. But he wasn't alone! He had Joey on the cajón and what a dapper and daft duo they were. Juels' voice is on the high side, Adam Levinesque, and much of what they played was in a minor key and delicately swung. And each second Joey spent "cajón-ing" caused ripples in space-time since the drumbeat had such depth. Their cover of Elton John's Rocket Man was sweet and hauntingly melodic and brought me back to a time when I first fell in love with that song in Austin, Texas. 10/10 would listen again. (HINT HINT record it Joey & Juels!). Here they are mid-song: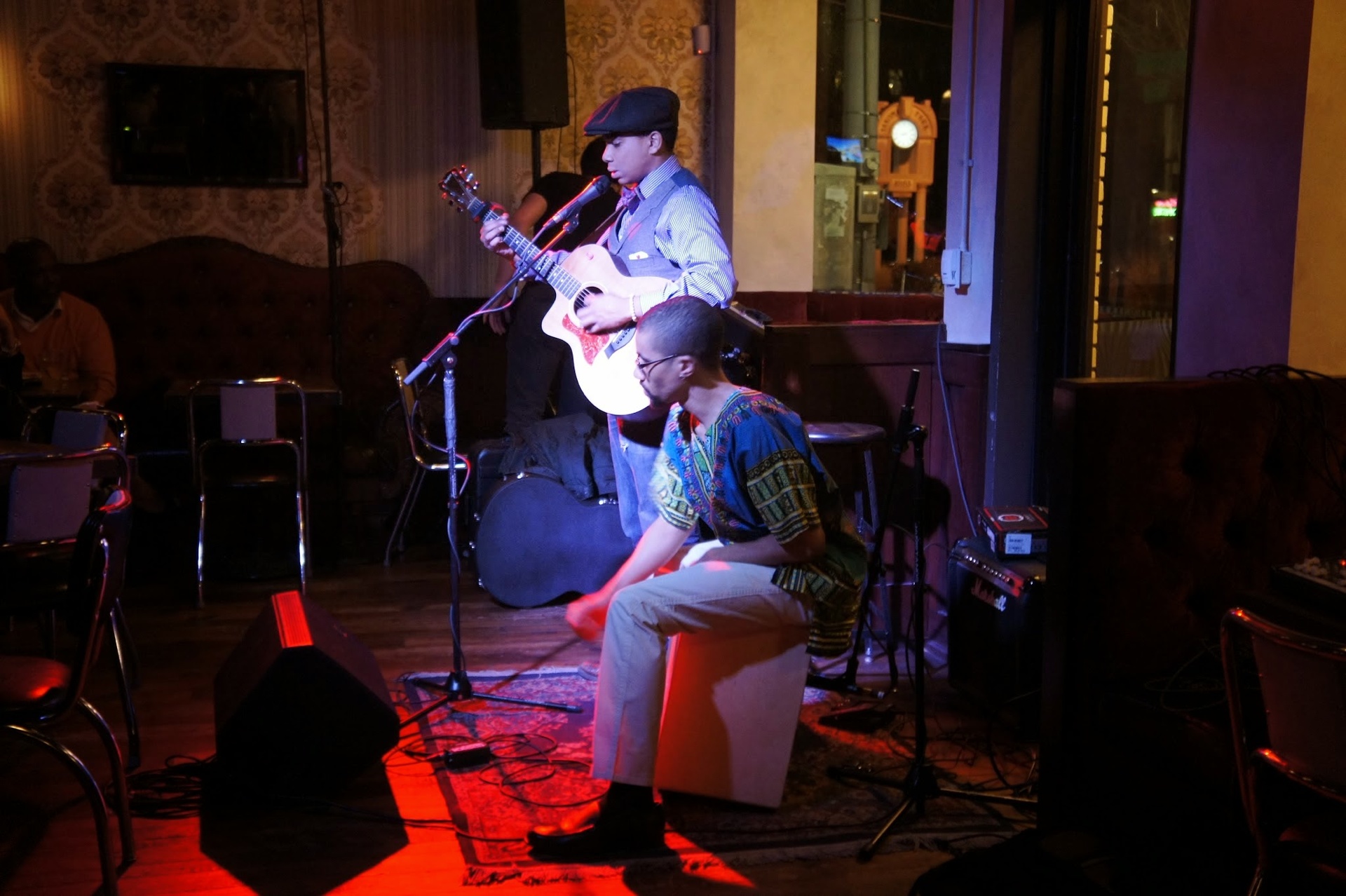 Some "guy" from "Colorado" was up next – known as W.L. Bishop – and he definitely grabbed our attention. He had a raspy voice, knew how to finger the fretboard, and had solid stage presence. We stole him from his female companion after his performance and started chatting with him only to find he's from GEORGIA TECH. Pssh Colorado – what lies! We've all probably played some of the same venues before and maybe even know some of the same folks. How cool! Our favourite song that he sung was Chandeliers in The Sky and Josh said it was good and so it was. Meeting someone else from GA up here in a serendipitous fashion was wonderful. And it sounds like he's in the midst of doing what we're doing – getting to know the local music scene and identifying a group of people to join his cult (i.e., building a fanbase), and we're definitely going to keep up with him if he allows it. But we'd totally understand if he doesn't.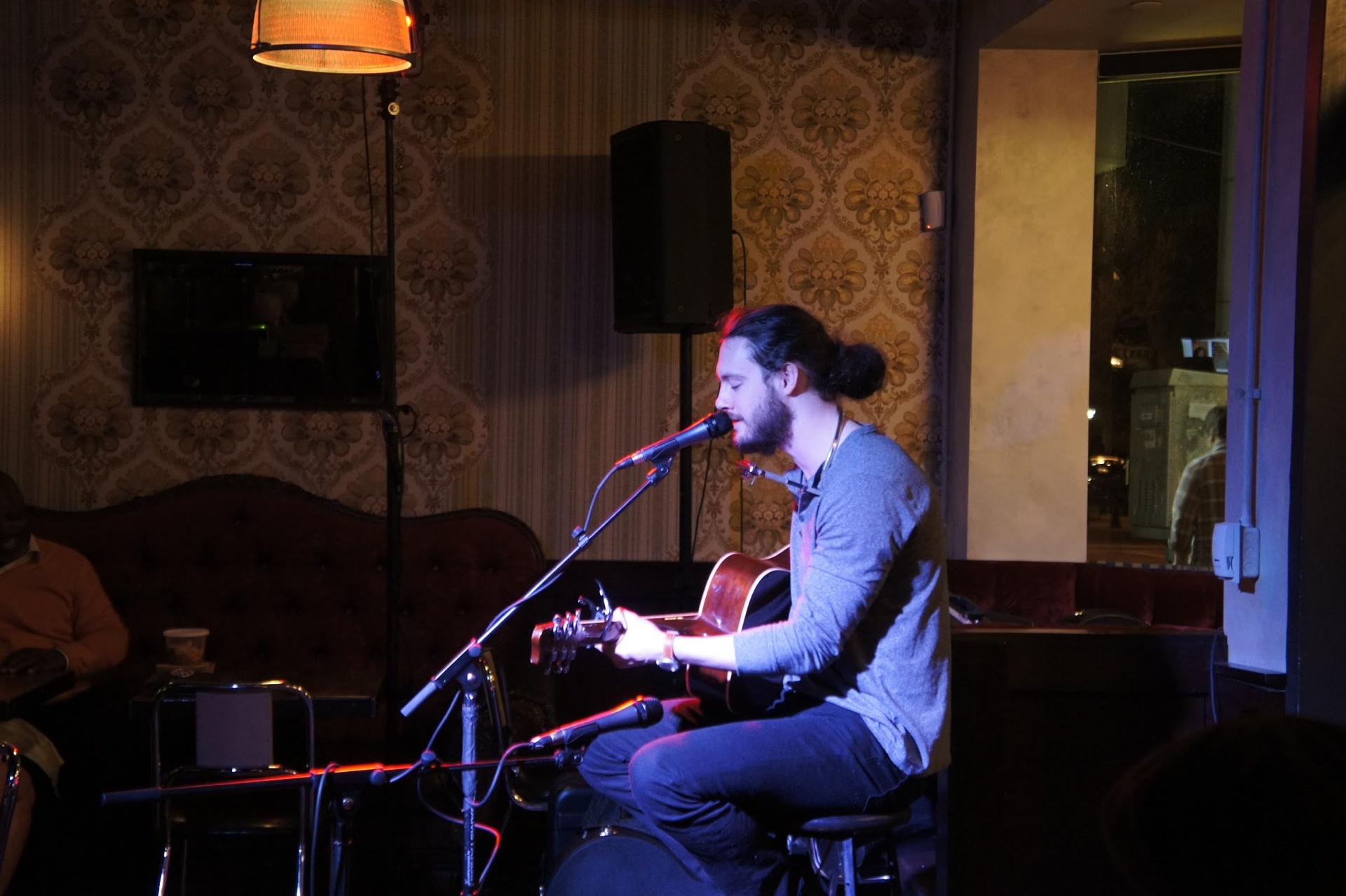 Now on to Warner Williams and honestly, I did not know who this guy was before looking him up. Apparently he's a living legend and was "recently honored alongside B.B. King and John Lee Hooker as one of the nation's greatest traditional artists" according to the Washington Post. I mean, that's highly legit. How legit is this guy? Donning a sleek stetson, he sat down, pulled out his guitar, and started playing what we recognized as old-time tunes (e.g., Comin' 'round the mountain, Home on the range) with different lyrics. For every single classic he had all new words – interesting. He even played songs that my soul knew but my brain couldn't quite touch – annoying tip of the tongue stuff! He actually played around 6 – 8 tunes onstage throughout the night because other folks got him to come on up and play with him. Go buy his album. For America.