After our show at the Black Squirrel a little while back, our friends Len & J sent us another opportunity to play in Adams Morgan on July 10th. Len & J are like magical show-giving fairies and we love 'em for it. The show they offered was part of a burgeoning DC concert series hosted by the Pilot Waves podcast. Pilot Waves is the brainchild of Alex Vidales that discusses the intersections of artistry, technology, community and commerce in DC (definitely different than Hometown Sounds. Alex said we'd be playing with a band called Catscan! which at the very least sounded medically interesting. Earlier that same day we posted on social media that our band is looking for a nemesis, and they promptly responded with the picture below. Considering that they basically threatened our lives, we assumed they were our kind of people.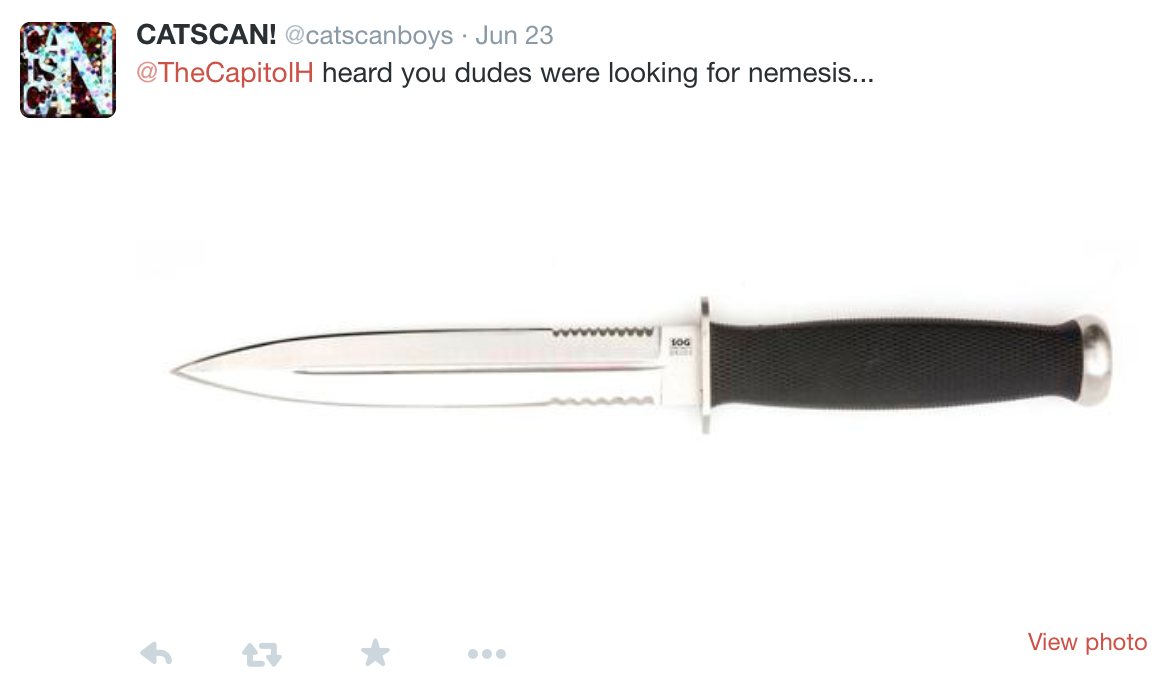 Gameday came and we hustled to Bossa for the doors to open at 7:00. We were supposed to go on at 7:30, but by showtime, very few people had shown up. With only 10 or so people in attendance, Alex decided to postpone by 30 minutes. Then we – the glorious and amazing Capitol Heights – figured we'd bestow a mighty gift upon those nice enough to show up. We bought vodka shots for everyone! It made everyone a little bit more loosey-goosey and the small group of us started to get to know one another. We didn't want any Sharks & Jets situations going down between The Capitol Heights and Catscan! – and we narrowly avoided a murderous knife fight filled with copious amounts of well-timed finger snapping. We got rhythm, yo.
The second floor of Bossa is where this evening went down, and there's actually 3 stages in total at this club. The PA for the evening was for vocals and backing tracks only. Or so we were told. Alex didn't mind us using our DI box to plug-in our mando because he's such a kind gent (and the mando is small and hard to hear, anyway). Since we mostly play acoustic nowadays, no sound issues for us, but Catscan! brought amps, and it sort of reminded us of our early days playing at small venues in Gerogia, except we were surrounded by DC class. Don't take this as a bad thing – it made for a unique and intimate vibe where the crowd got really close to the performers. It's not something we've really seen in the city yet.
Come 8:00 PM, we hopped on stage and did our thing. We actually sounded REALLY good this night – shit was just clicking – and we brought up our special guest – Jo Palmer! Jo is a longtime friend who jumped on stage at our recent show at the Black Squirrel so we'd figure we'd make her a Capitol Heights Deputy, alongside our friends Jahnel, Will, Jeff, and Chris. It's a good gig if you can get it and we definitely improved her life drastically that evening. Jo sang Ho Hey, Jumper, Flagpole Sitta, and Chicago with us. It was a great time and she sounded great, exuding stage presence all over the place. We had to shower afterward. Once everything was over, we posed for some pics with Catscan! Here are two from the evening: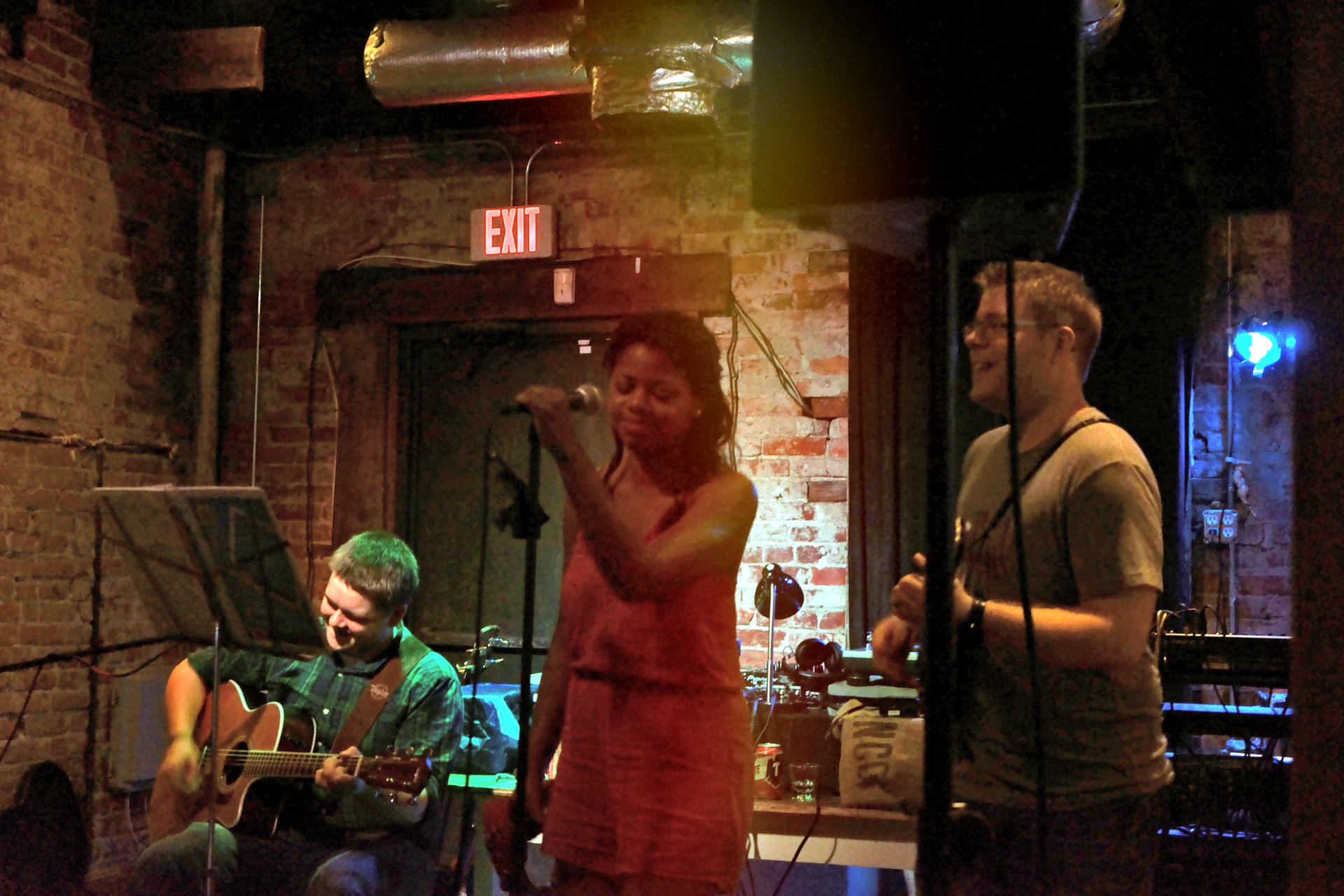 Catscan! took the stage shortly thereafter, and they were a wonderful act. There were definitely some similarities with how Catscan! and The Capitol Heights conduct ourselves onstage…so much so that it was a little odd. They played lots of geek and video game inspired music and our favorite was their song "Homework Sucks by Catscan!". They used an iPhone to provide a backing track through the PA, which mixed with their electric guitars quite well. Since we live in folky-open-mic-singer-songwriter-land, electric guitars + amps + overdrive was a serious treat. About halfway through their set they took of their shirts for reasons known only to them. They also gave out ring pops like goddamn rock stars.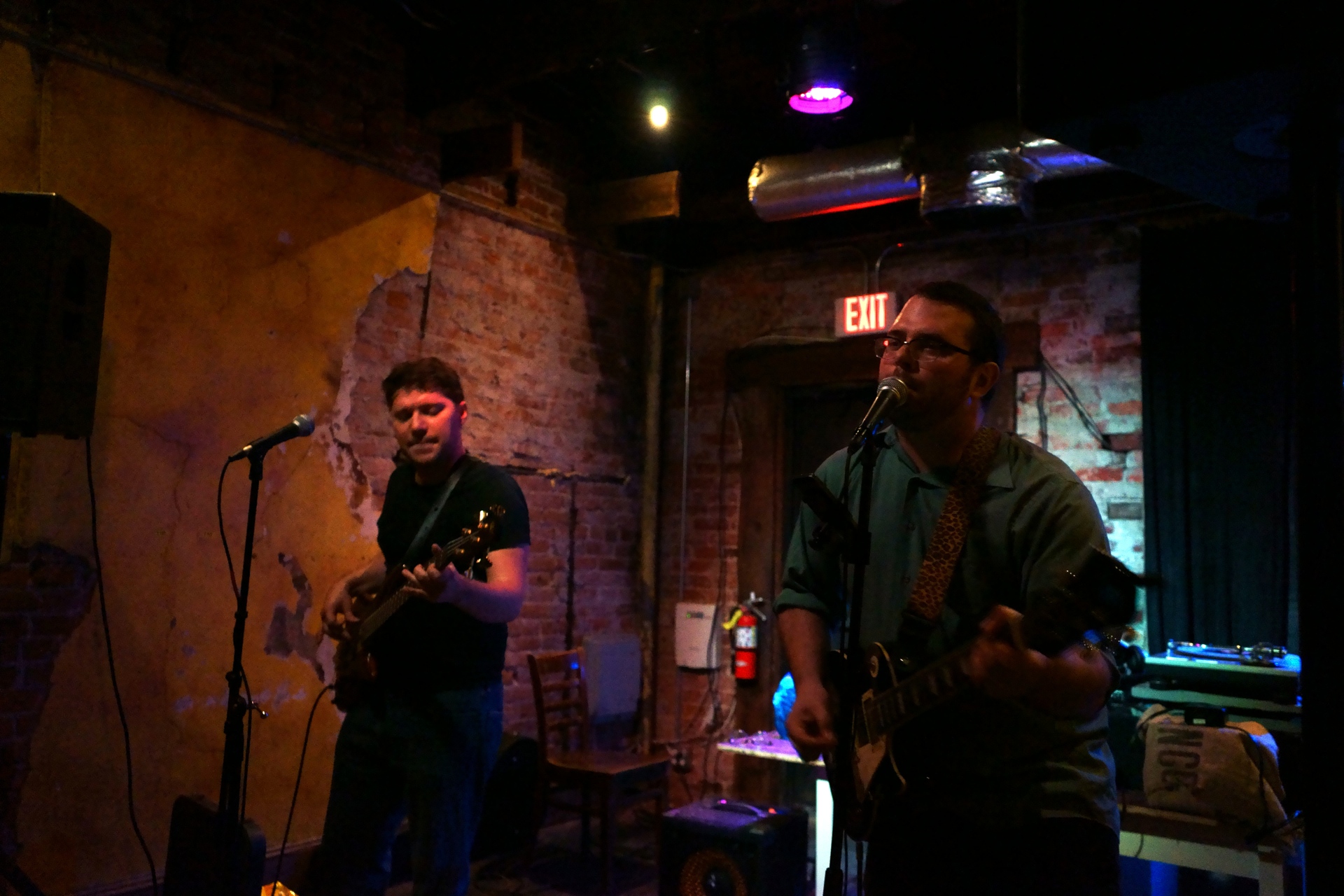 Bossa was a great time and we actually got paid! The kicker of the evening was on the way out Catscan! knocked over a vase, shattering it into a million pieces with the expensive looking flowers going everywhere. It was awesome. After saying goodbye and laughing hard at their misfortune, we waited outside for our ride. Getting bored, we busted out the mando and started singing Sublime on 18th. Some girl off the street stopped and said we were awesome and gave us her Mellow Mushroom leftovers (Best. Tip. Ever.). Naturally this inspired the idea of The Capitol Heights and many concert goers finishing up the evening at Mellow Mushroom.
Arist Info
Jo Palmer
Jo Palmer is a jack of all trades…master of healthcare policy. When she's not living out her Hollywood songstress dreams on stage, in the shower, or in the car during traffic, she and her husband blog about drinking in Washington. Check it out, please at www.barredindc.com and follow @barredindc.
Catscan!
Catscan! has a solid website with a facebook and a twitter handle of @catscanboys. Get ready for their Soundcloud!

Pilot Waves
Pilot Wave's main page is www.pilotwaves.com and their twitter handle is @PilotWaves with a facebook as well. Episodes of their podcast are available in normal podcast locations like Pilot Waves on iTunes, but here's their Soundcloud.