The Capitol Heights found themselves in pulled-bbq-soaked-in-sauce heaven at Branded '72. Josh even woke up with the meat sweats later that night. And it was wonderful. In case you haven't heard, Branded '72 is a pit barbecue joint located in Rockville, MD. If the food of this spot isn't a good enough reason to venture out to Rockville, then the music most certainly is! Read on to catch our proverbial After Action Report on Branded '72 for the open mic challenge.
This open mic occurs every Tuesday at 7:30, and is hosted by none other than Gary Ehlers. We met Gary a while back at Outta the Way Cafe, and we all chatted a few more times and viola! We got a Featured Artist spot at Branded '72. It's less that we're good salesmen, and more that Gary's just a nice dude. But we'll take what we can get, so we put this show on the books and headed out to Rockville. Has anyone else noticed that Rockville has a suspiciously large amount of open mics?
You might notice from the image above that it was a stormy evening, so we hauled ass into the venue carrying our instruments like the man-beasts we are. The inside of the restaurant is divided into two sections, one with a bar/stage area, the other with lots of booths for chowing down. We got there at around 7 and started putting our instruments and other equipment all the way in the back of the restaurant on the stage side. This place isn't your average open mic, because there's a drumset already on stage and everyone seems to be welcome to get up and jam. And that's precisely what went down all night long! A lot of the night was improvisation from a couple of different folks – which kind of reminded us of DC's Flashband phenomenon.
After some super small technical difficulties with the PA, Gary and crew kicked off the event with Gary on drums. We heard lots of classic rock favorites from them, and a few other songs we had to google to figure out, which is always good for expanding one's music vocabulary. The venue's sound was great and filled the space nicely, and the band was well balanced. They had a pretty tight sound and we LOVED the guitar solos and harmonies. Here is an up-close-and-personal pic of them in action: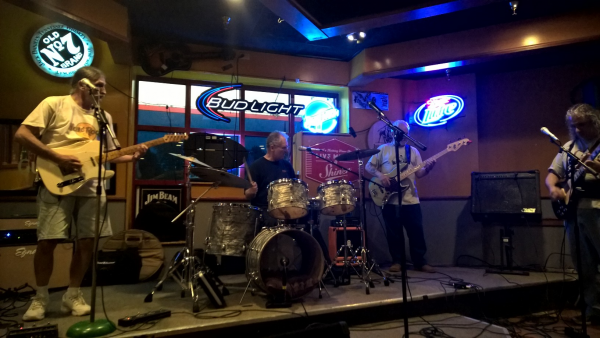 Gary and company played for about 30 minutes before it was time for something else, which ended up being a real treat! Two younger dudes – one on guitar and one on bass – who were playing their first show ever on Branded '72's stage. Jacob and Ryan Seigal are students of the guitar player who just played with Gary (Samuel Biskin), and they got up and made a musical memory. They played a few covers, with our favorite being a hard-rock version of Sympathy for the Devil by The Rolling Stones. Dudes, we might steal this version from you. It was that good. What was badass is that a) they sounded great, and b) they remembered all the words to the song. It's a hard song lyrically and the Rolling Stones wrote those B7 chords happening at odd times in the song (see the second verse) so we were impressed. Here they are in action: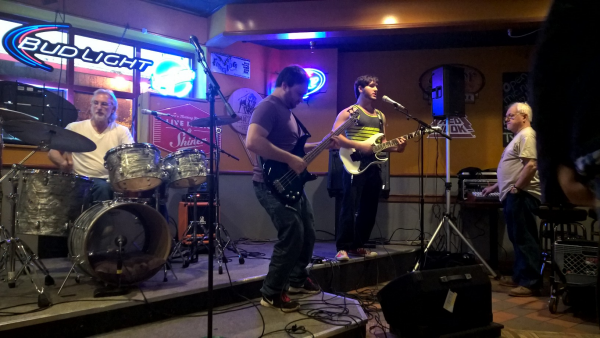 After a few more songs from that duo, it was our turn. As you can see in some of the other pictures, there's a lot of equipment onstage, which made it hard to find a spot for the boxdrum. We were unable to sit next to each other to share our music stand. This caused some difficulties in some of the covers we attempted. We played an original song or two, which went well, and then thought we'd have people in the audience try songswecanplay.com again. It worked well and people requested a bunch of songs and I think we ended up playing Hey Ya by Outkast and Under the Bridge by RHCP.
What kind of performance would it be without a broke string? We recently broke one at our showcase at Iota and then a while back at Republic. So of course it had to happen again! But this happened towards the end of the show, and Kenny thought he'd play a song or two with only 5 strings and it didn't go that bad. In the end, we got some nice compliments and everyone said we were very physically attractive – or at least that we sounded fairly nice.
After our set, Gary jumped back on stage alongside a different cast of characters for another round of rock and blues. It was great watching them work, reacting to each other and listening even when not all of them knew the song they were playing. Very cool. The night ended with a singer songwriter, which is proof that this place is friendly to the more typical open mic crowd. But the best part of the evening's end was Kenny jumping onstage to sing Last Dance With Mary Jane by Tom Petty. Here's a pic: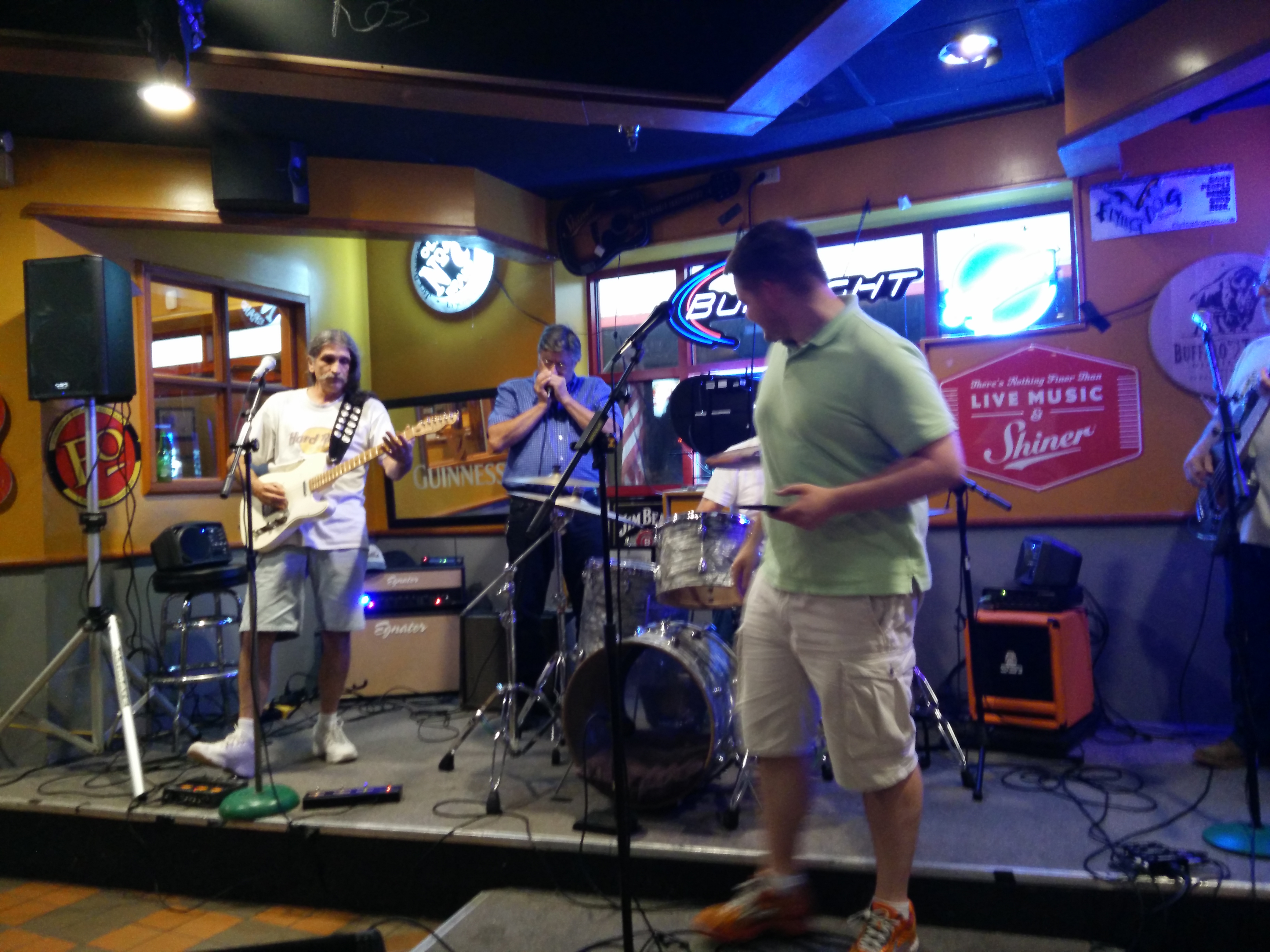 One lesson was learned that night. No matter how well you know a song – it can go poorly when drinks are involved. So.. Take that into account next time you hit karaoke =].
Apparently, Branded '72 has to comply with a noise ordinance, so the party shuts down around 11:00 PM, therefore you gotta get your kicks in before then, which is pretty reasonable all things considered. Some DC venues require the music to shut down at ~10 PM, so this isn't that strange. All in all, if an open mic is what you need – Branded '72's got it. Especially if you're a drummer because it's not often that a drumset is provided for all to use! Open mics for drummers are hard to find, and the fact that the set is available onstage is absolutely badass.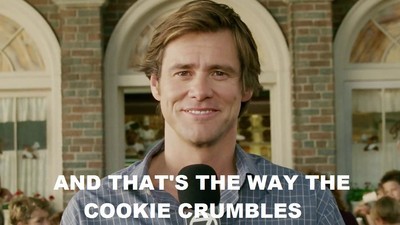 Artist Info
There was lots of jamming and improv from various people, and there wasn't a specific group we could easily latch onto here. At the very least we thought we'd call out Gary!
Gary Ehlers
An international man of mystery, Gary can be found on his facebook and you definitely want to follow him if you're interested in music performance in the DC and Maryland areas. He's also recently started up a new band called 3 Song Sadie!
Jacob Seigal & Ryan Seigal
We don't have any links for these guys, but we LOVE what they did that night and wish them the best moving forward.