Oh Gypsy Sally's, how we've missed you. You're classy as hell, a bit quirky, and always attract an interesting crowd. For those who don't know, Gypsy Sally's has two distinct venues. One for hardcore americana/folk generally hosting touring acts, and another for open mics and such called The Vinyl Lounge. Or at least that's how we see it. And on a muggy day in July we decided to move the open mic challenge onward by tackling The Vinyl Lounge.
This open mic is every Tuesday at 8:00 PM. Signup starts at ~7:30 and that's where we've had issues before. You see, this wasn't the first time we tried to do this open mic. The first time we tried to play this place, we arrived at ~7:30, and the list was already full. And they allow the signup list to just keep growing! Had we stayed, we would've gone on around midnight, so that time we just left and played at Ireland's Four Courts, which runs a competing open mic at the same time. Unfortunately people sometimes put down their names, leave, and then come back much later, which is very frustrating.
With all that in mind, this time we arrived early – at 6 PM just like it says on their website. And nobody was there! A barren wasteland. Well, except for this badass dude chilling out front named Batist. He welcomed us with open arms and said he was filling in for the normal host. He also told us that it's happy hour all night for performing musicians, which was wonderful. We made sure everyone around us participated. While participating, we practiced in the side room until it was sign-up time, and we put our name down 5th, which meant we went on around 9. Everybody got to play 3 songs, which is actually really nice, and more than most open mics in the area. That was not the case with our first time here where they were talking about 1 song a piece. It truly was two totally different experiences.
Enough preamble, what about music? There was lots of that. There were singer songwriters everywhere playing folk, country, and coffeehouse rock. We heard songs dedicated to dead friends, plenty of songs about singers' home states (e.g., Indiana, Georgia), and a cornucopia of home-grown originals. To top it all off, there's a bottle holder built into the music stands onstage. How classy is that? The night was kicked off by the host of the open mic. He limited his set to a single song to give the rest of the artists extra time to play. He made his gesture more awesome by dedicating a song to the late bassist from YES! who recently passed away. We tip our hat to the host! What a gentleman. May Mr. Chris Squire rest in peace.
The next person we'll talk about is Audra, better known as Gracious Me. We met her at the bar, and we told her we were a Brittany Spears cover band. She didn't believe us, so we busted out an a capella version of Hit Me Baby One More Time by Brittany Spears that frankly, as unrehearsed as it was, sounded phenomenal. We're not quite sure how she took that, but we ended up talking about our Open Mic Challenge, and SHE SAID SHE'S DOING THE SAME THING!
Take a breath – I know it's insane.
Ok, she might not be doing the exact same thing, but it's quite close. She's got a huge list of open mics and she's hitting them back to back to back in quick succession. It's impressive, and requires lots of chutzpah because that kind of schedule can be exhausting. We've had a week or two like that and it definitely wears on you if you've got a full time job (which she does). She's given us her list of DC area open mics and we're considering the addition of many of them to our list, but many of her open mics violate our rules by being outside the beltway. But what about her music? It's folk country and she sang with a very practiced and beautiful voice – and she has stage presence. We couldn't find any recordings of her online, but we're very excited to update this line with a link to her future recordings because they will most assuredly be worth the wait.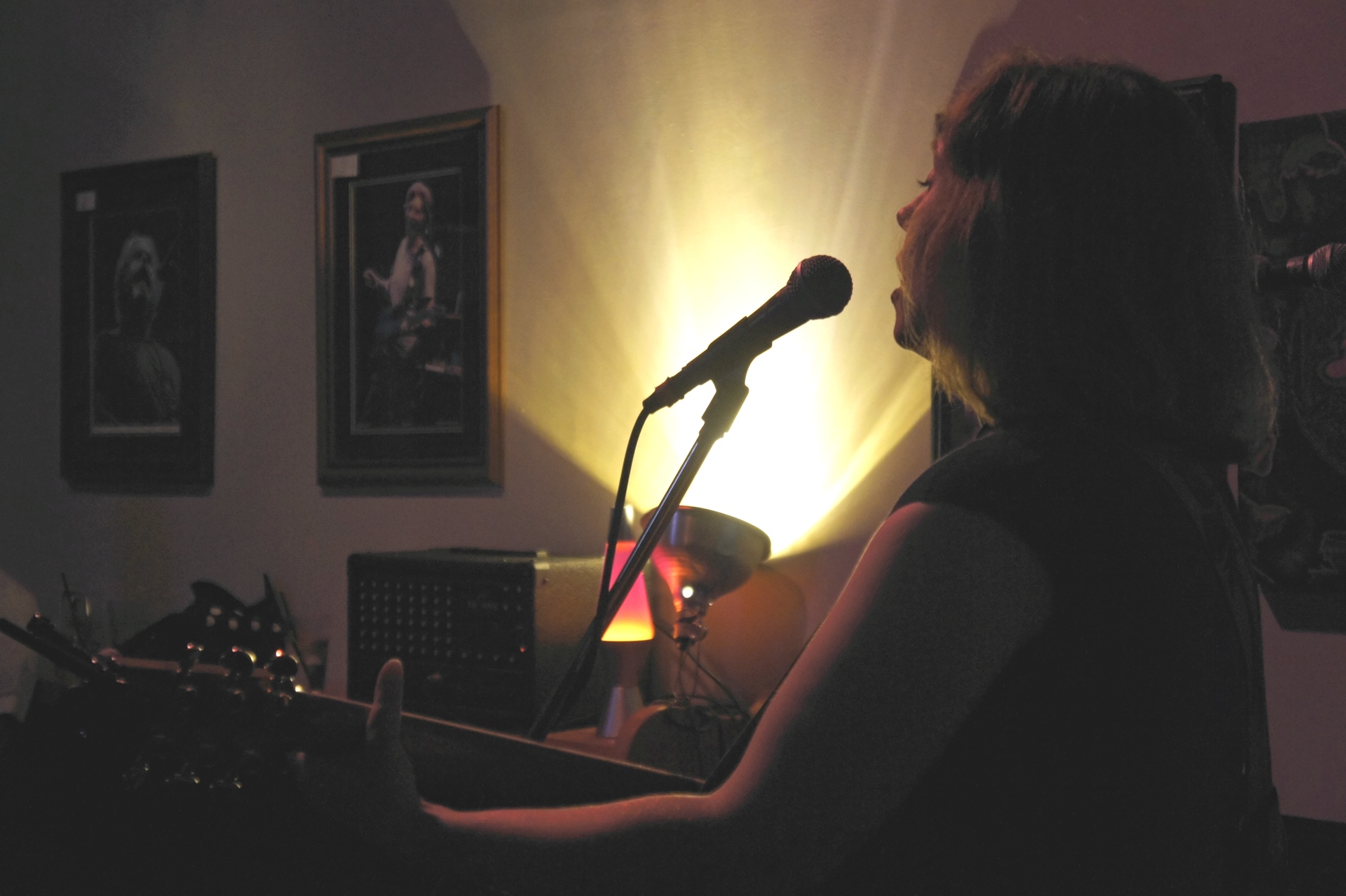 As for our set – we had a damn good time. We played You and Me, and Spec, VA – both of which went fairly well. We didn't bring our box drum, so we were just guitar, mando, and cornet since it's much less gear to bring. The only real issue was that the music stand we setup was pretty low, so Josh couldn't read the sheet music for his cornet solos. Whatever, lesson learned. He just improvised a bit and all was well. Here we are sharing an awkward glance: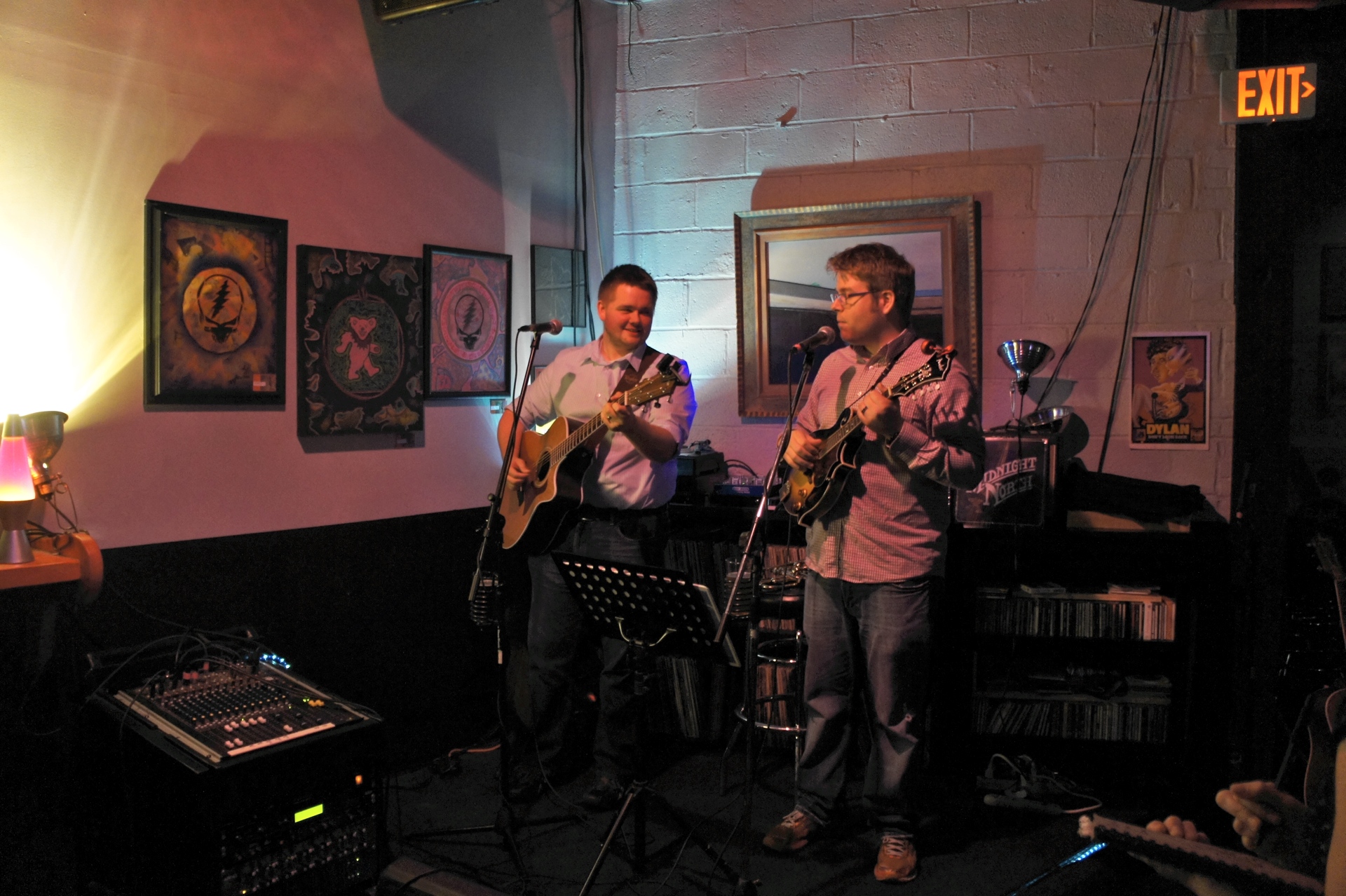 Now let's take a moment to talk about Josh's neighbor Chris. While Josh was walking his glorious new puppies the afternoon of the open mic, Chris was also letting out his hounds. Both Josh, Chris, and the dogs chatted, and Chris decided to come on out to The Vinyl Lounge to play the open mic with Josh. Josh said he would sign Chris up…but he had a drink or two and forgot to do so. In recompense, The Capitol Heights volunteered one of their song slots to Chis. And Chris fuckin' brought the noise. He only played one song, but it was probably the only reggae/rap inspired song of the whole evening, bringing some serious style. He played Molly by BLove, and everyone definitely took notice.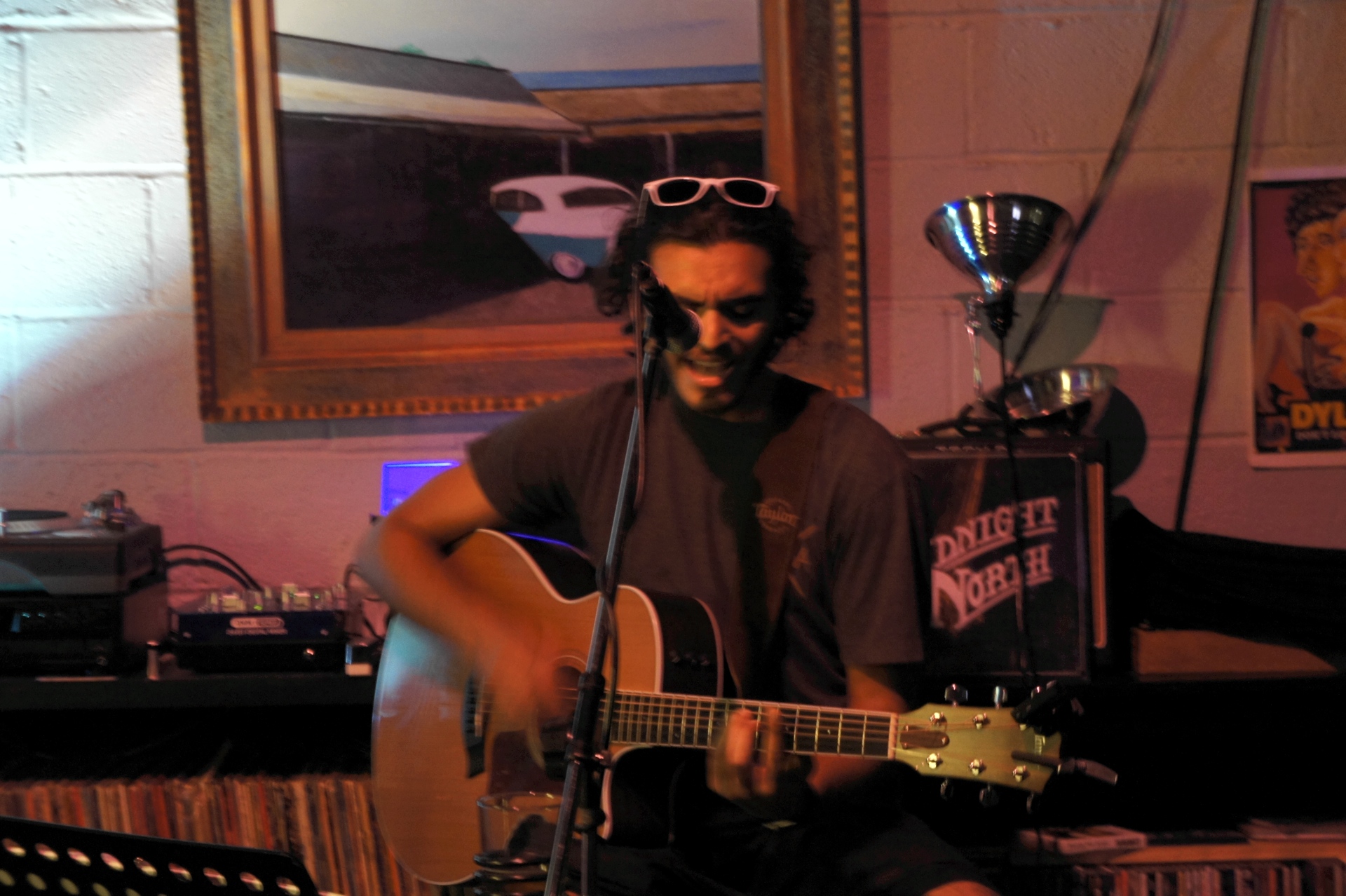 With that, we'll wind down this post. We'd say that this open mic is a contender for the best in the DC area. The sound system is solid, performers are talented and respectful, it's professionally run, and there's lots of spots to practice and store your equipment. The age range and music stylings are similar to that of Iota Club. We're not quite sure if The Vinyl Lounge > Iota Club, but many people attending the open mic that evening said that it was. We've a lot more experience playing Iota and we know everyone there, so we'll have to head back to The Vinyl Lounge from time to time to get that same bond with the venue. The last thing we wanted to share with you is that there's a hidden bathroom at the Vinyl Lounge. It's in the back, and it's never busy. If you gotta loose it, use it.
Edit: We said the wrong person died and we fixed it. Thanks to Chris Mendelis for reading and pointing out the error!
Arist Info
We can't find Batist on the internet, so help us! What's the digital equivalent of a milk carton?
Gracious Me
This wonderful woman can principally be found on her facebook page.
Chris Seikaly
In stalking Chris' digital life, we've seen that he's been involved in a number of musical projects. Here's his current project – ABANDONTHESKIES – and make sure to take a listen and check him out on facebook and twitter.