On a dark D.C. cross street // cool beers in our hands. A touch of applause from the crowd // rising up from the stands… ok I think you get it. Without ripping anymore off of Hotel California, we are going to dive deep into our experience at the Rock and Roll Hotel. Before we begin, we would like to extend another thank you to Justin Trawick for hosting The 9 Singer-Songwriter Series and inviting us to play! We had a splendiferous time and it was one of our, if not the, best show yet!
For those who aren't privy to the location and layout of the Rock and Roll Hotel, we'll start by engorging you with knowledge. The Rock and Roll hotel is located on the newly revitalized area on H street (between about 6th and 14th). More specifically 1353 H St Ne. The venue is located on the street level and if you go there specifically for a concert, you may not realize that there are two whole floors of food and beverage right above you! We've been on H street many-o-time and didn't realize there was a bar on top of the venue so it seems important enough to share. Oh, and DANGEROUSLY DELICIOUS PIES IS RIGHT NEXT DOOR.
When we arrived to load-in our equipment, we were kindly given some drank tickets and pointed to our "room". That's right. We are so posh we can't even be expected to buy our own drinks, so we get free alcohol and our own room. Well, not really our own room… We had to share it with 9 other poeple.. Geez.. Get your OWN ROOMS ALREADY! We tried to call "shotgun" and nobody listened. Anyways – they call it our "room", but it's actually one of three VIP sections located in the hotel you can rent out for parties, boxed socials, or other what nots. Maybe they are called rooms because, well you know, since it's a "hotel" and all. All joking aside, the hospitality for the artists was superb and we received a generous discount on the delicious food!
After we got settled in, got some refreshments in our bellies (chicken and waffles like a boss), it was time for our sound check. When you do a sound check before a show, you know you've stumbled upon a different echelon of venue and the sound system and mixing at the Rock and Roll hotel was superb. Gypsy Sally's was a close second, but this time we had such great vibes pumping out of their performance audio system. Justin had all of the performers take names out of a hat, and we drew 4th, which was a decent time to go on. Then the doors opened, Justin introduced the artists, and as gingerly scrolled past our name like… a LOT of people hooted, hollered, shouted, and made mouth noises. It was thrilling. That mark was meant to be exclamatory!
In the red room is where we first met Jason Ager, who we'd seen playing tuba alongside Justin Trawick for other We Are the 9 shows. Turns out, this guy isn't just a brass player, he's got mad sweet guitar touchin' fingers, a jazzy voice, and sports a fedora that he actually pulls off, which ends up pissin' everyone else off. (Josh: Let me wear a fedora onstage!! Kenny: NO!) Josh worked with Jason a bit to play a song or two on trumpet. Jason ended up giving the audience a choice in the matter, and they (unknowingly!) selected the song Josh hadn't practiced with Jason, so the musical tryst didn't pass. Either way, the crowd loved Jason and he seemed to send that love right back.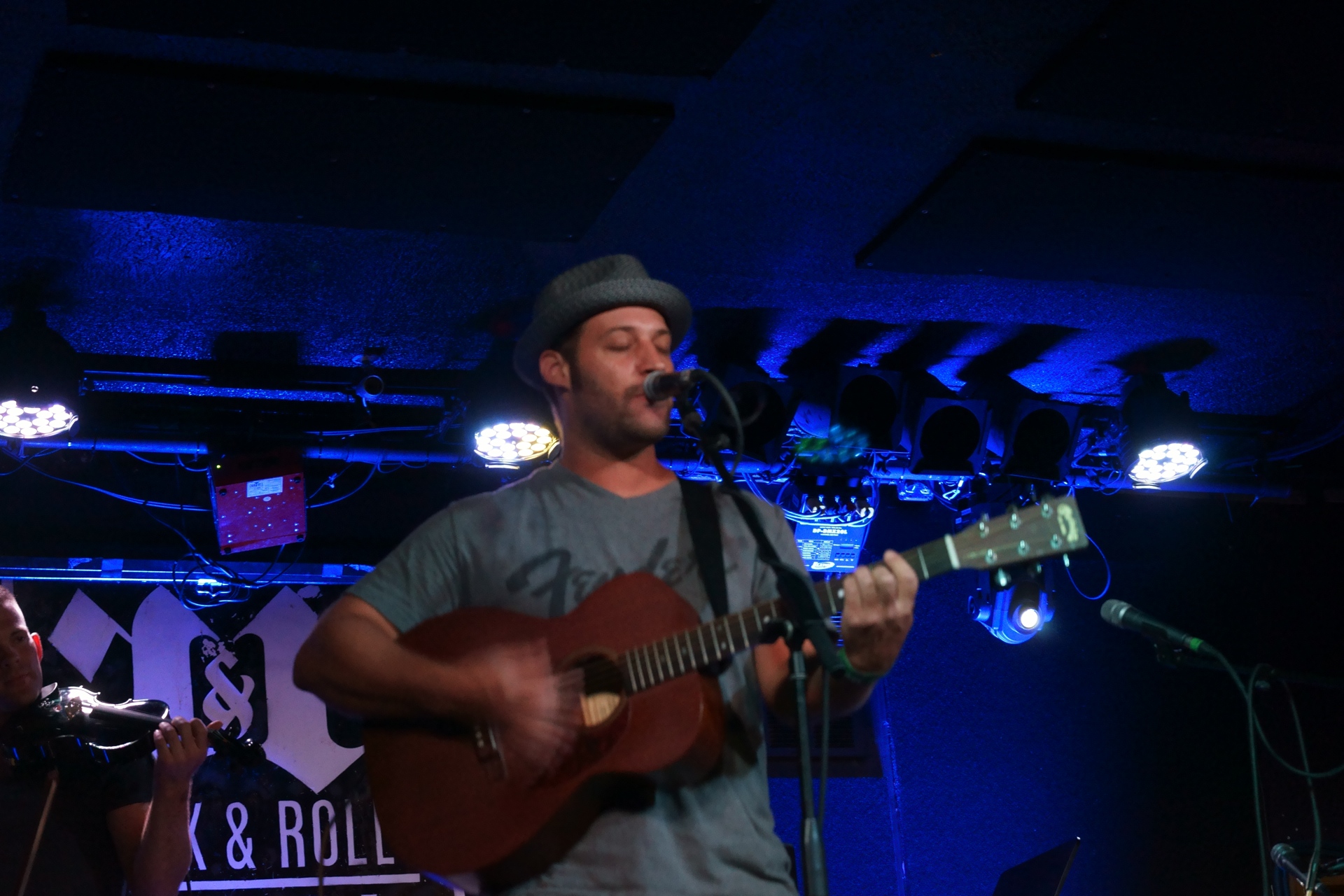 Carolyn played immediately after us and because we had to sit our equipment down we didn't get to hear her for her first set. Once we got back in front of the stage all of out friends told us that she was phenomenal. Like, best voice up there. Therefore, we had to wait after our second set was finished before we actually got to hear her. We were glad we waited because her americana blended well with her clear voice and earnest sound. And after we heard her, we had to agree with all of her friends. Here she is wrapping up her second set.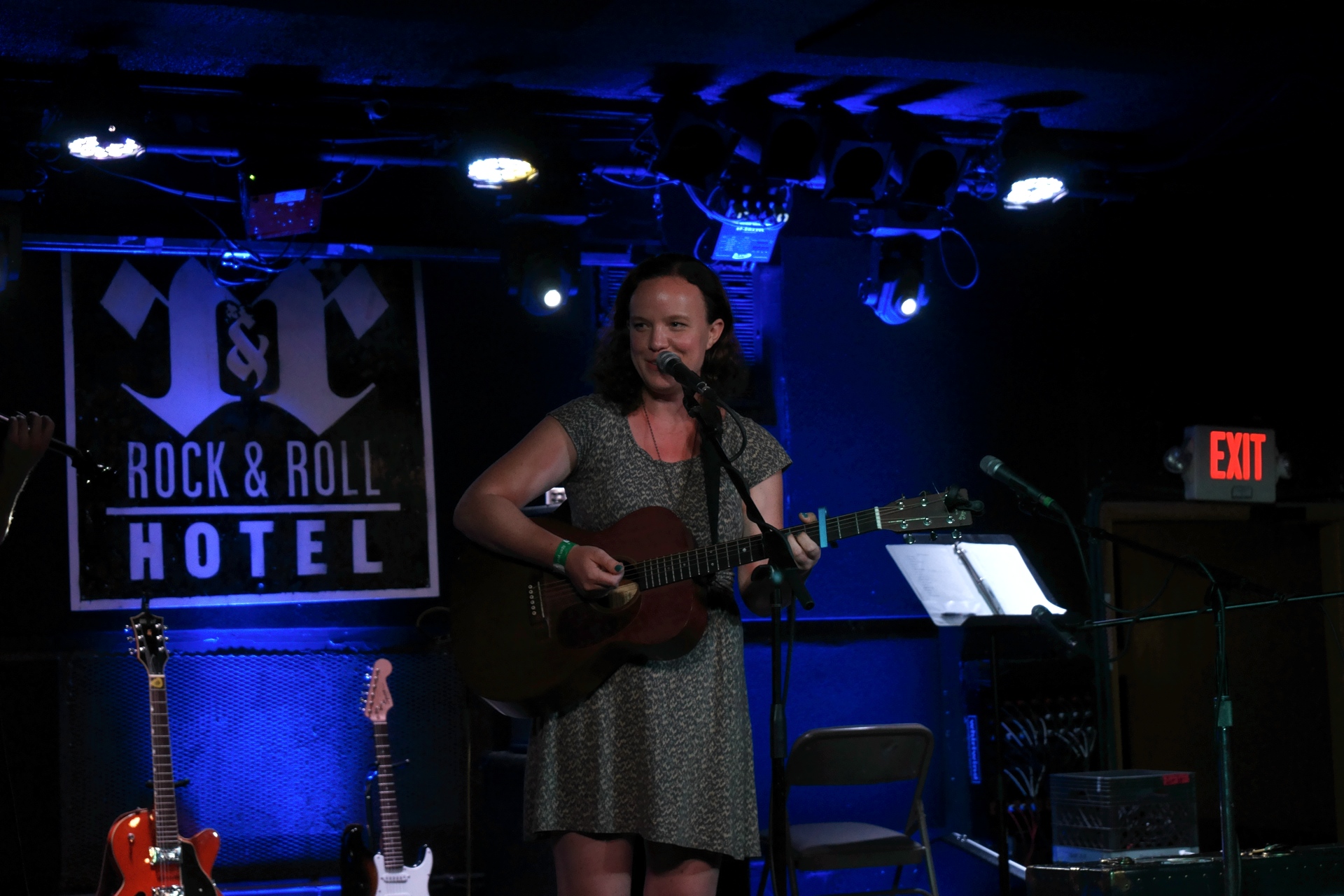 Eli Staples may have been up next (we've lost track of performance order). He's a serious contender for most valuable keyboard player and put on a hell of a set. I always hate saying who other artists sound like, but since we're bad people we're going to do just that right now. Hrmm..Eli's voice was a mixture between Billy Joel and been Ben Folds? That's not just because they all play piano! (Maybe it is? I dunno). The combination of Eli's voice and keyboard took the crowd hostage. We love this pic of him!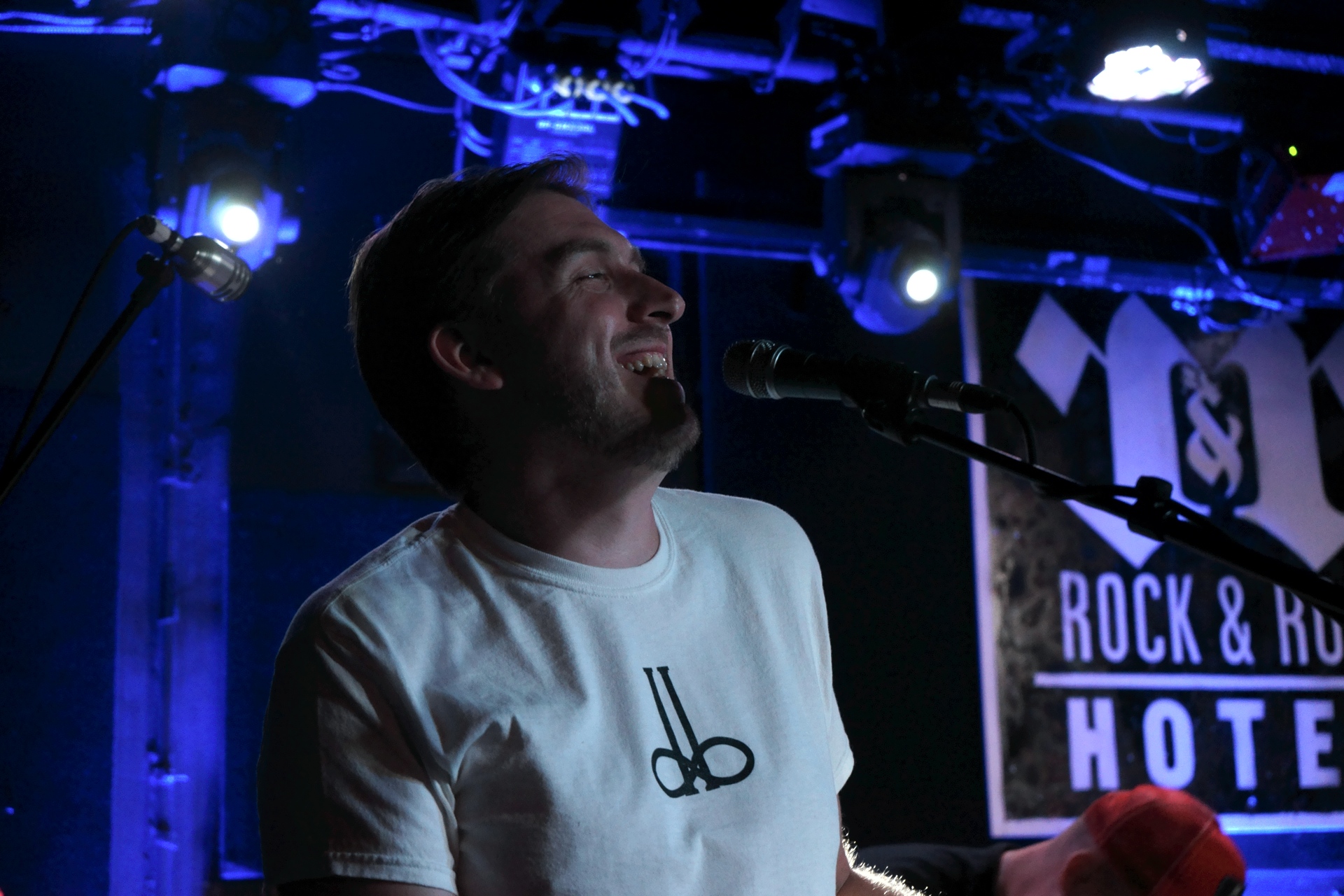 Oh Justin, how little we know you and how much do you think that we want to mess with you? Maybe write ridiculous things about you that will stand the test of time on our blog? The answer is a lot. But after much debate we decided not to and figured we would be boring and just say nice things about you. But we are curious what you're hiding under that hat it's always on your head. And like is anyone else seen his monkey hands? We don't know how he uses them to play such beautiful music (do you see what we did there?) Seriously though, we've seen Justin play about 6 or 7 times and he doesn't get old and he doesn't falter. At this point we were kind of hoping he would have a off night just to prove to everyone that he's human, but he did what he always does, play like a warrior. Every. Damn. Day. Here he is wrapping up with Carolyn.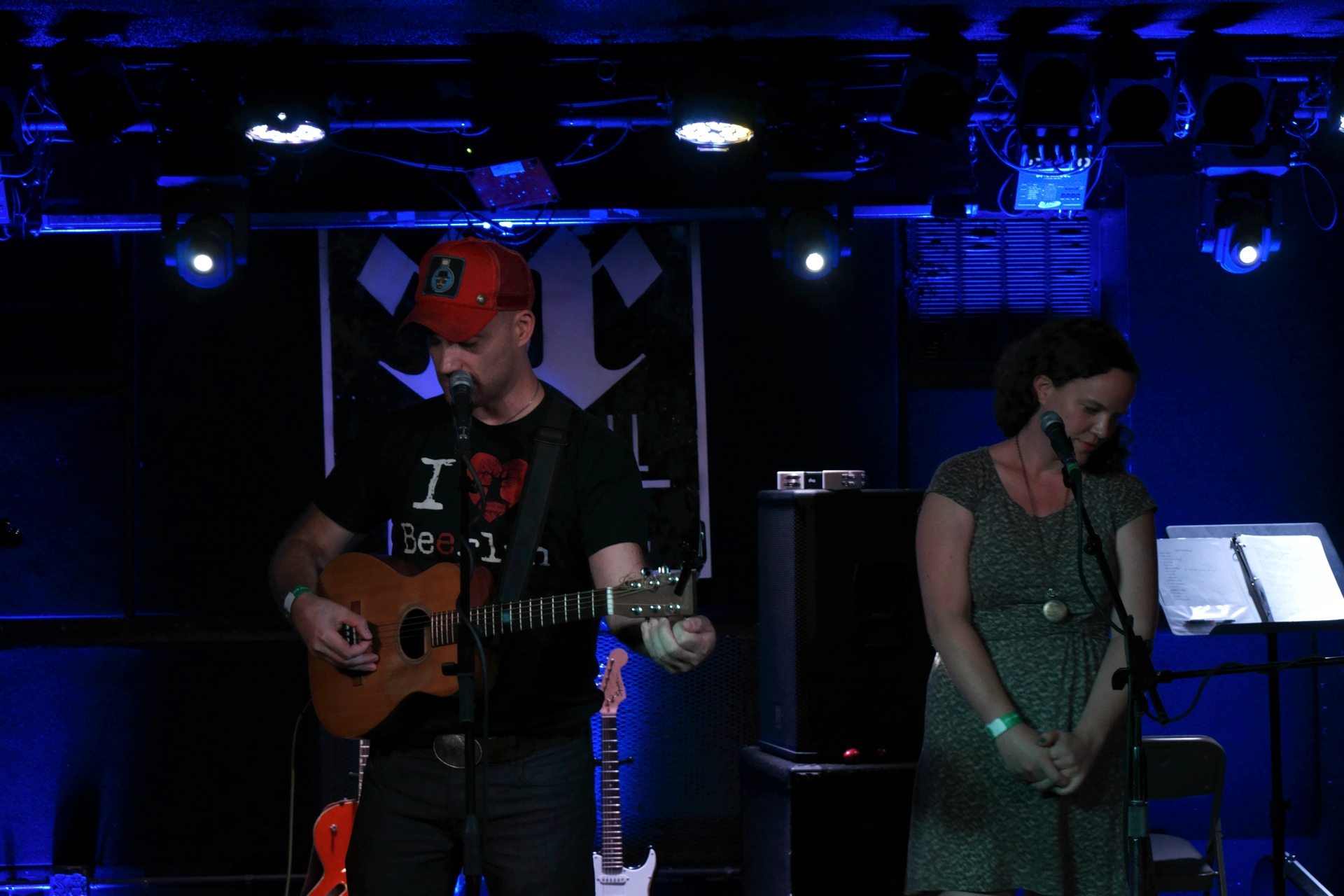 So how did the Capitol Heights' set go? In my notes about the evening we just wrote "remember holding up the mandolin in the air like Highlander". That's how freaking well it went. We had a really "on" night. We had been playing a lot lately and the show rounded out a series of multiple shows for us. What you probably don't know? Is that before most of these We Are The 9 shows, is that there's "coordination emails". We decided to use these to find out if anyone wanted to play on the song Chicago with us. We got Avi to play with us and he brought his melodica. We had never seen one of these in person before but not but in the next two weeks after the show we saw 3 of them. Avi played well and everything went peachy. And that ain't just because we're from Georgia. Avi also asked us to play on one of his songs which was truly great. Josh just faked it on mando, but Kenny got into it and was able to learn the whole thing beforehand. Goddamnit Avi stop being so good! Here's a pic of The Capitol Heights, Avi on melodica, Justin beating on his trusty cajon, and Zia shakin' it like polaroid picture.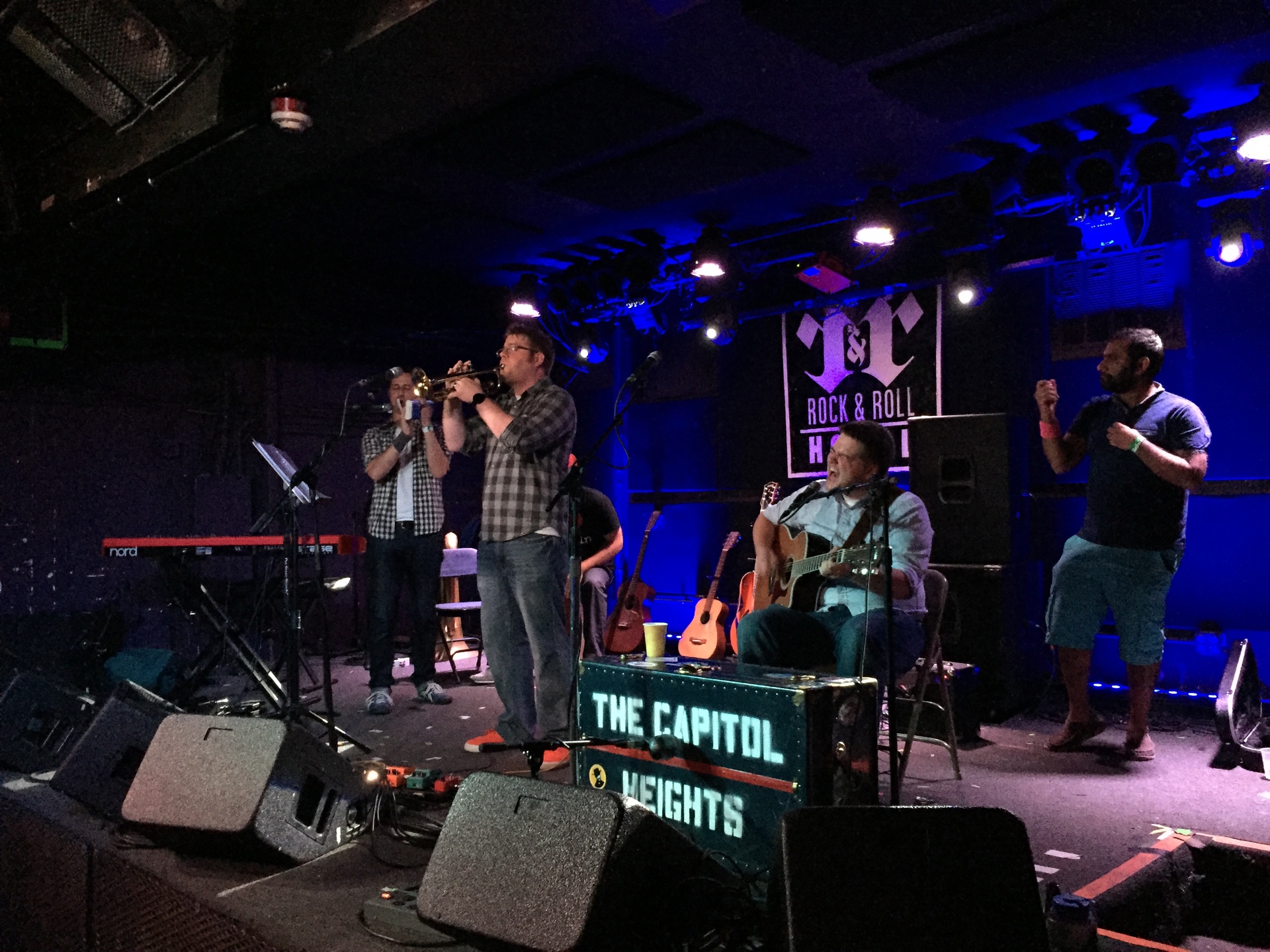 Let's talk about Karl and his copilot Steve for our last paragraph. We shared the stage with Karl and the Light Duty Hammers at Gypsy Sally's, but we didn't get any pics and we felt bad. So this time we made sure caught Karl in the middle of the act. The first time they went on stage, we were backstage practicing, and we heard someone playing and thought to ourselves "sonovabitch…are we onstage? … but like a better version of us?" We hurried downstairs only to find Karl and Steve(?) making sweet, sweet love to the crowd via their music. They were equipped with both guitar and banjo, and were harmonizing with each other beautifully, with their pitch as true as that time you were not "supposed" to shoot your little brother in the head with that paintball gun, but you aimed right for his pair of goggles anyway. We actually ended up spending a lot of time with Karl after the set, chit-chatting about this and that and he gave us some sagacious advice (that's too good to share), and we just ended up thinking he was genuinely a cool dude. We ended up booking him for the Indie Adams Morgan 2015 show. Karl mentioned us during his set because we said something stupidly funny – that nobody could remember…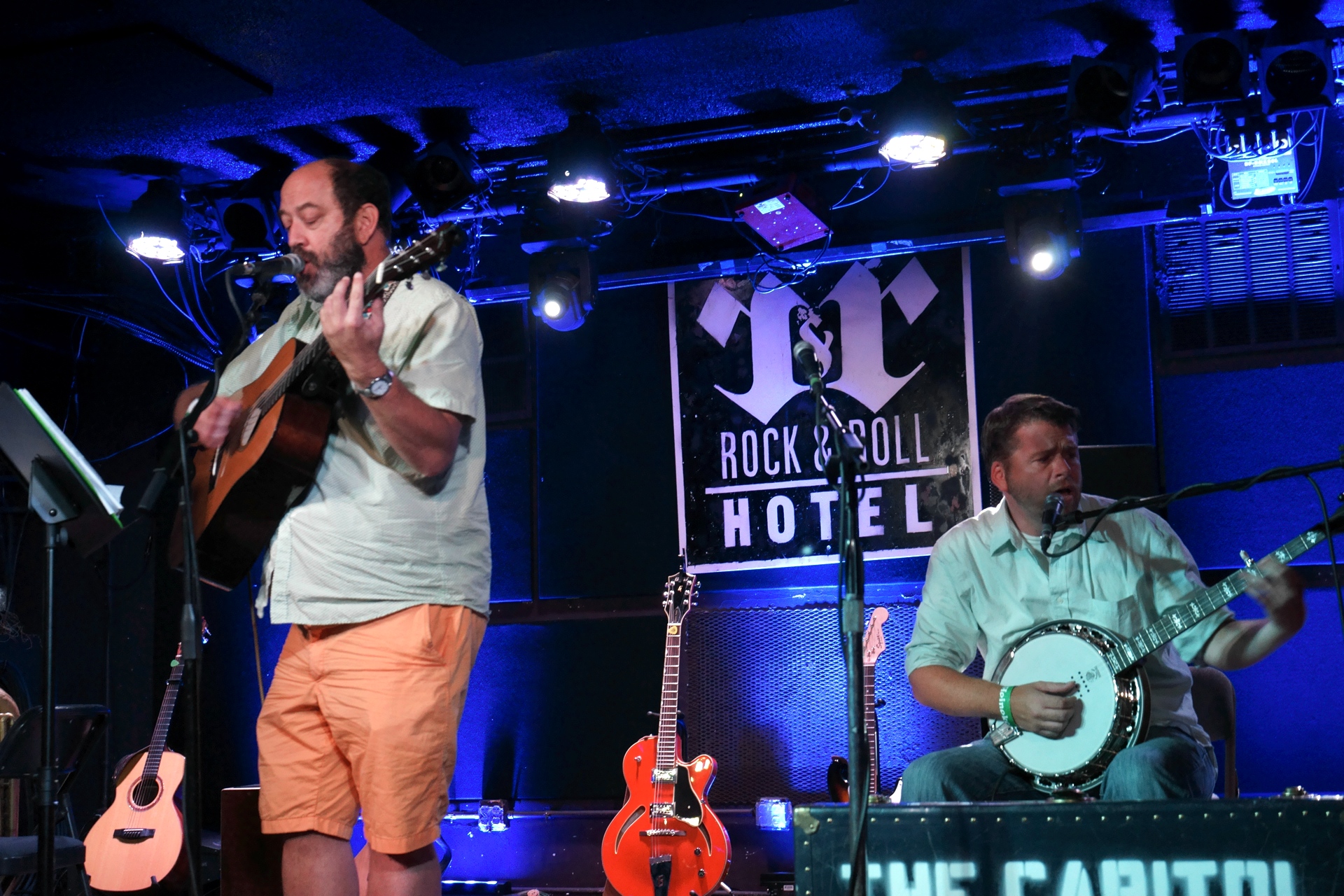 For our last We Are the 9 show, there was so much going on behind the scenes in the back room. But at this show, all the artists stayed out with the crowd, intermingled, and generally listened to each other which we think is a much better way of doing it but admittedly is a tad less fun. After all was said and done we went and got pie at DANGEROUSLY DELICIOUS PIES and we met Eli Staples there! There were enough of our friends there that we filled the whole restaurant. I love that thought, because it kinda means we had a peice of every single type of pie at the store that night. Which is what true dreams are made of.
Artist Info
We know, we know, we didn't talk about everyone above. That's mostly a function of us only featuring people that we have decent pictures of. We're sorry to Zia and Rachel for leaving y'all out.
Jason Ager
You can find Jason on his facebook and main website: www.jasonager.com
Avi Wisnia
Avi can be found at www.aviwisnia.com. He actually JUST released a brand new song that everyone needs to go listen to. It's called Sky Blue Sky and can be found on his bandcamp. See the embed below.
Zia Hassan
Zia can be found at www.ziahassan.com. Two 3 letter first names in a row? You don't see that often.
Eli Staples
Eli's main page is www.elistaples.com. 3?!
Rachel Levitin
Here's Rachel's facebook and her main page is www.rachellevitin.com
Karl Straub and the Light Duty Hammers
The best place to find Karl is on his stupid goddamn music site. His words, not ours. Eh, a little ours. 🙂
Carolyn Crysdale
Carolyn has a bandcamp and facebook.
Justin Trawick
Justin's main page is justintrawick.com. His podcast is A Circus Life, and his concert series is We Are the 9. All of which are worth checking out. Seriously. Stop reading. Go. Listen to his stuff. Go.