It's been too long since our last rendezvous DC. Let's fix that.
The Treehouse lounge is a music venue right off the H St. corridor, a few blocks away from the Rock 'n' Roll Hotel. Standing two stories tall, but only the second story is in use. The first floor is a slightly scary abyss that you can walk back into and meet those creepy feelings you get at night time after watching Insidious 3. The top level is a screaming rock 'n' roll venue where all types of bands and other musical acts come together to shake this giant tree's trunk. There's no food served here, only drinks, but it's definitely not a food free zone. You can bring in anything that you want (hint hint Dangerously Delicious Pies).
We've played here before for Josh's birthday back in August. And the owners decided to have us back, which is pretty sweet. Due to Josh's birthday festivities and other "goings-on", we couldn't get all the necessary information to write a solid post about the venue, so here we are.
When we arrived this time, Pop Rox was in full swing. They are like a nine piece band (fact checking…fact checking…they actually have 8 members!) with a full drum kit, bass and electric guitars, multiple singers, and even a violin! They were booked for a full two hour set and they made great use of it. Pop Rox played mostly covers from a wonderful and varied catalogue. We heard everything from 70's disco to Britney Spears, and their instrumentation allowed them to excel at each genre. They had a really large draw, and people were dancing almost the entire time to their set. Among other things, we were peanut butter and jealous about their giant banner with their name on it. I guess our version of their banner is our box drum, but we really loved this banner as their solution to displaying their name during sets. And get this – it was their debut show!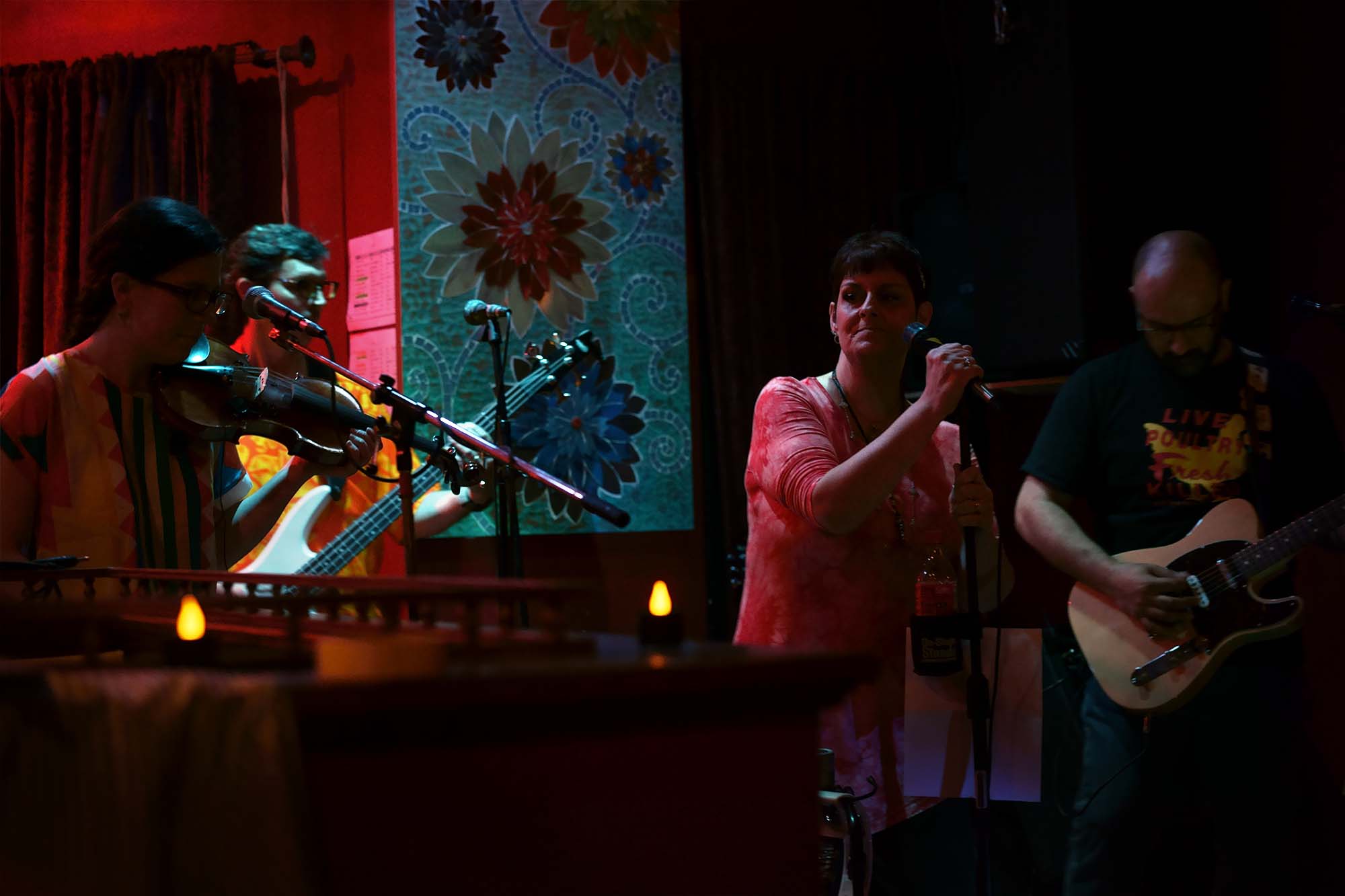 We played next for a slightly reduced set. Josh's mandolin, which has constantly been giving us problems, decided not to output a signal at all. So the mandolin had to be mic'd with a vocal mic for the whole set, which was obviously less than optimal. Also, we had both got to the venue early, and we had kind of been shouting at each other for the last hour waiting for our spot to play. This blew out our voices. I know, I know – rookie mistake. We ended up playing mostly covers and some were quite a hit! Here's a pic someone from the audience sent out way. It only includes 50% of the band, arguably the best 50%, but some of the Pop Rox folks got in the frame making it… overall more musical of a shot. (: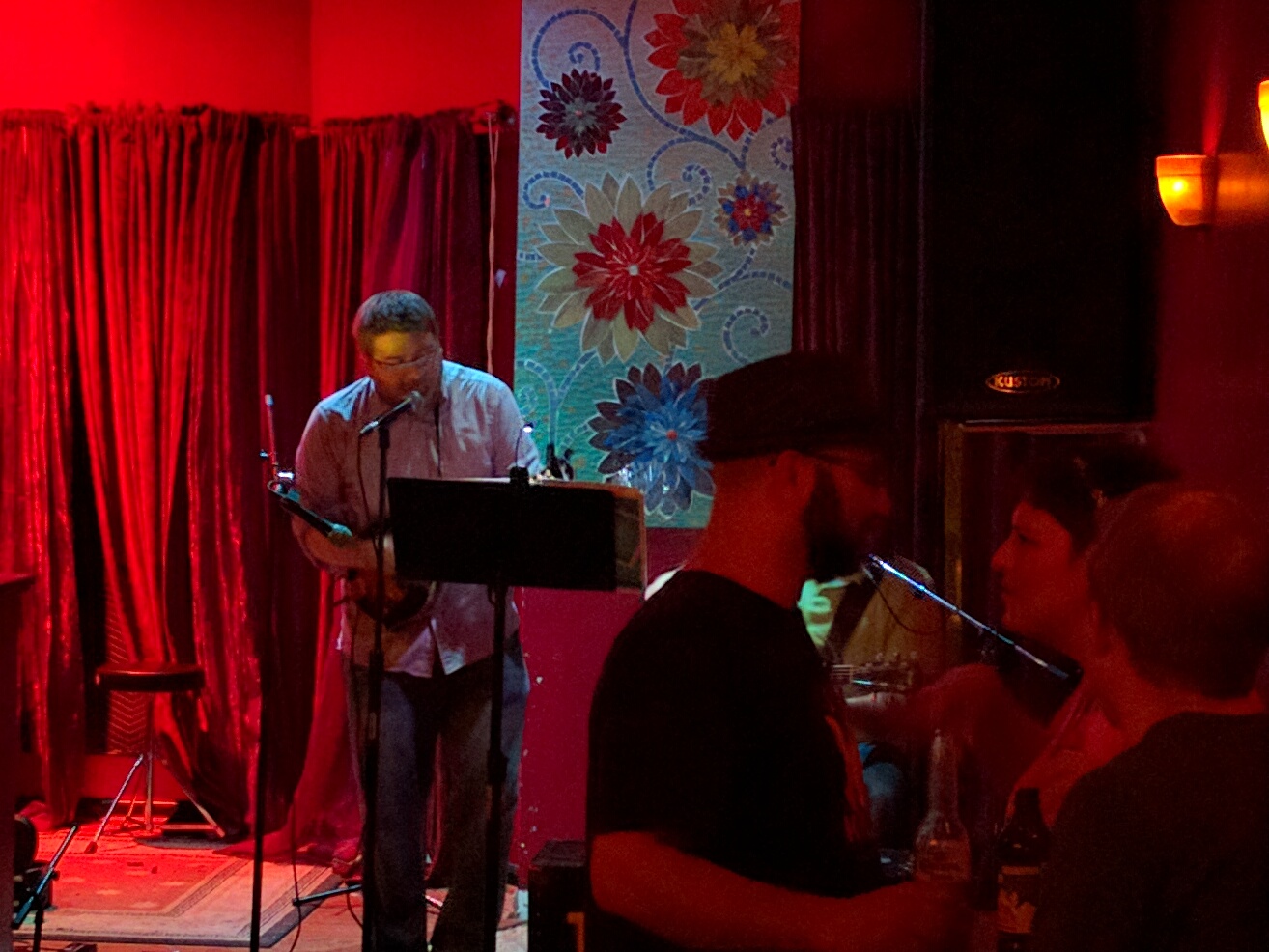 The Glass Pics played after us and were the final band of this musical evening. These guys hailed from Baltimore, played an exciting set of all originals, and two out of the three guys in the band were brothers. On top of all of that, they were kind, yet dapper gents, that were dope as fuck. We argued about their genre for about 10 minutes, first thinking pop rock, then mid-2000s indie rock. We eventually settled on them being similar in genre to The Cold War Kids (whatever genre that is). They had keys, electric attire, and a kit all reporting for duty. We intend to see if we can strong arm The Glass Picks into getting us a gig in Baltimore. We figure playing a folk show on the set of The Wire would be OG. Here they are in mid-psychedelic swoon: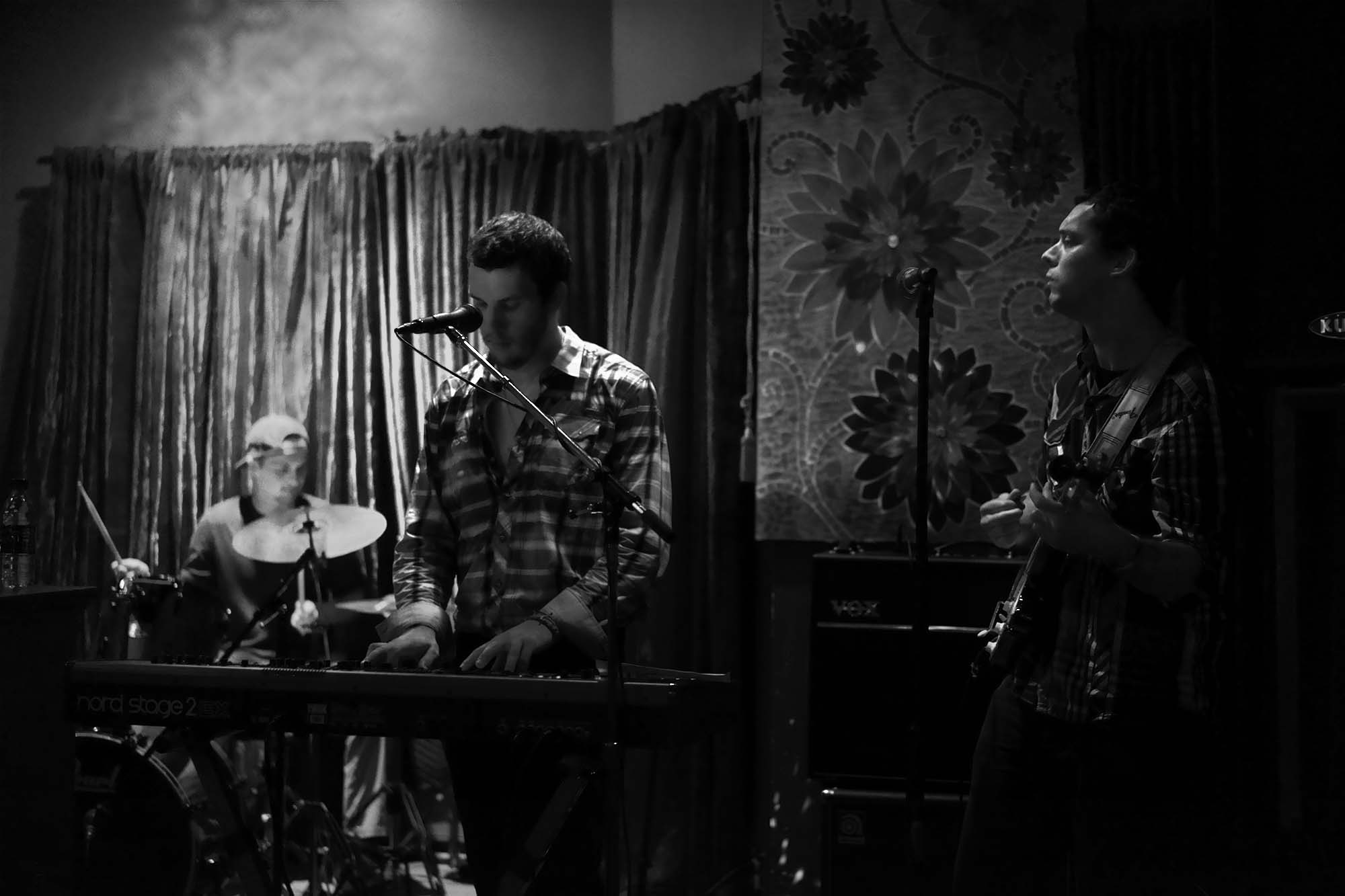 The Glass Picks have been out there in the musical world, playing some big and serious shows. Their rock and roll stories were quite entertaining! They finished the evening by having the father of the 2 brothers come onstage with a bass and jam for a little while. They closed with a solo piano piece that was a wonderful nightcap.
The Treehouse Lounge is a solid music venue. If bands want to play at this spot, all they need to do is use the contact form or the email provided on their website. If you can bring out a crowd, they'll happily pay you for your time.
Artist Info
Pop Rox DC
Pop Rox can be found at their facebook and Google+ profile.
The Glass Pics
They've got a facebook, twitter, and a Soundcloud. See below for the embed.