Jammin Java is one of those institutions in the DC area. Literally, because it's a music school and a live music venue. Located in Vienna, VA at the end of the orange line, they always have big bands and comedy acts coming through. So you could imagine our excitement when we got accepted to play the Battle of the Bands this past January! Such a fancy stage and a great sound system. We had to show up and give it our all. This is that story.
There were more than a few bands showing up to compete that night:
The Letter 6
NOE
The Capitol Heights
Devin Clawson
The Ballroom Crisis
Existential
Capital Offender
Divine By Night
Spit Dirty
Fellowcraft
The battle actually took place in 2 distinct phases: preliminaries and finals. Winning prelims took you to the finals. Just like how we applied to the Band Battle, all the coordination between the venue and bands happened via email. Eventually, each band was allocated time to play about 3 songs (excluding stage setup). Now that's a short time slot, but you can get a lot've work done in that timespan. The exact set times for each band didn't seem to be decided until about a week before, which is pretty reasonable.
Day of the battle, we got to Vienna a little early hoping to grab some food at Pure Pasty. They sell what are essentially british empanadas, and some have curry in 'em! Unfortunately it was closed, nearly crushing our soul, our plans for dinner, and our collective self-worth. Not a good start to the evening. When we got to Jammin Java, there wasn't quite enough room to place our equipment inside, even with the 10 bands arriving in a staggered fashion, so we had to leave our stuff out in the car until later that evening. Which was a little scary, since it was SUPER cold and our instruments are made of wood.
Jammin Java sells both food and drink so we opted to eat some nachos in lieu of "brittainadas" while we waited for the show to start. Good food mind you, but not Pure Pasty. While eating, Josh kept trying to chat and joke around with the judge before the show and get him to like us before we went on. It didn't really work, so we had to rely on musicality and showmanship by everyone in attendance. But both of those qualities were had in spades that night. There were a lot of really good acts and we'll touch on a few just due to time's sake. The first band up was The Letter 6, seen below.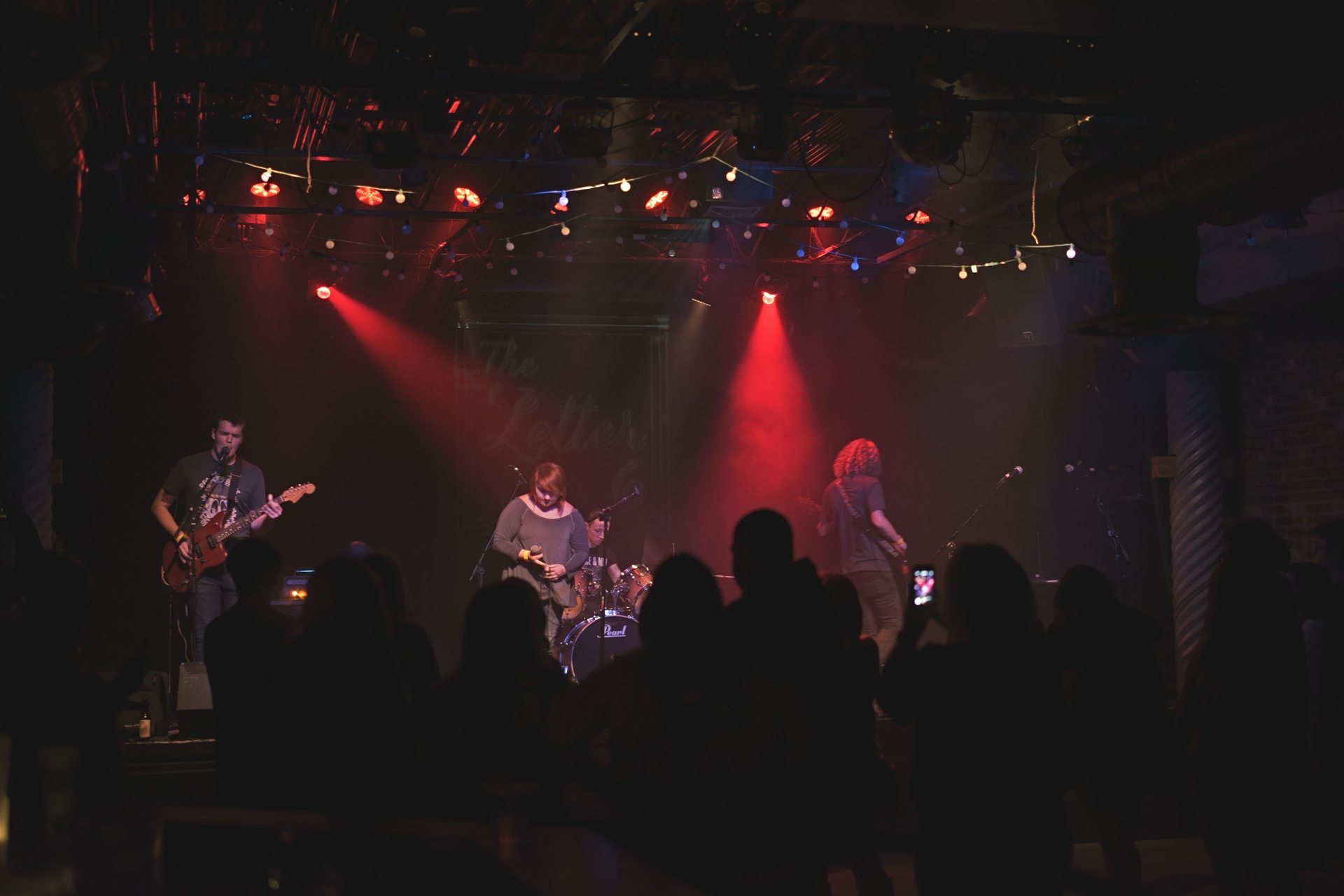 This band was a little hard rock, a little hardcore, channeling a sing-scream vibe with both male and female vocals, with the female vocals being mostly clean. Frankly, the interplay between the two vocalists really made the set. They had lots of energy and stage presence and definitely took us back to playing shows at The Warehouse in Kennesaw, GA.
The next band we'll take about was just a good set of dudes called The Ballroom Crisis. Now I don't know what happened at this alleged ballroom or why they need FEMA there ASAP, but we definitely enjoyed their set. They say that they're an alternative rock band on their website, but we're gonna have to mansplain them that they're a little more toward the hard rock end of the spectrum. Here they are with a good crowd shot between songs.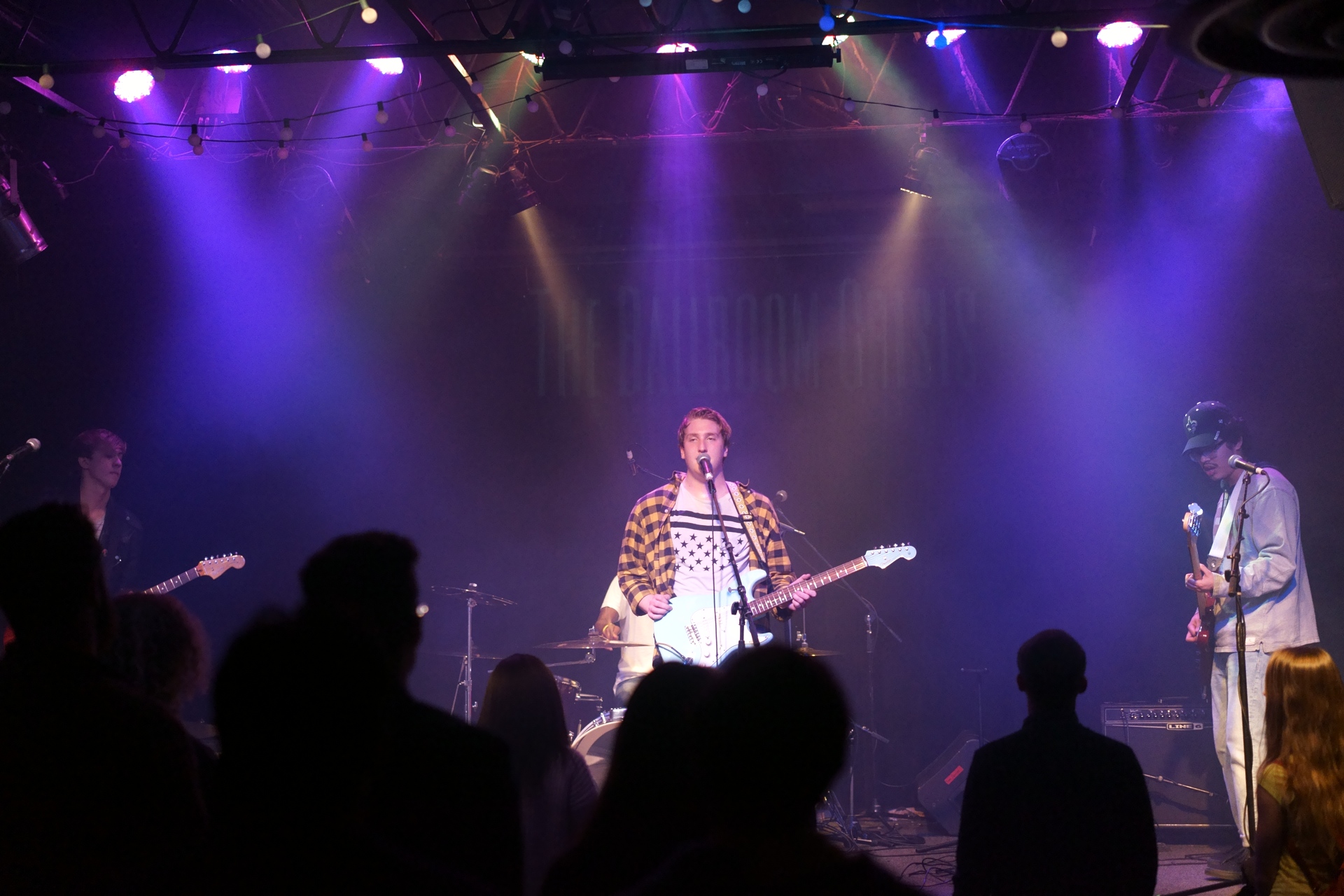 By the time we got onstage we were a little bit nervous since it was apparent that we were the only band there with anything acoustic. But whatever – we were there to bring the noise. We played You and Me, Spec, VA, and All Things Go by Sufjan Stevens. Our set went pretty well, but in hindsight maybe we shouldn't've played a cover song? Whatever, there was lots of energy and fun to be had. People seemed pretty receptive out there in the crowd. We legitimately thought we absolutely killed it. Here we are with a sweet pic taken by roXplosion.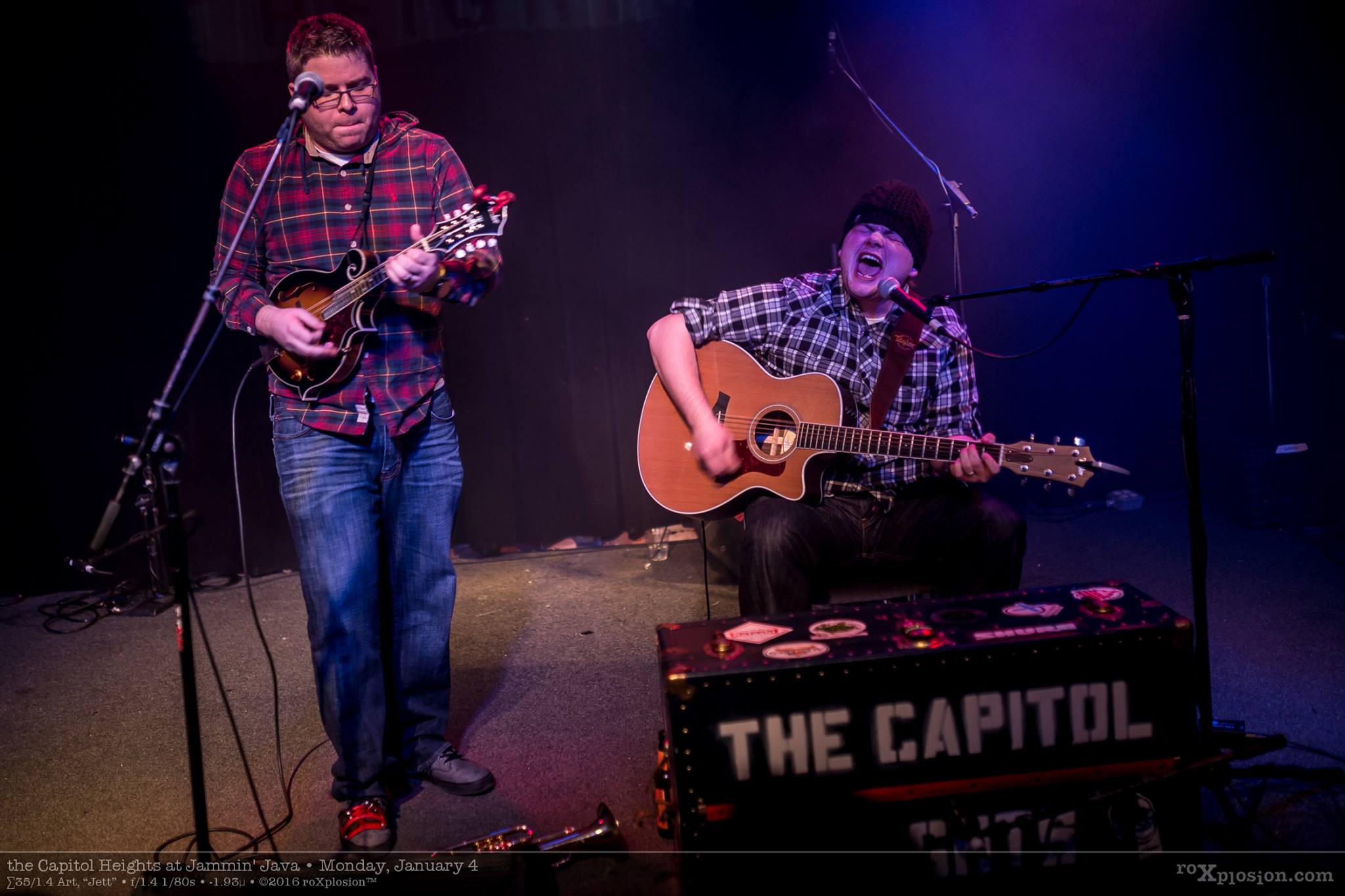 Note: Photo credit roXplosion
So Devin Clawson is up next, but we have a confession! We didn't see you play. WE ARE SORRY. We've checked out your Soundcloud and liked what we heard! We were busy trying to get in some extra practice for our stuff while you were on stage. We went out the back way to the smoker's area to play, but the cold kept throwing our tuning off and we gave up. Besides, right before most performances, Josh tends to create inane fake emergencies on accident that Kenny has to solve, so there's that. Anyway – although we were sad that we didn't win, we are definitely / begrudgingly happy for you. 🙂 You better beat everyone in finals so we can say we were beat by the champions!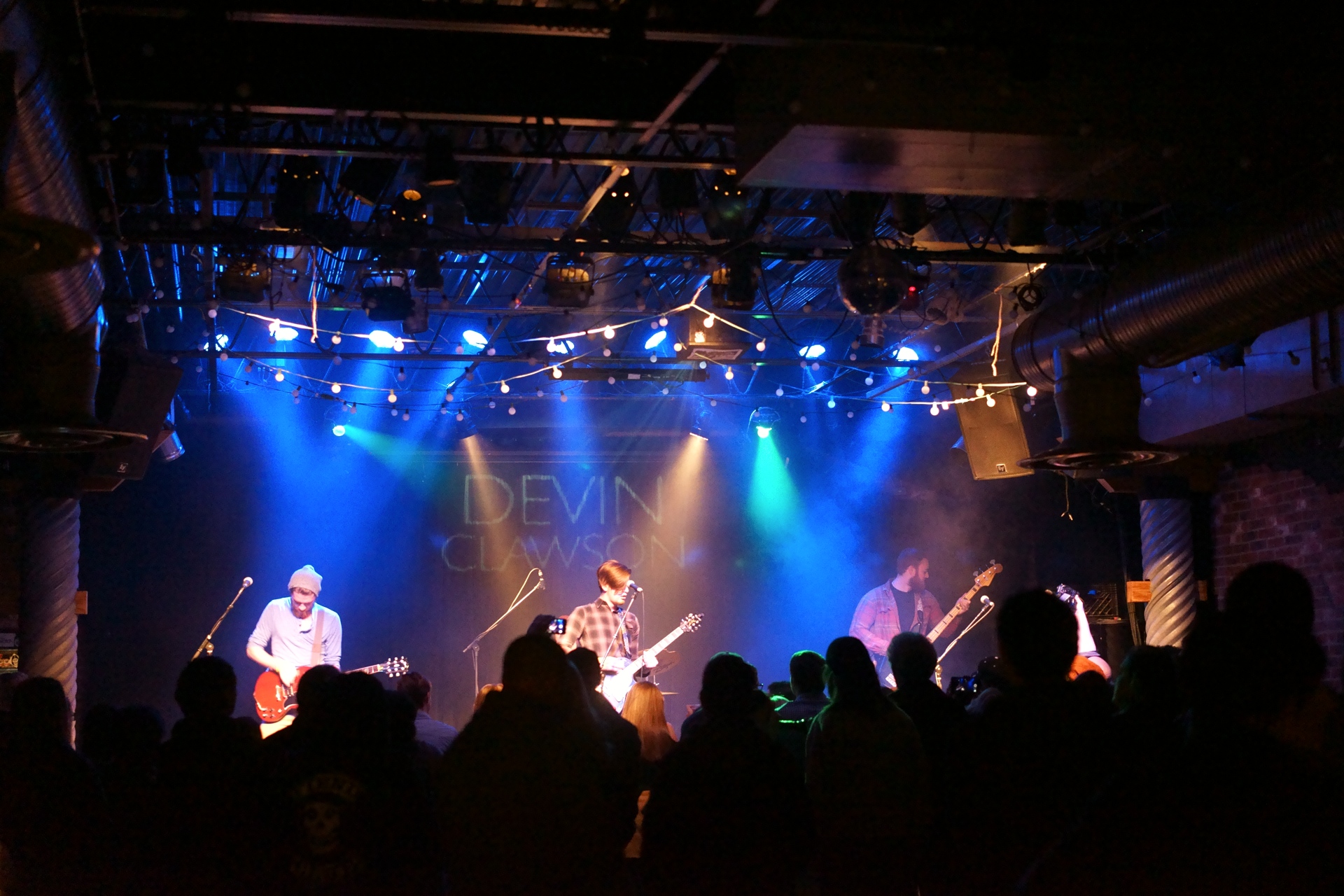 We didn't do our homework and check out the other bands first. Had we done that, we prolly would've seen that most of the bands range somewhere between the hard rock to metal spectrum, which may have mentally prepared us for this ordeal. But we're not making excuses, whatever criteria Jammin used to accept bands to the show worked fairly well. None of the bands we played with that night were terrible. Every single one could make music and was comfortable with being onstage. That was great because we saw 9 bands in a single evening, and since we mostly hangout with the singer-songwriter crowd it was a nice change of pace to see real bands. And while we're wrapping this thing up we feel the need to mention that we didn't get the sense that this was a popularity contest, like some battle of the bands that we've played before. This definitely left us with some warm fuzzies about the whole situation.
Hrmmmm, what else do people need to know about this event and venue? The sound and mixing was wonderful even though we didn't get a sound check beforehand. The parking situation was great, even with the combined effort of 10 bands bringing people. The house was nearly packed with a bustling crowd, which was a testament to the bands playing that we all could get a great crowd together on a weekday so close to New Years. And that's about it! If anyone's got any questions feel free to drop them below.
Artist Info
The Letter 6
The Letter 6 can be found on their reverb nation page and facebook. It seems as if they're looking for a vocalist, so if you're thinking about picking up that mic… get in contact with them!
The Ballroom Crisis
They have a facebook page and their twitter handle is @theballrmcrisis.
Devin Clawson
facebook page and bandcamp. An excerpt from his Soundcloud is below.

roXplosion
We definitely gotta thank roXplosion for the great pictures that evening! RoXplosion took superb pics of every band there! They are @roXplosion, they gots a facebook page, and finally the good ol' homepage: www.roxplosion.com. Here's the link to the amazing album of pics they took that night.