We got that fateful call again from JTT – aka Justin Trawick. It went a little somethin' like this.
JTT: Y'all wanna make some noise? Sehkraft Brewing. 2/23.
TCH: You know we always down.
Sehkraft is a new brewery in Arlington. And it's lovely. When it was time to play, we had a friend drive us to the brewery. But honestly, we prolly coulda walked since it's so close to KTL's place, right off the orange line near Clarendon. (A helpful reminder for anyone looking to stalk Kenny.) Readers beware: Google Maps confusingly brings you to the side of the building, so you'll have to walk ~500 ft to the other side of the entrance. There's a reasonably priced parking deck attached to the brewery that we were able to use. But honestly, don't drive to the brewery. And even more honestly, you shouldn't be taking life lessons from us. Anyway, walking in, you get that feeling when you put on a new pair of jeans for the very first time. That smell of yeast you'll find at any brewery is in the air, for sure, but there's also the smell of dreams, hope, and permanently high BACs.
Now everyone knows about the 9 songwriter series, but just in case… it's a cool idea: 9 different musicians, playing 3 songs a piece, and everyone interweaves their performances with each other. If 9 different musicians can each sell 25 tickets, then it's much easier for everyone to play at a nice venue, since overall there's a large number of tickets being sold. It's good for the fans as well, since there's typically a better sound system, sound mixing engineer, drink mixing engineer, and food. The line up for this particular evening was:
Sal Rourke
Brian Farrow
CaSh & Earle
Natalie York
Rorie
Justin Trawick
Leigh Cramer
Chase Willet
First off we had to setup. The instruments (and cases!) for 9 musicians all onstage at the same time can easily become a hassle, with people accidentally knocking down bass guitars and stepping on ukes, which inevitably leads to tears and bloodshed. But thankfully the stage was quite sizable. The only real issue was instrument cases, but eventually we figured it out by tucking ours around a conspicuous corner. Here's JTT coordinating the pre-show below.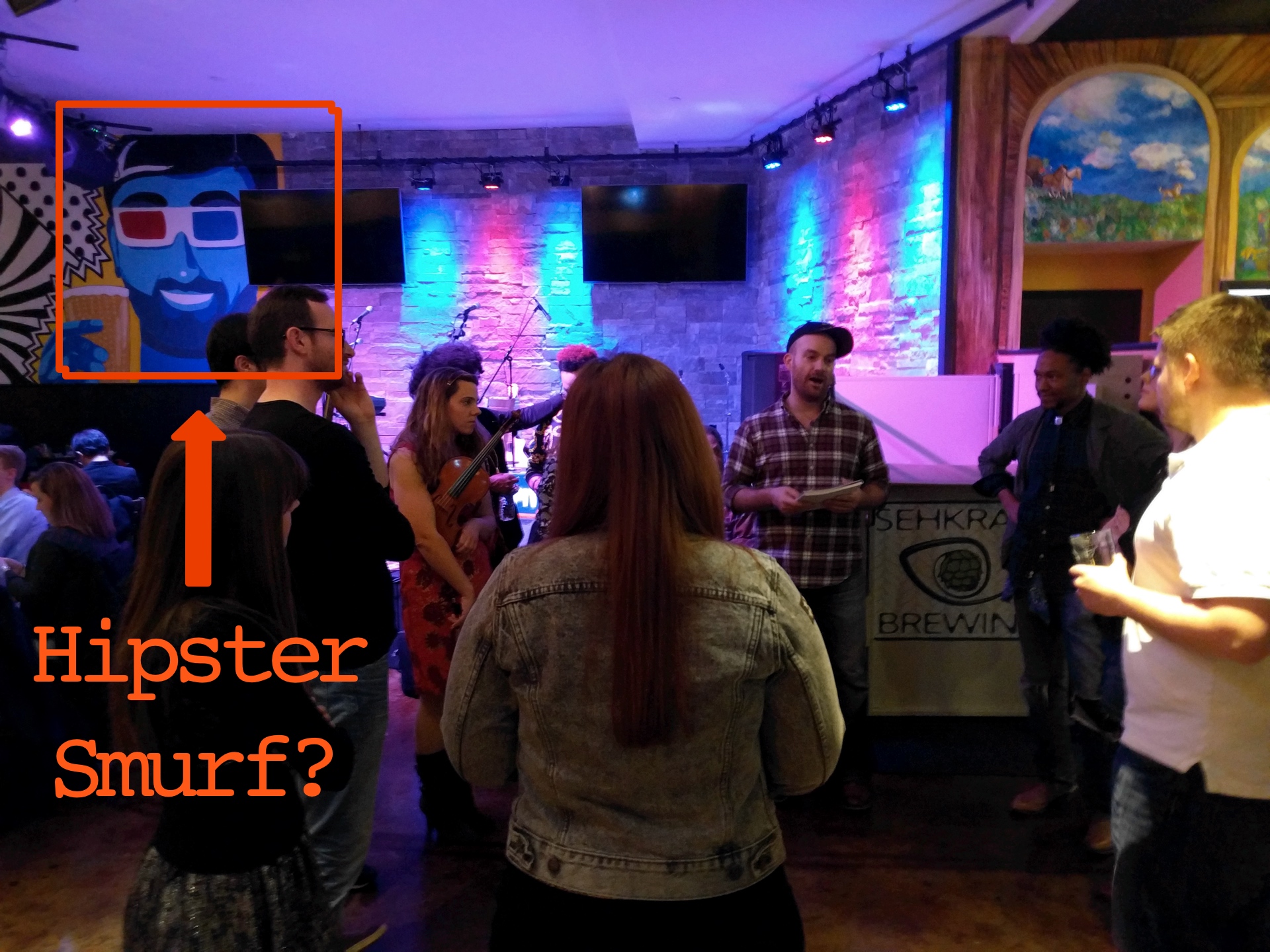 There's always waaaay too much happening on these evenings to accurately note what really went down. We've tried to write some detailed We Are the 9 blogposts, but they get so big and unwieldy. Therefore, here's some thoughts we jotted down:
Sal went up first, and she was a great way to kick off the evening with 2 wonderful songs! She came by after her performance and we both chatted with her, and she had some wonderful stories.
Brian Farrow went up next with a completely dope lookin' guitar with electronics and wires hangin' out the side of the instrument. We didn't take a picture, but we thought we did, making us sad pandas. We were excited to hear him play, 'cause maybe we'd hear crazy homemade sounds, but his instrument malfunctioned. KTL helped him out and handed his instrument to Brian to keep it going. Brian's cover later that evening was absolutely killer.
We played with Natalie York again! We all shared the stage for the The 9's Christmas Show at Iota Club. She'd done a version of Go Tell It On The Mountain that stuck with us. This evening she played a few originals and got everyone onstage with her, and it was easily the most successful performance of the evening 🙂 See below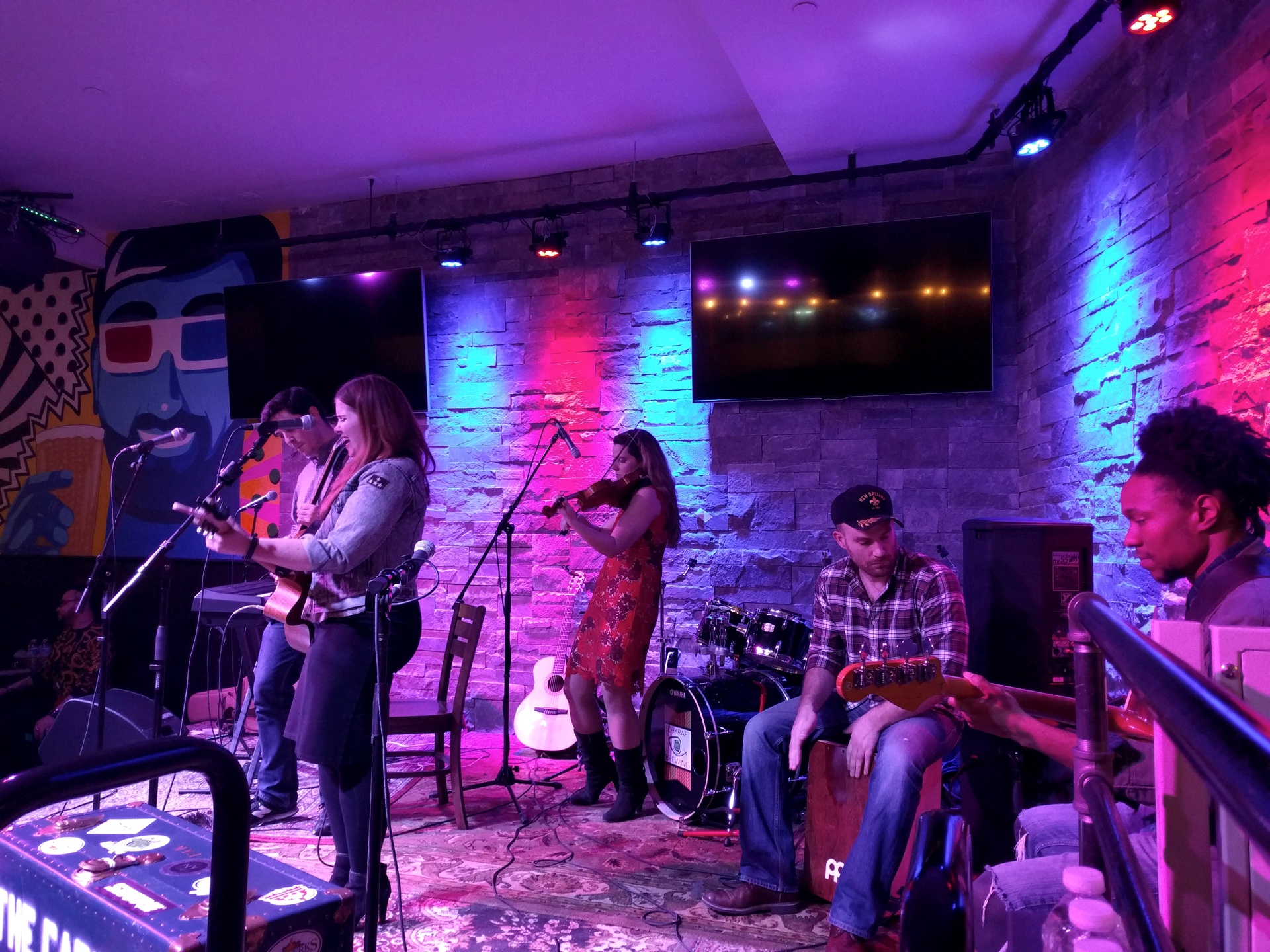 Kenny was able to play boxdrum with Chase. This may or may not have been a good idea. Side-note: if you haven't played boxdrum or any other percussion instrument you play with your hands… It really makes the blood rush to your hands in a way that doesn't fix itself for an hour.. So.. be prepared for that.
We played a couple of tunes with an absolutely wonderful violinist named Mariam. We were just like "it's in Dm" and she was like "whatever I boss-it-up quite frequently." And she did.
We caught a couple views of CaSh & Earle from a different angle. They were fantastic as always.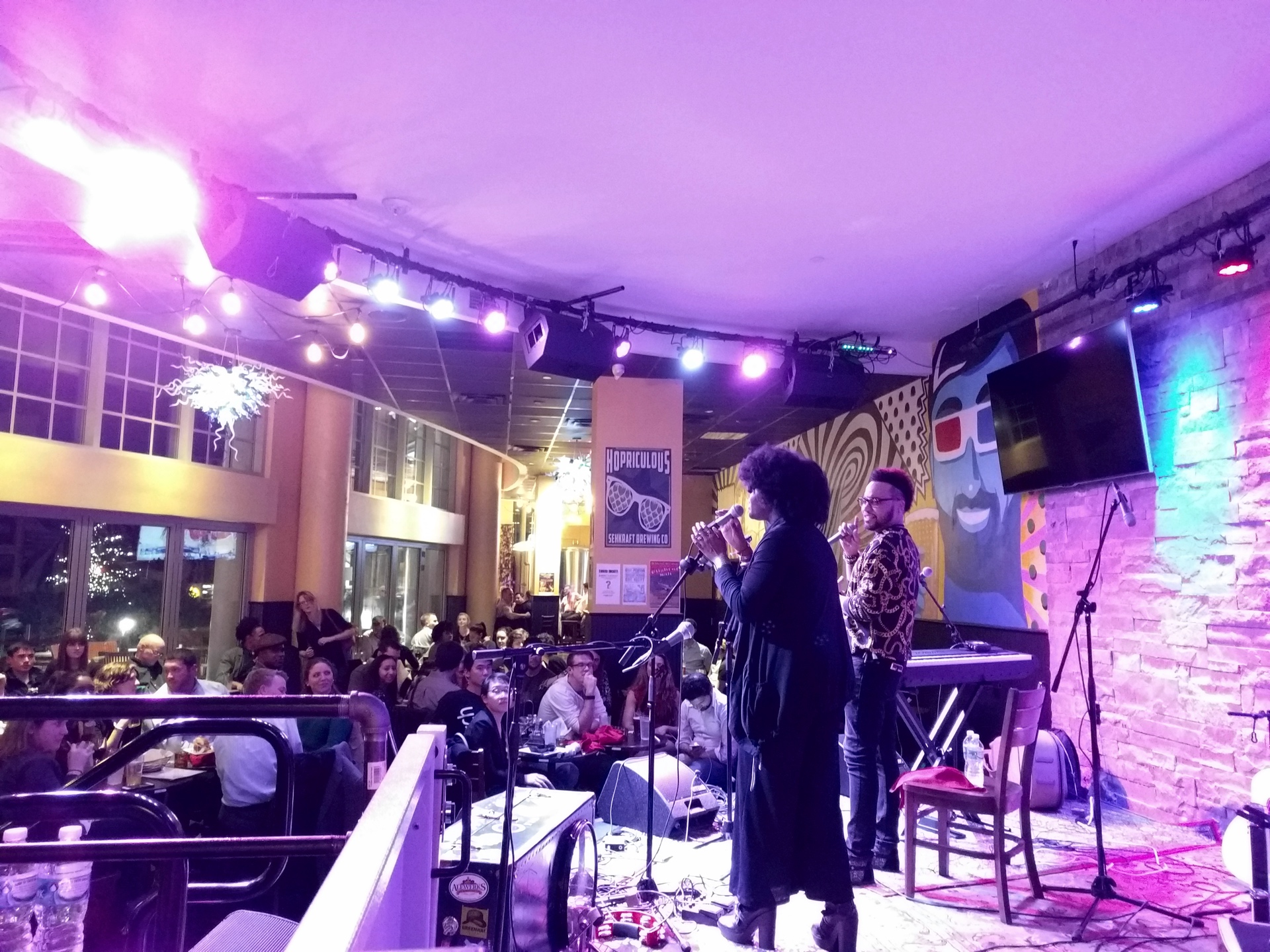 That's about all we had jotted down. Justin was giving away drink tickets, and we had some friends show up that were also looking to embrace the night, so we decided to ensure that the brewery was operating properly by trying their wares. Turns out – their alcohol switch hasn't switched to the ON position yet. Since Sehkraft is less than a few months old, that makes sense. Fortunately, their alcohol list was more than just impressive, it was powerful. And it had strength. Oh my dayum. It took up all the space in your esophagus. We tried the Chai-Spiced Imperial Russian Stout. A lot. (I think the word "Try" doesn't really apply here…) We'll leave you to guess which half of the band loved it and which didn't.
As for the venue itself, the stage was great. Their sound system was killer, and brand spanking new. Everything was mixed with great care by the house engineer, leading to a serious music listening evening. Musicians are gonna love this place once Sehkraft gets into the full swing of things. And already being a new venue, the evening had a full crowd in attendance. The experience was wonderful overall, and we're excited to welcome Sehkraft to the Arlington / DMV area.
Toodles! (Kenny: Duuuude don't say toodles)
Artist Info
Sal Rourke
Catch Sal at her facebook and homepage of www.salrourke.com.
Brian Farrow
Brian's got a facebook and he can be seen singin' on this Youtube video:
CaSh & Earle
They have a wonderful new webpage that everyone needs to check out at www.cashandearle.com! Hit up their facebook.
Natalie York
Natalie can be found at her homepage of www.natalieyork.com and her facebook.
Rorie
Rorie's absolutely gorgeous website is roriemusic.com, but she's got a facebook too!
Justin Trawick
Justin's main page is justintrawick.com and he's got a facebook page also. His podcast is A Circus Life, and his concert series is We Are the 9. All of which are worth checking out. Seriously. Stop reading. Go. Listen to his stuff. Go.
Leigh Cramer
Leigh can be found on facebook and Soundcloud only…at least that's the only places we could find her. Check back for an update.
Chase Willet
Chase can be found on facebook and Reverb Nation.