Almost everything about this night was magnificent. It was like that one scene in Sex in the City when… nevermind. We had decided that since our last show did not go well, we'd try again and hopefully not fail so god.damn.hard. And it seems like the pendulum swung in the complete opposite direction leading to one of the best shows of our unscrupulous and highly unprofessional careers.
Let's paint the scene folks, ya know we gotta. It's Saint Patrick's Day and we decided to play at a German pub. Seems like a good idea, right? Agreed. Sauf Haus is a fairly new beer joint, located in the greater DuPont area and we've oft' participated in their festivities, revelries, and ibibed away our discretionary income with ease. So this was a relatively known spot for us. The place consists of a giant staircase that feels like that infinity staircase from Mario 64, a large open-air deck with more varieties of german beer than there are Germans, and a side area that's enclosed but much smaller. The also sell 2 lb pretzels. Don't skimp on the pretzel – we didn't. (WARNING: this pic wasn't taken the same night.)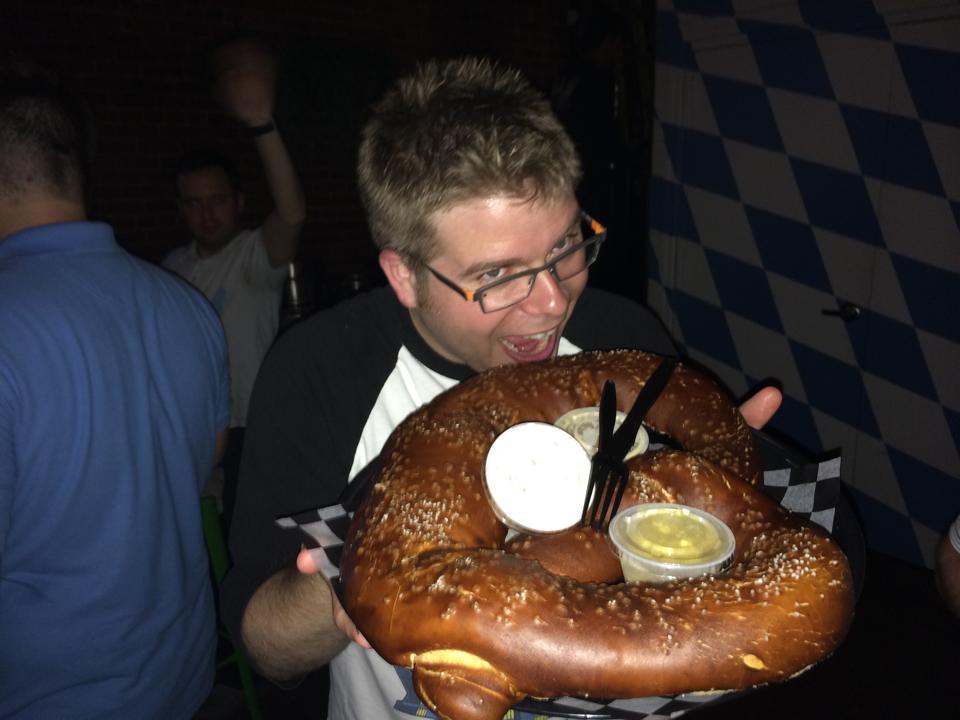 We got there at around 7 PM but the open mic started 'bout 9 PM. (Aside – There seems to be a slight theme appearing regarding Open Mic information saying "oh we start SUPER early and ya better get here on time!" and the actual start time is quite a bit later.) Whatever, we are AMERICAN and will drink lots of beer on a fake Irish drinking day. When we arrived at the fairly dark inside bar, it was absolutely packed. No place to put our instruments. No place to put our giant oversized beers. There was barely even room to setup the PA system.
And who did we find setting up that PA? None other than our old friend Alex El Rojo Parez from Iota club! That was absolutely wonderful news because we figured we had an 'in' of some sort. Maybe we could scam some extra set time outta him? We're always dismayed at the fact that we can play only 2 – 3 songs at an open mic. Once everything was set up, Alex played a couple of songs which kicked off the evening just right! Alex's playlist is never predictable, and this night we enjoyed his Johnny Cash covers the most because Josh is going through a no-holds-barred Johnny Cash obsession as of late. On a side note, it seems to us that Alex has been performing a lot lately, and it maybe it was the beer, or some other mysterious factor like "practice", but his voice seemed a little bit deeper and seemed to resonate a little bit further since the first time we heard him play almost 6 months ago. Here's some pics of him pickin'. And just to be clear, that's not a symbol inside of a word bubble, he's actually just saying "eighth note, eighth note."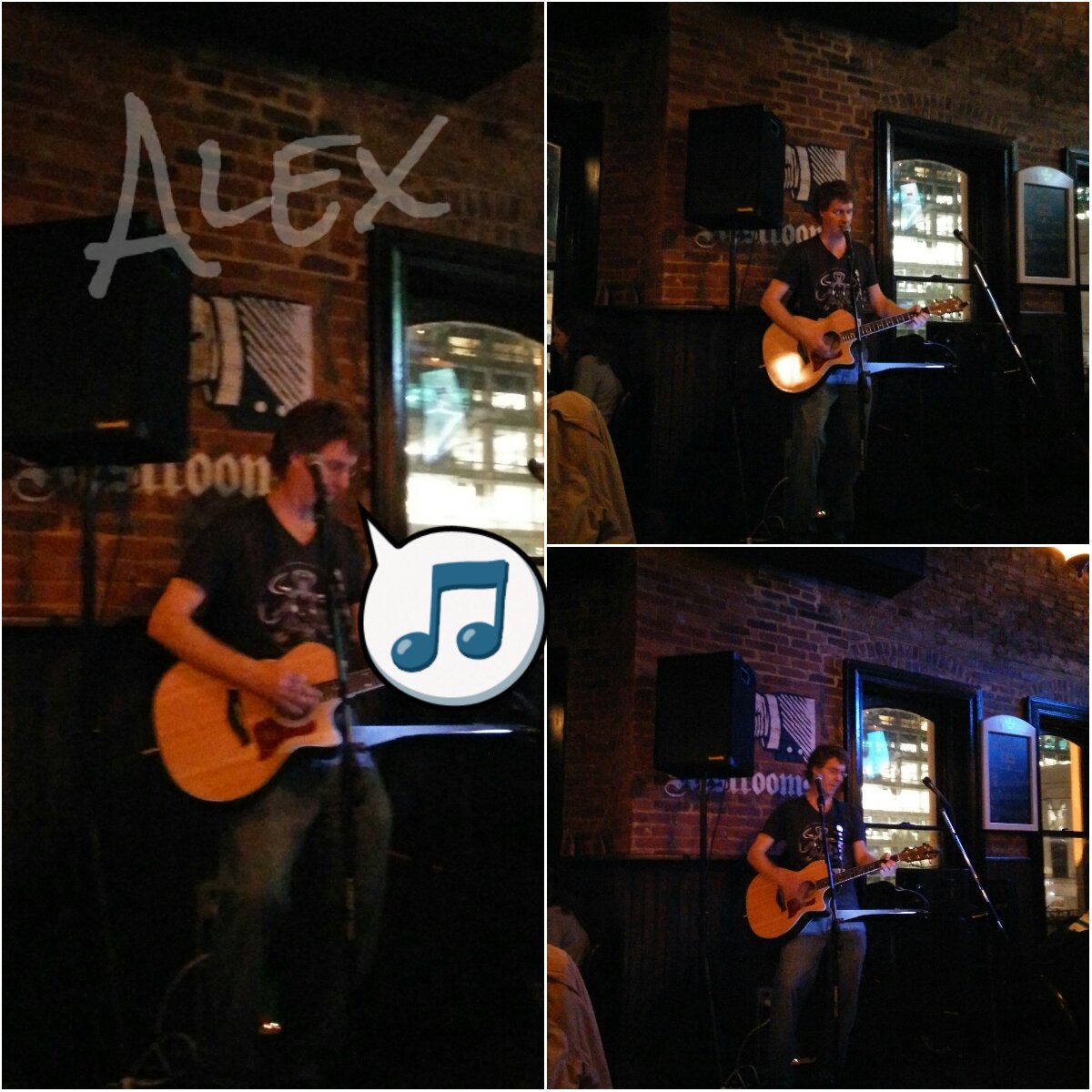 Just like Iota, Sauf Haus has featured artists, which is pretty sweet! Unfortunately we got caught up <wink>in the spirit of St. Patrick's Day</wink> and we didn't grab the featured artist's name. But here's what I did grab in my notes about the evening on my phone – his voice was sweet and his guitaring was trubadoric. His guitar also had uncut crazy strings at the top which always looks badass. Maybe we need to do that for style points.
So around this time it was our turn to go up – our guitar and mandolin waving in the air like crazy flags while riding a jet black jeep with no top on it, slowly walking up there like bosses. There should've been slow motion Michael Bay-esque explosions behind us. To top it all off, in a recent practice session of spontaneity, Josh had decided to learn the whole evening's set on mandolin, including the solo from Sublime's What I Got the day before so we figured we would play our new song You and Me and the Sublime cover. This way, we could get away without carrying two guitars, which makes life simpler for instrument transport. Practicality people, practicality! And here's where things start to get crazy. Let me go ahead and start a new paragraph. We're gonna need the room.
The two could celebrate the ease and practicality of instrument transport now, but they will soon find the treachery of carrying around a giant keyboard. Thoughts such as: "what were we thinking?" will race through their minds.
Our set went pretty damn well. There is no other way to say it and we feel like we really needed it after the last lackluster performance. Our harmonies were good. Nobody forgot lyrics. Our instruments gelled like Dr. Scholl's … screw that they gelled like those way more expensive Bircketstock gel-sole inserts. Yeah you thought we're going to get to the good stuff? But not here – nah, we got off the stage and started to say thank you for the nice people who were showering us with compliments. (Ok we're taking all of this a little too far.) We regressed to our table and accidentally stumbled upon Justin Trawick who is pretty heavily involved in the DC music scene and is also a full time musician branded under the name (shocked expression!) Justin Motherfuckin' Trawick. Ok, ok… the expletive in the middle isn't actually there in his name. But Justin and his female friend were super cool and they made conversation with the band for quite some time. We exchanged information and went our separate ways.
This woman Colleen was up next and … honestly, she was a refreshing sound at this sausagefest of an open mic. She rocked the ukulele, an absolutely sick pair of pipes, AND she played a mix of covers and original songs. (That's always our preferred setlist – show people you can actually make music but make sure you bring the party.) Her cover of Jessie J's Price Tag was great and the whole bar sang along with her! Her voice came through as VERY on pitch, a little soft without too much air, and nearly perfect intonation on each note. Nearly. We heard that one fuckup Colleen (j/k). Although not new to DC, she's new to the DC music scene, coming straight outta choral practice to show us what's what. She really is just getting started so hit her page with some love. Here she is in all her glory…and a little bit fuzzy because our camera doesn't do well in low-light situations…but it still looks reasonably cool!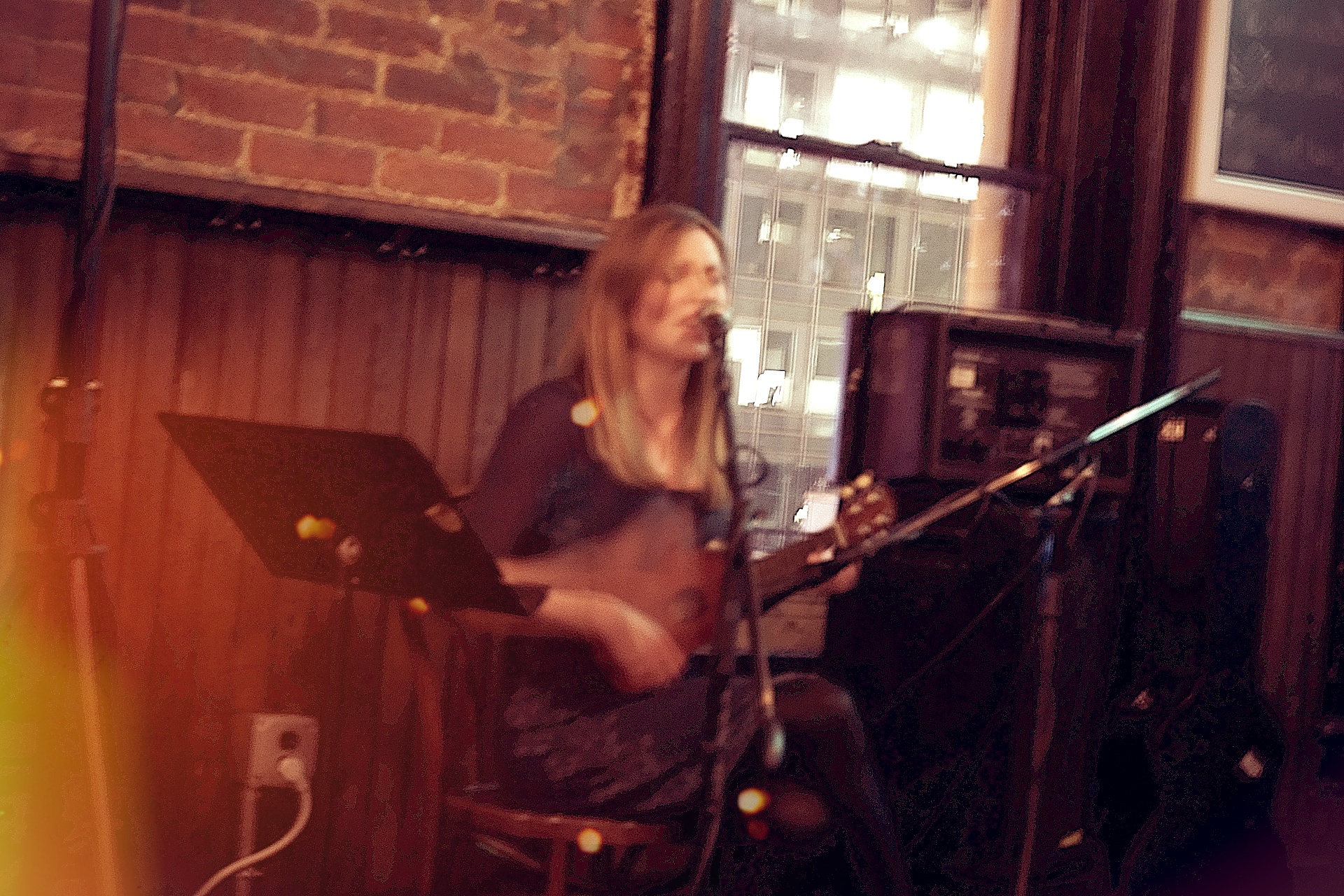 Justin came over during Colleen's performance and asked if he could use Josh's guitar. Josh looked him up and down judging the very heart of his soul like all men do, provided a positive response, and then Justin took the instrument away to the sidelines to have his way with it. The next time I saw my sweet bae, Justin was releasing a typhoon of original tunes on the wetlands of our ears. If ya haven't heard, he helps run a podcast and created a fairly prestigious concert series so you should take a listen to those. Now I know we've done it on a lot of posts, but we have to emphasize how much different some of these full-time, professional musicians sound when compared to those of us out here in amateur-land. Some may say it's evidenced in songwriting but what is most important to me is tone – and Justin had so much he was sweating it out. We bottled some for later use, don't worry.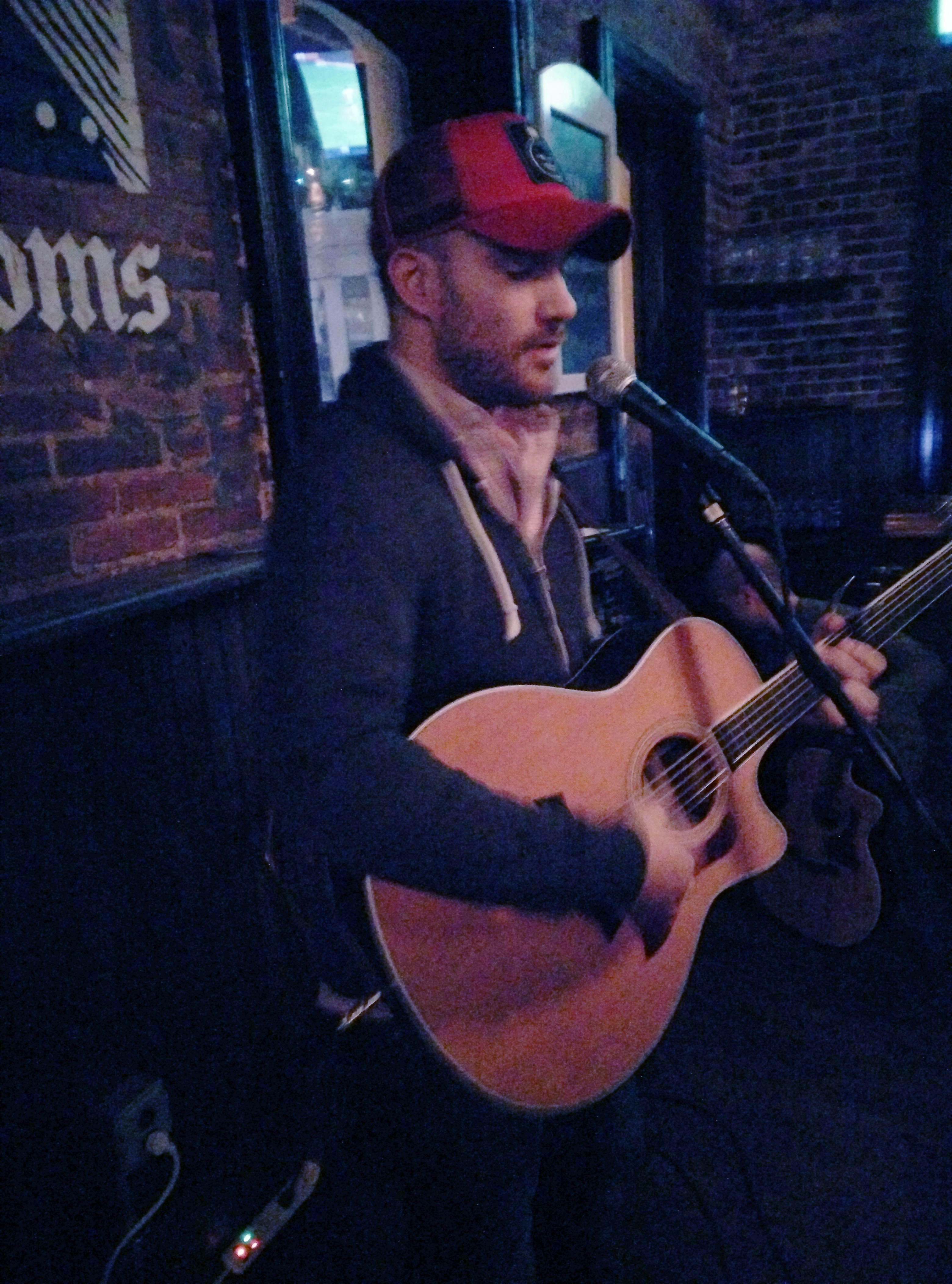 At this point Alex decided that he would allow everyone to sing more songs because everyone who'd signed up to play had already done so – but there was still more time for the open mic! At this point, our memories aren't exactly full of details, so we're not exactly clear about what happened, but somehow, Josh, Kenny, and Colleen all ended up on stage playing an impromptu version of Third Eye Blind's Jumper. Everyone started singing along with the Third Eye Blind song and it was a hit! We were told then that we would have two more songs and Colleen would play next. Totally cool. We're not exactly sure how this happened either (WHY ARE DETAILS SO IMPORTANT AND WE DON'T WE HAVE ANY OF THEM?!) but people started asking what other songs we could play and can we play "that one Sublime song" again? Most of the crowd had cycled out so we said sure. Here's a not-too-secret fact: Josh and Kenny don't know that many songs on mandolin. Therefore, if we were going to use the guitar and mandolin combo, we had to ration our songs and use them sparingly. Repeats started to sound like a good idea.
We're not even sure what songs we played next but somehow Colleen didn't get her turn to jump on stage for more songs. We felt real bad about that (sorry Colleen!) but we at least had the crowd and the crowd had us. True love at last (sorry wives.) Everyone started requesting songs and we kept playing them. Eventually, we put down the mando and Josh just sang while Kenny played guitar. Everyone at the place was dancing and singing and it was an altogether surreal experience. We basically kept playing until we were out of songs, which took some time!!
Here's an odd afterthought. Everyone kept asking us "Can you play [my favorite song]?". We also feel like we've forgotten more songs than we've learned how to play, so we kept randomly remembering that we could play songs…which was a giant cluster F*&!. We ended up purchasing www.songswecanplay.com. That way we can just host a page with the list of all the songs we know. Now, when people say "Can you play [some song]", we respond with "Just go to songs we can play dot com for a full list." Maybe this will come in handy!
All-in-all a great night. Sauf Haus wasn't soft at all. It rocked. Hard.
Artist Info
Alex "El Rojo" Robert Parez
Alex has his twitter, facebook, and a reverb nation where you can hear some of his music.
Colleen McCracken
Since Colleen's just gettin' started, she ain't got too much of a web presence, but you can check her out here.
Justin Trawick
Justin's main page is justintrawick.com. His podcast is A Circus Life, and his concert series is We Are the 9. All of which are worth checking out. Seriously. Stop reading. Go. Listen to his stuff. Go.