The Board and Brew was one of our favorite stops so far on the long, cold road of the Open Mic Challenge (and we've still got a few more to go). I never thought we'd find a contender against Iota or some of the others, yet here we here. Board and Brew is located in College Park, MD. Unfortunately, it's not that metro accessible, but the best places always require a journey, quest, and/or adventure to get there. Although we tried to metro, bus, and then walk for 20 minutes with the band equipment in tow, we eventually gave up and took a taxi to make sure we got there in time for sign-up at 7. Which reminds me: the Board and Brew open mic is every Tuesday, starts at 7:30, and is hosted by the indefatigable Rob from ilyAIMY! Not to say that we're special but he kinda BEGGED us to come out. Or at least told us that it existed and that he was hosting and that we should stop by because it's fun as hell, which was enough for us!
When we arrived, it was already gettin' busy, and Rob greeted us by means of facehug – it was awesome. Immediately after the facehug, Jonathan Coulton's RE: Your Brains song came on inside the restaurant and we knew we were finally at home. Surveying the location, there were board games as far as the eye could see. Naturally we attempted to play Scrabble using words that would do our mother's shame, while we waited for our excellent food. While we waited, more and more people arrived, filling up the cafe. We ended up talking to the owner Brian, good chap 'e is, who said the whole place was built and modeled with live music in mind, which assuredly shows from the layout and acoustics. BTW – this is a facehug: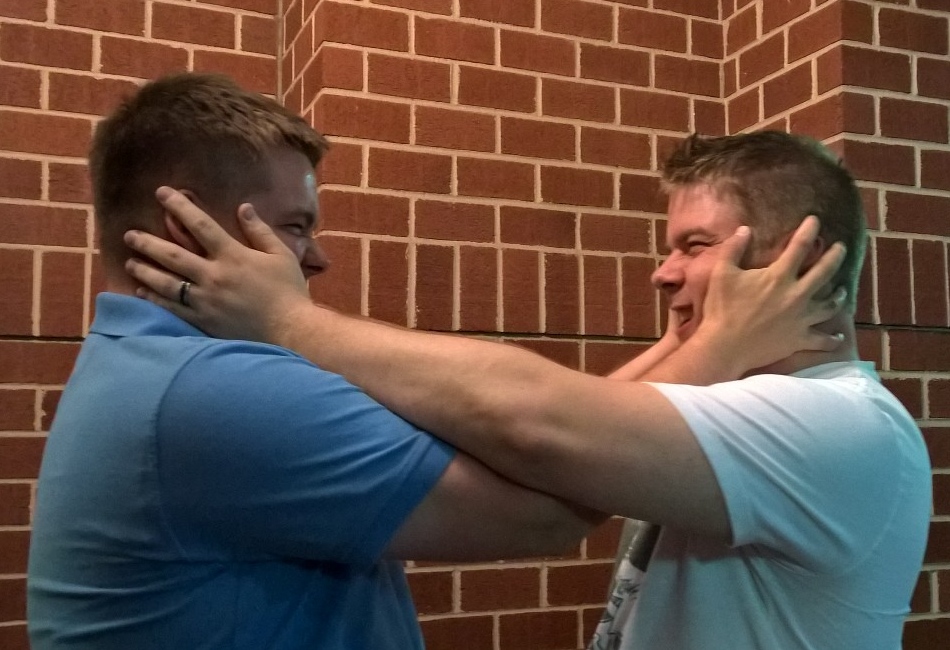 Rob and crew went first and ilyAIMY flew like it always does – like a flock of geese all hopped up on meth goin' south for the winter. I mean, how else can we describe their energy? But right in the middle of their first song Rob broke a string and I shit you not he plucked a hair from his head and replaced the string mid-song. Ok. That's a lie. But he recovered well and got right back into it. They even thad those hand-clacker-things which really made their set distinctive. Speaking of distinctive, watch Rob's guitar playing – those fingers just move. Yeah he's got a great voice (Josh kinda thinks he sounds a little like himself), and they write serious songs, but those guitar chops… Watch him slap his guitar and strike the strings with his fingers covered in tape. We'll drop a YouTube video here where you can watch for yourself!
There were a LOT of acts that followed. We are unable to write about them all. Why? Truthfully….well, because we were busy playing Scrabble. One of our favorite other acts was an a capella version of Radioactive by Imagine Dragons. Another was a gent in a Star Trek shirt that played a single 10 minute electronic song with one of those DJ button pads. There's definitely some diversity in music here with even country being represented!
But one of our favorites for the evening was Nathan Tennyson, who played a coupl'a different tunes, all with a Maryland-flag laden guitar! Def deeelish. He could solo like mad and his fingers have the tone you can only dream of. He played To Be Alone by Hozier, which was absolutely wonderful! He sang the song down a few steps, which is crazy, because the song already starts out pretty low. People with low voices don't get enough credit and this guy stole the show in that regard. Nathan played with the practiced fingers of a musician who loves his craft. He was seriously solo-ing like mad – recognize, son!
Here's where we'll take a moment to provide a little bit o' backstory. Rob had told us that some folks from University of Maryland would be streaming this event and posting it to YouTube. Because of this, the use of profanity is severely discouraged. Rob had told us this information weeks before at our We Are the 9 show, but we had forgot! And then he reminded us in email also. Why is this important? A few reasons. We noticed that Rob was providing these really funny intros for each performer. We thought we'd be funny and ask him to read a hilarious, yet profanity-laden intro off the back of a napkin. We didn't understand why he was changing some words, so we happily screamed the profanity for him to go for the assist (sports reference!). Then we played "What I Got" by Sublime, which has LOTS of…"adult themes". By this time we remembered his very reasonable request, but it's hard to censure over half the song so we just made up words. People seemed to laugh a bit.
In regards to our next song, a few days before this show, we decided we'd play Round Here by The Counting Crows. Kenny already knew it, so Josh just had to learn to play 3 different notes on the mandolin and we were set. Listen to the song – you'll understand. We got off a bit, ever so slightly, but we don't think anyone noticed. A point of order here is that the mando doesn't seem to stay in tune that well when we're playing higher up on the fretboard. But the song went great and people seemed more than genuinely impressed – Kenny sang the hell out of it. So why don't we have any video of it? Well, our notes for the evening just say "camera explosion" because right near the beginning of our set the camera Rob had setup fell over and slammed into the ground causing a raucous calamity. Was it a conspiracy against us for cussing and ruining his event? YOU DECIDE. If it was… we deserved it and we're really sorry Rob. : (
The next act we'll cover here is Zach Parkman and company. Zach had a full band playing along with him, and Juels from The Republic was playing with 'em! Definitely cool to begin to see some of the same faces. We don't think this was a "featured spot" for Board and Brew, but this band capped off the evening with a strong showing. Their original songs were great and reminded us of "sad and yet hipster as f*ck" country music. They probably gave the best performance of the evening, sounding just as majestic as lions look.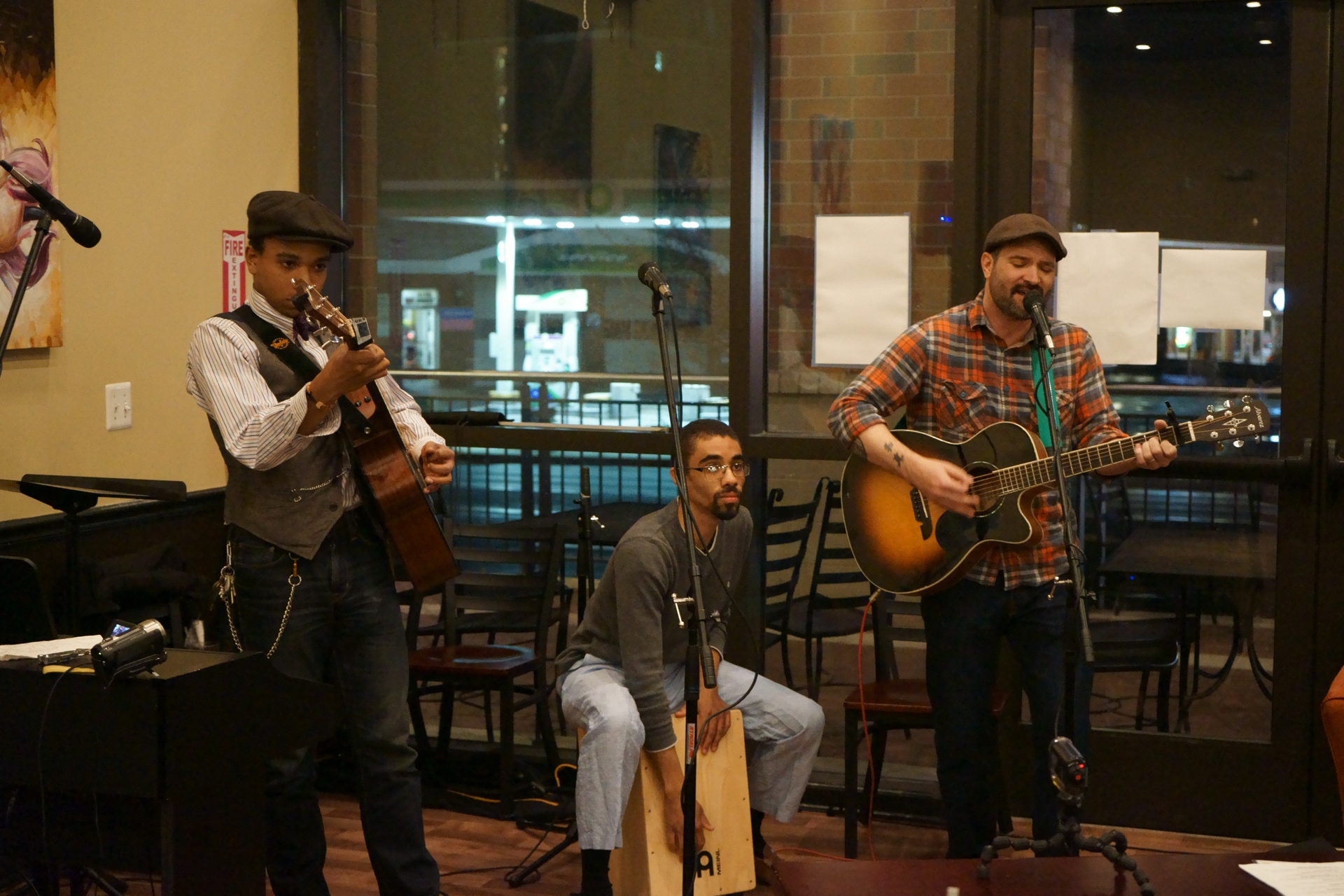 To summarize – this was a great open mic! It's so good that you're lucky if you get to go. It was well organized, on time, had great performers and a nice number of people of generally younger folks in attendance.
Artist Info
ilyAIMY
Rob runs a bunch of open mics that can be viewed on USTREAM. We really want to give these guys the full Capitol Heights' treatment, so we're placing their information here again even though we've written them up before. This dynamic trio is available at www.ilyaimy.com. Frankly that's all you need, but they've got a facebook, YouTube, and on twitter with the handle @ilyaimy! In thanks, every should go visit the open mics that he graciously runs!
Nathan Tennyson
We contacted Nathan and he doesn't seem to have anything to advertise. But he's so damn good that he needs to share himself to the world. Therefore, we're probably going to harass him until he puts up a music page or issues a restraining order against us. Our edict has been issued, Nathan.
Zach Parkman and Company
Zach has a facebook page and his twitter handle is @zachparkman. The music from his Reverb Nation page is below!
Juels Bland
Juels' music can be found at his bandcamp page or via his Soundcloud, embedded below for your listening pleasure.